FAIRFAX – While there may be no Pooh bears in these 100 Acre Woods, the 2 miles of trails winding through this mountainside forest in Fairfax's north offer their own enchanted neighborhood for would-be hikers.
In an interview last week, Fairfax's recreation director Brian LaClair described the town's 100 Acre Woods as a work in progress of sorts, with plenty of projects done and more to come as the town looks to the wooded area's future.
"There's been a good amount of work in just the last year here," LaClair said as he toured the Messenger through the woods' wider Logging Trail Loop. "We already consider the eastern side done."
The forest, acquired by the town in the 1960s, is currently strung with a single trail loop built on top of an old logging trail. A second, more conventionally designed trail – marked in blue on most Fairfax recreation department maps – cuts down the loop's middle.
Since 2011, according to Fairfax Park and Recreation's website, the town has explored properly developing the wooded area, originally home for all manners of woodland uses like logging and sugaring, into a recreational asset for the town.
That work eventually led to a completed eastern half of the forest's main Logging Trail Loop and the construction of the forest's blue trail, a trail LaClair said resembled more modern trail design.
Per LaClair, the completed trails within the forest would likely be considered beginners' trails, more for casual walks through the woods or introductory hikes for families.
"This is a beginning hiking area," Fairfax's recreation director said. "A place to bring a young family and introduce kids."
Still, according to LaClair, the relatively tame slopes weaving around the 100 Acre Woods could be a centerpiece in greater hiking plans for the Town of Fairfax, where there were still hypothetical plans about one day connecting the 100 Acre Woods through Georgia's Silver Lake Woods to Fairfax's village.
Those plans, far from being set in stone, imagine other hiking areas in Fairfax. Already, one wooded area along Fletcher Road, recently the subject to a now-approved controversial land lease with Verizon, has been suggested in the past as a possible trail hub.
"The long-term vision is now that the 100 Acre Woods would be the center of a trail network," LaClair told the Messenger.
Those goals speak to the larger goals for Fairfax's recreation department, which would welcome a more complete trail network both for the recreational benefits, the economic benefits of connecting trails between North Fairfax and the village, and for the public health benefits of a more walkable town.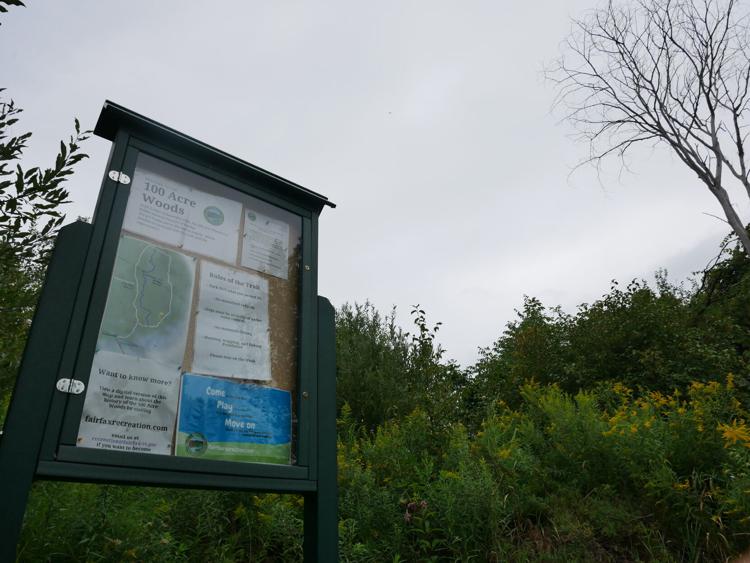 As imagined, it would mean people living in North Fairfax's more remote neighborhoods could have a safe means for walking into Fairfax's village for a night at Stone's Throw Pizza, or could serve as a draw for outsiders looking for a safe place to spend a day outdoors.
Either case would mean more people traveling by foot rather than car, a healthier reality LaClair said would "go hand-in-hand" with the economics of offering a trail network.
Before then, however, work would still be needed within Fairfax's town forest, where improvements relating to everything from drainage – water has long had a habit of pooling along parts of the 100 Acre Woods' trails – to even visibility could still largely be considered works in progress.
To the former goal, comers and goers to the woods today may notice ditches now etched into the initial entrance to the 100 Acre Woods. Those ditches, some carved by students from Bellows Free Academy – Fairfax, have helped empty water from an entrance once prone to flooding, according to LaClair.
Meanwhile, addressing visibility for the forest has long proven to be a challenge.
The road leading toward the woods' small parking area looks more like a private driveway than a public access road, and the only signs saying otherwise are no bigger than a license plate and easily missed along Route 104's roadside.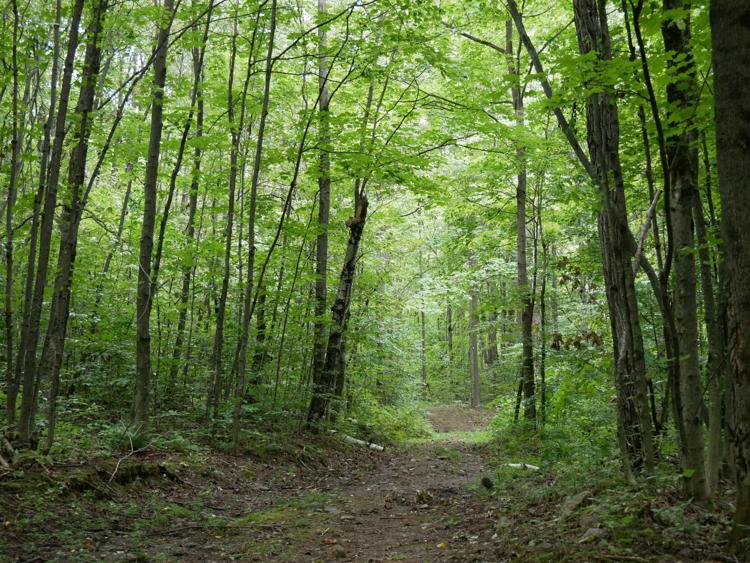 Near the top of the driveway, a relatively new kiosk was built near what was otherwise once an anonymous public parking lot, and further down the driveway, a new sign reading "Trails" points down the only formal entrance to the 100 Acre Woods.
When LaClair started as the recreation director, he said a survey of town residents found much of the community weren't even aware that Fairfax had a town forest.
"There were so many responses about, 'What is the 100 Acre Woods? Where is the 100 Acre Woods?'" LaClair said. "But as improvements keep happening, that's going to keep getting better and better."
And it already has, according to the recreation director.
An impromptu count of cars by a nearby local who helps with the trail's upkeep found three times as many hikers had taken to the 100 Acre Woods since LaClair started with Fairfax's recreation department, and, per LaClair, "that just expanded even more with the quarantine."
Organizations like RiseVT, a public health and wellness group connected to Northwestern Medical Center, have also been involved, providing grant funding for improvements to the woods and for equipment to help with the woods' maintenance.
The forest also now appears on Google Maps and Fairfax Parks and Recreation have now uploaded a proper trail map and address clearly identifying the location of this once anonymous wood.
The town's recreation department has funds set aside – currently estimated to be $10,000, according to LaClair – to ultimately support what has largely been a volunteer-led effort for improving Fairfax's town forest. "We 're not starting from zero by any means," LaClair said.
Even with a longlist of projects at play – next would probably be new signage and a picnicking area courtesy of a supportive local – LaClair took a moment to celebrate the progress already made in Fairfax's own – to quote a song about a more famous 100 acres of wood – "enchanted neighborhood."
Asked about whether he felt a lot of progress had been made in Fairfax's 100 Acre Woods, LaClair's answer was quick. "It's already a lot better than it was when I started," he said.