SWANTON VILLAGE – As a precaution against the possible spread of COVID-19, Swanton Village officials will be limiting public traffic through its facilities to appointments only and is asking that most business with the village be handled remotely.
The Swanton Police Dept. (SPD), meanwhile, will be adopting measures similar to their counterparts in St. Albans City, with police responding in person to major cases and emergency calls but handling reporting on minor cases remotely over the phone where possible.
Village officials ask that payments made to Swanton Village be handled through its night box, online at www.swanton.net or over the phone.
Swanton Village's measures, according to village manager Reg Belliveau, are intended to help protect the public and municipal employees against the possible spread of COVID-19.
"The office is still open if someone needs to come in and discuss business for whatever reason, but we would rather have that done by appointment," Belliveau said. "Basically, what we're trying to do is control access… so rather than having the general public walk through, we're restricting that access."
The same restrictions on accessing village offices have been extended to the village's public works facilities and its different utility departments.
Employees for the village, meanwhile, have access to sick leave benefits if they need to stay home from work or self-isolate due to exposure, with the village's board of trustees able to waive used sick time allocations if needed, according to Belliveau.
"With the village's benefits package, there are sick time allocations and, depending on the severity of the illness, obviously the trustees can waive whatever sick time they feel was necessary for the employee," Belliveau said.
The police department, meanwhile, has drafted a plan outlining hygiene standards and practices required of SPD officers and screening questions officers will use before deciding whether an individual would be allowed into the police station without posing a possible risk of COVID-19 exposure.
According to SPD chief Leonard "Joey" Stell, SPD's policy on COVID-19 exposure mirrors its counterpart from St. Albans City's police department, including language for deciding when police officers will respond to calls in person or opt instead to respond remotely over the phone in order to limit a possible COVID-19 exposure.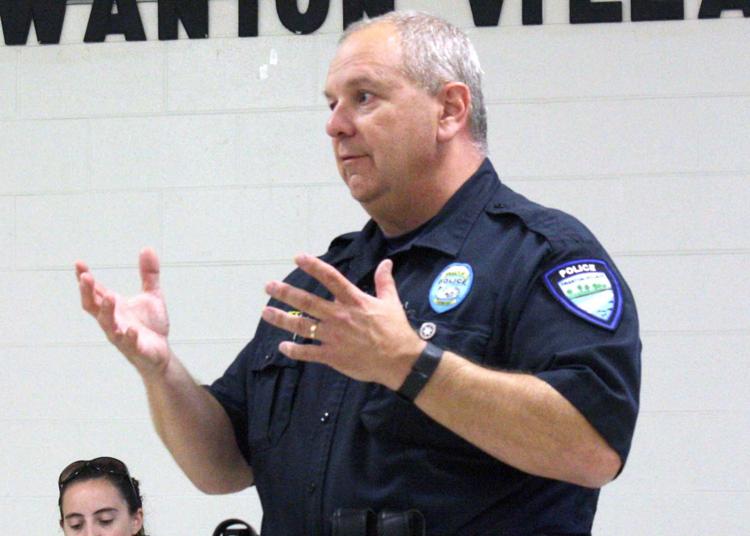 Like the St. Albans Police Dept., Swanton's police department would immediately respond to ongoing emergencies and major crimes such as assaults, home invasions and robberies, as well as motor vehicle crashes.
For more minor incidents, officers will weigh possibly handling reporting and response over the phone if manageable.
"We're trying to screen people over the phone, figure out which calls we can minimize public contact with, keep our workforce healthy and public healthy," Stell said. "All the same calls St. Albans City has an immediate response to, we would respond to."
Under SPD policy, officers suspecting they, friends or family have possibly been exposed to COVID-19 are directed to self-isolate from other members of the police department until "an appropriate decision can be made about course(s) of action."
The department has also suspended civil fingerprinting appointments for the foreseeable future, the department announced Monday.
Swanton Village has, for the time being, postponed nonessential government meetings, including the next regularly scheduled village board of trustees meeting.
"At this point, as far as the trustees meeting, we're only meeting on an as-needed basis," Belliveau said. "We're just going to hold off for now and see what transpires."
Beyond the village's measures, officials are encouraging others to be respectful during this time and avoid hording and putting others at an unnecessary risk.
"People need to be mindful of what they're doing," Belliveau said. "Other than that, we're doing what we can day-to-day."
Updates from Swanton Village are available online at swantonvillage.org and on the village's Facebook page.
More information on the ongoing COVID-19 pandemic and practices individuals can take to help limit the spread of COVID-19 is available online at the Centers for Disease Control and Prevention's website and from the Vermont Dept. of Health at healthvermont.gov/covid19.