ST. ALBANS — The coronavirus is forcing changes in how police officers interact with the public and each other.
For the St. Albans Police Dept. (SAPD) that means having an officer returning calls for complaints that aren't an emergency rather than dispatching an officer to the scene.
"We're a pretty small organization," said Chief Gary Taylor. "If an officer gets exposed and comes back to the police department, he could expose half of the department."
"We have to be able to go to serious calls," said Taylor, which means having sufficient healthy staff.
The Franklin County Sheriff's Office (FCSO) also appeared ready to take steps to limit officers' exposure to the novel coronavirus, though sheriff Roger Langevin assured the public during a meeting in Georgia Monday deputies would still be present in the community.
"Social distancing is going to be a big deal for us, even on our car stops," Langevin told Georgia's selectboard. "We will handle superficial, minor calls, such as mailbox vandalism, over the phone, but we will continue to drive past the incident and get outside to take a look."
The same is true for Central Dispatch. There are 26 full-time dispatchers in Vermont. Ten of them work at the SAPD's dispatch center, which serves as a regional dispatch center and 911 call center. Last year, the center handled 146,000 calls, 20,000 of which were emergencies. "We have to protect these people," Taylor said.
SAPD officers have been instructed not to enter the dispatch center, and any members of the public who come to the police station can only communicate with dispatch via an intercom. But Taylor was clear that it was possible the lobby will be closed the public entirely.
As part of the new procedures, calls will be divided into three categories. Required response includes shots fired, homicide, sexual assault, home invasion, assaults, arson, domestic violence, motor vehicle crashes, burglary, welfare checks, 911 hangups, and possibly impaired drivers.
"Many of the calls we respond to don't require in-person contact," said Taylor.
Incidents which can be handled over the phone include motor vehicle accidents in parking lots, gas drive offs, most dog and animal complaints.
In between are incidents in which more information will be gathered to determine if an in-person response is required. In these cases officers will be asked to evaluate the level of danger to the public and the potential for escalation. Thefts, for example, will likely be handled over the phone, along with noise complaints and vandalism.
Anyone showing signs of illness will not be allowed to enter the department and visitors will be screened before being allowed into secure areas of the building.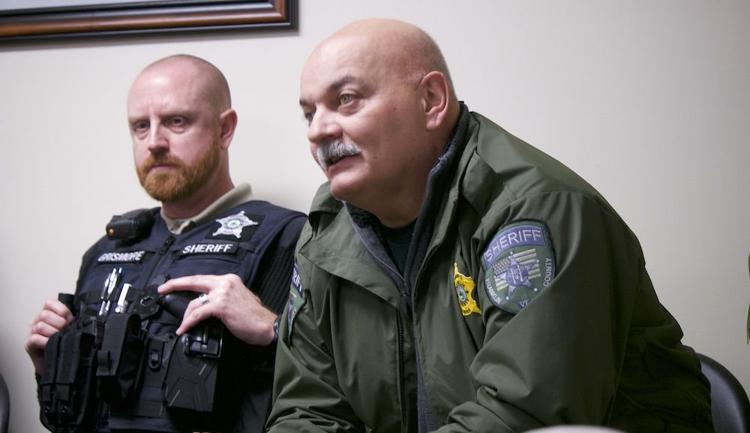 Langevin said the sheriff's office would take a similar approach, limiting all nonessential access to FCSO's St. Albans headquarters and, in a separate statement issued Monday morning, temporarily suspending fingerprinting services. The SAPD has also suspended fingerprinting services.
For the SAPD, officers have been told not to have lunch or take breaks together. "We want them working out of their cars, if they can," said Taylor.
The SAPD will also be "reducing the number of non-essential motor vehicle contacts," Taylor said, while still stopping those who are driving in a manner could result in injury to themselves or others. "If you're compromising public safety, you're going to be stopped."
During Monday's meeting in Georgia, Langevin assured the sheriff's office would likewise continue conducting traffic stops and arrests when needed.
"We cannot not do our job," Langevin told Georgia officials. "We have to respond to things – we just have to be smart."
In a statement released Monday, FCSO asked those reaching out to the department inform police if anyone in their household has shown complications from health issues before police come into contact with them.
According to Taylor, the SAPD is facing many of the same challenges that are impacting others in the community, including childcare and supplies. "We can't get hand sanitizer," said Taylor. Toilet paper is also a challenge.
The SAPD has talked to the school district about the need for childcare.
Taylor added that one of the lessons of Hurricane Katrina is that you can't expect to first responders to come to work every day and expose themselves and their families if they aren't being taken care of.
Langevin, meanwhile, warned FCSO's response could change as more information about the current COVID-19 outbreak becomes available.
"We're going to continue to update as information becomes available," Langevin said. "Our responses will hopefully not change much."