MONTPELIER – The Vermont House of Representatives overwhelmingly passed legislation Thursday committing the state to reducing greenhouse gas emissions and opening the door to lawsuits if the state fails.
The House passed the Global Warming Solutions Act – H.688 – with 105 votes, guaranteeing it the support needed should Gov. Phil Scott decide to veto the legislation.
The Global Warming Solutions Act would set ambitious greenhouse gas reduction targets and legally hold the state liable for meeting those targets.
Under the act, Vermont would be required to reduce greenhouse gas emissions by 26 percent below Vermont's 2005 emissions levels by 2025, 40 percent below Vermont's 1990 emissions levels by 2030 and 80 percent below Vermont's 1990 emissions levels by 2050.
Should the state fail to meet those targets, residents in Vermont would have the right under H.688 to sue the state for falling short of reduction goals. Residents would not be able to sue for damages beyond legal expenses, but legal challenges could result in court orders for enforcing Vermont's climate change goals.
The legislation also establishes a Vermont Climate Council made of appointed governing officials and members of the public to draft a climate action plan outlining the state's initiatives and programs for meeting its climate-related goals, with the expectation the Agency of Natural Resources adopts governing rules based on the council's recommendations.
The Global Warming Solutions Act mirrors similar mandates passed by legislatures in nearby states like Massachusetts and Maine.
Scott has, as of Sunday, yet to declare whether he would sign or veto H.688, though his administration has argued the deadlines set under the Global Warming Solutions Act were too ambitious and could mire the state's climate change efforts in legal battles.
Some legislators bristled at a $972,000 appropriation attached to the bill and others attributed their opposition to the proposed rulemaking process outlined by H.688, which in part sees the Agency of Natural Resources' governing rules built from the Vermont Climate Council's recommendations.
"Climate change needs our attention. Our agricultural and tourism industries need action and Vermonters want to know what we are doing for the environment outside of clean water," testified Rep. Felisha Leffler, R – Enosburgh, according to the House's Feb. 20 journal. "However, I cannot condone the placement of authority that belongs in this body to a council of persons that have no accountability to the public."
Democratic leaders appeared optimistic about the passage of the Global Warming Solutions Act, with Speaker of the House Mitzi Johnson, D – South Hero, writing in a statement that the act "ensures we are holding the state accountable for developing and achieving greenhouse gas reduction goals that address the severity and urgency of the climate crisis."
"This bill seeks feasible, effective solutions that support businesses and resilient working lands in Vermont while minimizing the negative impacts on rural communities and vulnerable populations," Johnson said. "H.688 is an exciting opportunity to strengthen our economic future and lead the nation in addressing climate change at the community and state level."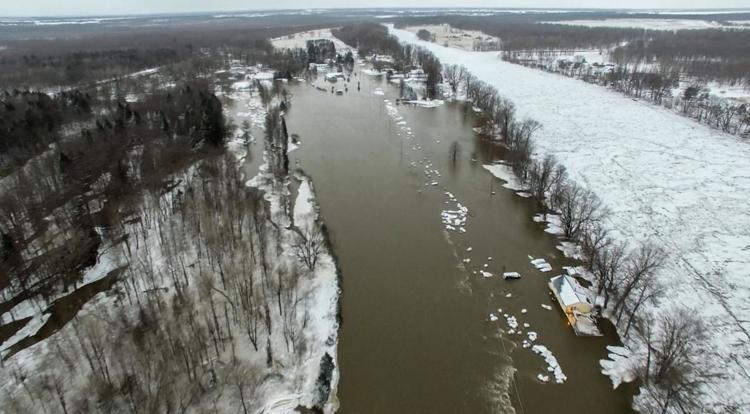 Franklin County's legislators were split on the passage of the Global Warming Solutions Act.
Democratic representatives Mike McCarthy of St. Albans and Charen Fegard of Berkshire both voted in favor of the bill, as did Fairfax's independent representative Barbara Murphy.
Reps. James Gregoire, R – Fairfield, and Casey Toof, R – St. Albans, were both absent for Thursday evening's vote, and all other representatives from Franklin County voted against the Global Warming Solutions Act.
While Thursday's vote was largely centered along party line, the Global Warming Solutions Act did find some Republican support in the Vermont House of Representatives.
The Global Warming Solutions Act was formally approved by the Vermont House of Representatives Friday on a third reading.
While Vermont currently has climate change-related goals for reducing greenhouse gas emissions in place, Vermont has failed to meet those goals and there currently exists no mechanism enforcing those goals.
A report filed by the Agency of Natural Resources in January revealed Vermont saw a reduction in greenhouse gases in 2016, though that reduction still fell far short of meeting the state's legislatively defined climate goals.
Greenhouse gases are gases capable of trapping heat within Earth's atmosphere, contributing to the well-documented warming of the climate.
According to federal and state data collected and shared by the Agency of Natural Resources, Vermont is expected to see winters shorten and harsher storms as average annual temperatures continue to steadily climb.
In 2018, a comprehensive report from the United Nations' Intergovernmental Panel on Climate Change concluded the world had until 2030 to nearly halve annual carbon emissions to mitigate the most dramatic effects of a warmer climate.
The National Oceanic and Atmospheric Administration reported this January was the hottest on record worldwide.