ST. ALBANS — Across the nation, September is recognized as Suicide Prevention Month, but for Northwestern Counciling and Support Serivces, every day is a good day to raise awareness.
"As an organization, we try to highlight this each and every month in some fashion," Joe Halko, NCSS' director of community relations, told the Messenger on Sept. 23. 
In 2019, a $15,000 donation from the Afterglow Foundation, a nonprofit founded by St. Albans residents John Holzscheiter and Andrea Wells, helped NCSS in this mission. Another donation is expected later this year, following Afterglow's well-attended charity music festival on Sept. 18.
Dr. Steve Broer, director of NCSS' Behavioral Health Services, told the Messenger an Afterglow committee — made up of NCSS staff as well as a youth and an adult with lived experiences — helps determine how the funds are used. 
"I think one of the things that's nice about Afterglow is that we've been told by the family to just be creative with how we address this," he said. 
Teaching and targeting youth
In the last two years, some of the funds from Afterglow have been used to offer free Teen and Youth Mental Health First Aid (MHFA) training in Franklin County schools. 
NCSS has reached a combined total of 150 students between Richford, BFA-St. Albans and BFA-Fairfax with its Teen MHFA training, according to Lance Metayer, a team leader at NCSS. 
The interactive program teaches high schoolers how to identify, understand and respond to signs of mental illnesses and substance use disorders among their friends and peers. 
"One of the things that we are very aware of...is the number of individuals who are so young, who are feeling really sad and depressed," Halko said. "Teen Mental Health First Aid is an effort to try to raise awareness on early warning signs and what the various resources are that are available."
Every other year, the Vermont Department of Health and the Vermont Agency of Education sponsor the Vermont Youth Risk Behavior Survey. The most recent survey, conducted in 2019, showed that 31% of Franklin County high school students felt sad or hopeless almost every day for at least a two week period.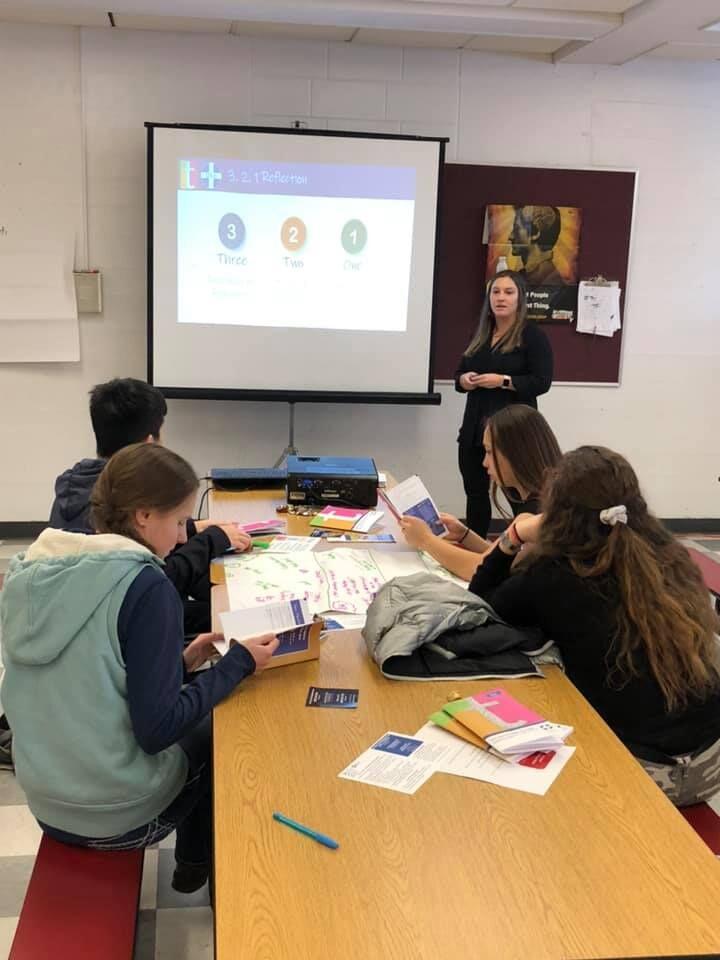 In 2009, that number was 21%, a difference that Halko said is significant for a ten-year period. 
"There's just a lot of these pressure points...social media, bullying...that kids are dealing with that they didn't have 10, 20 years ago," he said.
Reaching medical and athletic professionals 
Broer said the committee is currently looking at how it can use funds to expand the training it provides to people in the medical community. 
For example, earlier this year, NCSS provided MHFA training to staff at Northwestern Medical Center. 
"We are working with them on some workflows around how we can all work together in identifying youth who might be at risk, particularly after a life-altering medical injury," Broer said. 
NCSS has also worked this year with counselors at Swanton NOTCH, paraeducators at BFA-St. Albans and health care workers at Rutland Hospital, according to Metayer.
Ideas of an in-person forum, directed at athletic directors, trainers and physical therapists, are also being formed. Halko said this was a project that was derailed by the COVID-19 pandemic, but is still a priority. 
Reducing stigma
The main goal of all of NCSS' programs — whether they be for youth, adults, health care professionals or educators — is reducing stigma. 
"I always like to say, somebody who's broken their arm will talk all day long perhaps about what they did, but boy, the minute you bring up mental health, people dive under the table," Halko said. "They say, 'It doesn't happen here.' Yet we know one in five people seek treatment for mental health disorders."
While people are still not talking about mental health as openly as NCSS would like, staff is seeing a slow wearing away of that stigma. 
In fact, in the last year, NCSS has seen an increase in demand for services, Broer said. More people in Franklin and Grand Isle Counties are seeking support, whether that be through scheduled appointments or calls to the Vermont extension of the National Suicide Lifeline, which for 40 hours a week is answered by dispatchers at NCSS. 
"I've got to say, we've been very busy," Broer said. "Obviously we're here for people who are at risk of suicide, but also folks who are feeling really isolated and don't know where to turn."