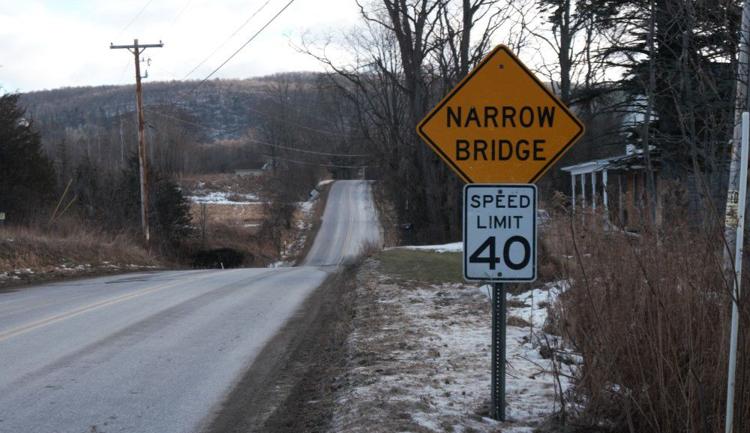 GEORGIA – Because of its steep price tag, a replacement for the Mill River Road bridge spanning Rugg Brook in Georgia will likely be a long way off, town officials suggested during the most recent meeting of the Georgia selectboard.
In their Dec. 9 meeting, Ken Minck, a member of Georgia's Conservation Commission attending that Monday's meeting only as a Georgia resident, questioned the board about replacing the bridge, cited in past studies for historical wear and for presenting environmental challenges for preserving Rugg Brook.
Bringing in a 2008 report citing damage on the bridge, Minck asked the selectboard about what the town planned to do in order to address the aging bridge. "The bridge abutment at that point had pretty severe scour undermining the abutment of the bridge," Minck said, brandishing a copy of the report.
Georgia's more recent stormwater management plan, drafted in 2013 by consultants from Stone Environmental, reported the Mill River Road bridge appeared to be "approaching the end of its service life" and, by narrowing the brook's channel as it passes beneath Mill River Road, the bridge appeared to be accelerating water during storm events and increasing the risk of streambank erosion.
What ultimately brought Minck in, he said, were "rumors about what it's going to cost to put a new bridge in."
According to officials, the town faced a $900,000 shortfall in order to address what appeared to be an increasingly expensive replacement job for the bridge.
While the town originally planned on replacing the bridge on Mill River Road with a less expensive $225,000 box culvert, more recent estimates suggested a box culvert could cost as much as $1 million – about what Georgia officials said a normal replacement bridge would likely cost.
Those high costs, according to Georgia officials, led the town to ultimately return a $175,000 highway structures grant back to the state earlier this year, as officials determined the town would not be able to cover the rest of the costs of a bridge replacement within the grant's deadline.
"We did receive a grant to do that project, but because of funding on our side we gave the grant back because we didn't have our match," highway foreman Todd Cadieux told Minck. "We were hoping to do a box culvert… but the engineers came in and said it was the same price for a box culvert as for a bridge."
"We returned that grant, because we didn't have the other $900,000 to pay," selectboard chair Matt Crawford said.
During a selectboard meeting in August, the town had raised the possibility of reapplying for that grant and reassigning it to another culvert slated for replacement on Reynolds Road, a project likely to be more practically covered under the state's highway structures grant.
According to Crawford, Georgia was starting to look into other state funding sources to support replacing the Mill River Road bridge, with Kent Henderson, another member of Georgia's Conservation Commission and the president of the water quality group Friends of Northern Lake Champlain, reportedly looking to tap the state's clean water fund to support the replacement due to the erosion challenges presented by the current bridge.
"He was looking to see if there was any state water quality money rather than road money that could be useful," Crawford said. "Other than that, I don't think we have a long-term answer at this point."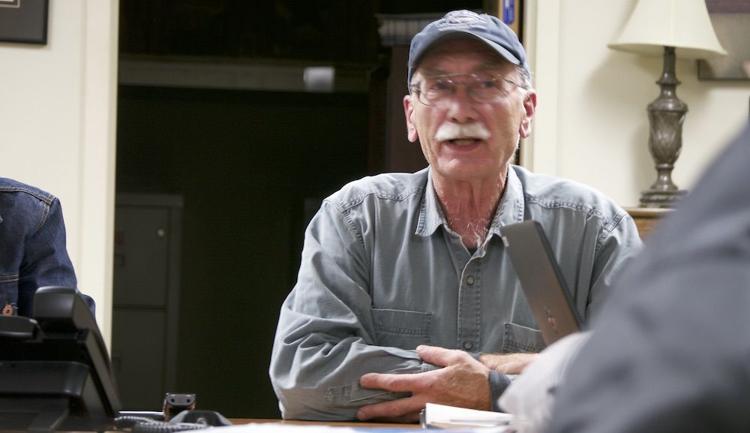 Minck questioned how the project had become so expensive when, according to the 2008 report he shared with the selectboard, a replacement was projected to cost only around $200,000.
According to Cadieux and town administrator Amber Baker, state officials said the town would not be able to do the $200,000 fix, since that project was, per Cadieux, too small to address the problems posed by the current bridge on Mill River Road. "They said we couldn't do the fix that's in this book," Baker told Minck.
Minck raised the possibility of a bond vote to cover the rest of the expenses for the Mill River Road bridge, asking that the selectboard look for a more immediate answer to replacing the aging bridge.
"I don't think we can keep pushing it down the pipe," Minck said. "At some point, the bridge is going to fail and we definitely don't want that to happen… I think we need to come up with something and not just let it linger, because you know what's going to happen."
While the selectboard did not comment on bonding for the bridge, they appeared to agree with Minck about not postponing the replacement any more than the town would have to.
"Oh, we've seen the effects of deferred maintenance here," Crawford answered, referring to Georgia's more recent challenges with repairing – and possibly replacing – municipal buildings after years of deferring maintenance.
The Vermont Dept. of Environmental Conservation considers Rugg Brook a stormwater-impaired waterway.
According to the flow restoration plan for Rugg Brook, development near Rugg Brook's headwaters in St. Albans has led to more infrequent flows of water washing through the brook, resulting in possible streambank erosion and the flushing of nutrient-laden sediments downstream and ultimately into St. Albans Bay.
Nutrients flushed downstream by infrequent flows of water, like phosphorus, can help fuel the potentially toxic cyanobacterial blooms – otherwise known as "blue-green algae" – that temporarily close beaches along Lake Champlain every summer.
Only a small segment of Rugg Brook wraps through Georgia, where the brook joins the Mill River just south of Mill River Road.
The Mill River drains into St. Albans Bay.