SWANTON – Members of the Abenaki and Swanton communities came together in Swanton's village green Monday for a small ceremony dedicating a new totem pole in the village's core.
The celebration, timed for Indigenous Peoples' Day, was, according to attendees, an important step for members of the Abenaki community, who have called the Swanton area home for centuries.
"It means a lot to us," Richard Menard, the chief of the Swanton-headquartered Abenaki Nation of Missisquoi, told the Messenger near the end of Monday's celebration.
A small gathering collected around the totem pole Monday afternoon for brief addresses and a handful of performances by students from the Abenaki Circles of Courage Afterschool Program. A pipe ceremony was also held in honor of Monday's dedication, led by Joseph Whitebear.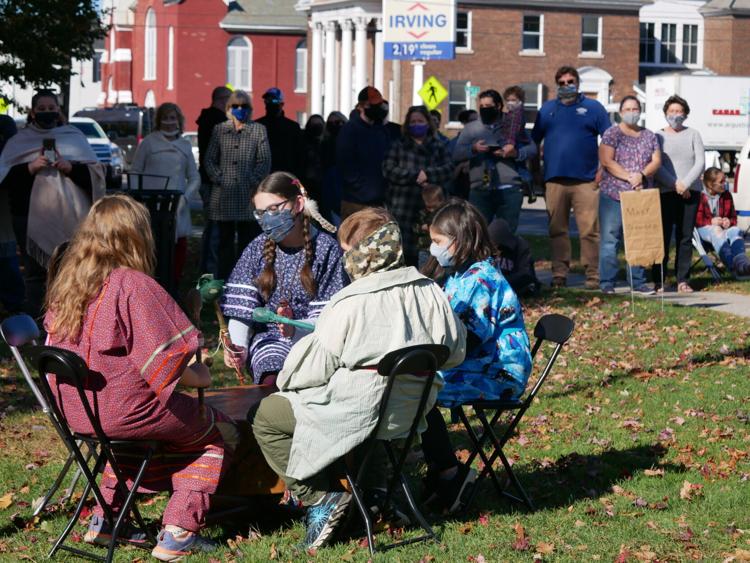 Speakers referenced a prior history of attempted Abenaki gatherings in the village green that initially spurred hostility from local officials. Not so this time around, according to Menard, who said Swanton's village was more than supportive this time.
"Twenty years ago, they didn't want anything to do with us," Menard said, "so to be able to have this here in the park, it means a lot to us."
The totem pole itself, carved by Menard and his great-grandson Tyler Bockus, arrayed a menagerie of animal totems atop one another and oriented those totems toward an ancient Abenaki burial ground to the northwest.
Each totem represented an Abenaki family, whether it was a turtle signifying the local Turtle Clan or a bear representing Menard's own family totem. Near the base was the Abenaki Nation of Missisquoi's flag and, at the top, an eagle.
Like a totem pole dedicated last year at Swanton's elementary school, those animals were labeled in English and in Abenaki, something Menard said was important for helping share the Abenaki's language.
According to Menard, it took more than 100 hours total to carve the pole from a white cedar found along the Missisquoi River, only a short hike from the Missisquoi Abenaki's ancient burial ground.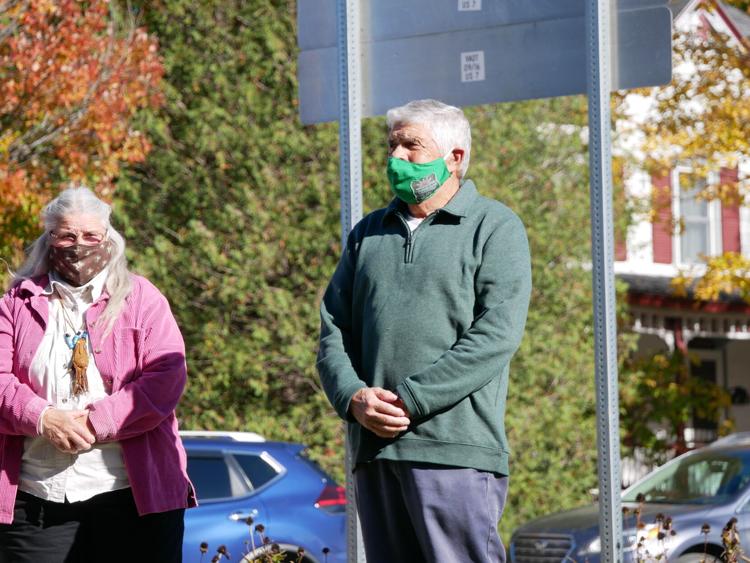 Jeff Benay, the Director of the Indian Education Program in Franklin County, said Monday's celebration was a long time coming, contrasting the dedication with a longer history of discrimination that previously sidelined Abenaki gatherings to the Franklin County State Airport in Highgate.
"It is really pretty remarkable that we can be having this celebration today," Benay said. "It says where we've come – where the Abenaki of Missisquoi have come – with the larger Swanton community."
Swanton officials were present during Monday's event but refrained from speaking.
The village's board of trustees, however, had signed off on Monday's event more than a month ago with a unanimous vote of approval, with the village's president Neal Speer affirming that a celebration honoring the Abenaki's presence in Swanton was long overdue.
"This is the history of Swanton," Speer said at the time.
Menard said he had hoped for a larger celebration of Native American cultures this year, but those plans were delayed by COVID-19. He told the Messenger he hopes to try again for a larger event next year, should the pandemic subside.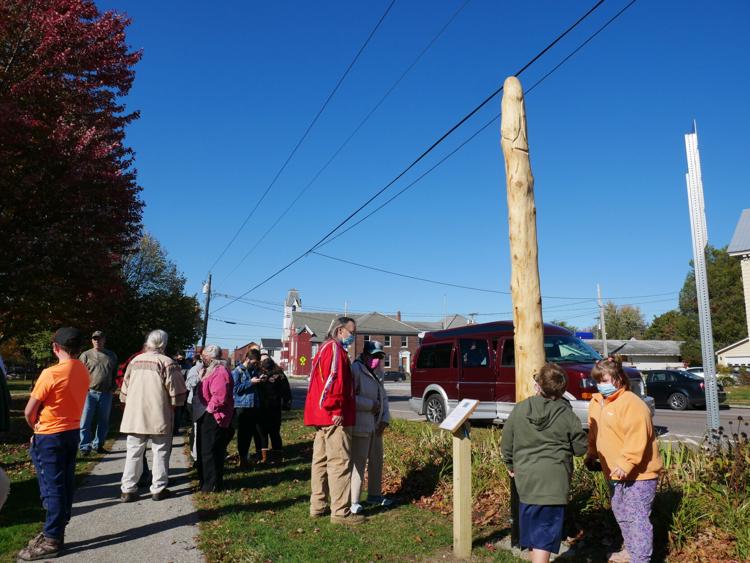 The Missisquoi band of the Abenaki, also known as the St. Francis band and Sokoki band, has long considered the eastern shores of Lake Champlain their traditional homeland, particularly near the present-day towns of Highgate and Swanton.
According to previous testimony Menard provided to Vermont's House of Representatives, there are roughly 2,500 card-holding members of the Abenaki Nation of Missisquoi, one of four Abenaki bands formally recognized by the state of Vermont.
Several totem poles can be found around Swanton, including both Swanton Schools and the Missisquoi Valley Union Junior and Senior High School.
Poles carved by Menard can also be found at the University of Vermont and at Shelburne Farms, as well as the Abenaki Nation of Missisquoi's headquarters.
{span style="font-size: 11.0pt; line-height: 107%; font-family: 'Calibri',sans-serif; mso-ascii-theme-font: minor-latin; mso-fareast-font-family: 'Yu Mincho'; mso-fareast-theme-font: minor-fareast; mso-hansi-theme-font: minor-latin; mso-bidi-font-family: 'Times New Roman'; mso-bidi-theme-font: minor-bidi; mso-ansi-language: EN-US; mso-fareast-language: JA; mso-bidi-language: AR-SA;"} {/span}