GEORGIA/SWANTON — Macie Boissonneault and Lora Fresn have been "friends forever" and have played for SASA, the Vermont Shamrocks, the Vermont Stars, and the Wildcats together.
Fresn even played youth hockey for SASA (St. Albans Skating Association) with Boissonneault the year MAHA (Missisquoi Amateur Hockey Association) didn't have enough girls for a U14 team.
During the school year, the girls play for opposing teams. Fresn for MVU and Boissonneault for BFA St. Albans.
If you had to give a scouting report on Lora, what would you say?
Boissonneault: "Lora's strong, she won't let you mess around with her, and you have to watch out for her. She's not just going to give you the puck. She plays defense, but she's got a good shot, which is good."
If you had to give a scouting report on Macie, what would you say?
Fresn: "Macie does her job well. If anyone is in her crease, they're not in there for long. You need to have a very good shot to get by her."
What quality do you most appreciate about the other?
Fresn: "Macie is an incredibly hard worker at whatever she's doing--on the ice or off the ice in training. At home, she works in the barn every day."
Boissonneault: "Lora is an all-around good person to be around, and she's been one of my good friends for a long time. She's also very hard-working."
What's it like to share the ice as teammates?
Boissonneault: "It makes the game more enjoyable because you're playing with your friend."
Fesn: "When we began playing with the Shamrocks and the other travel teams, it was always nice to have a friend on the team."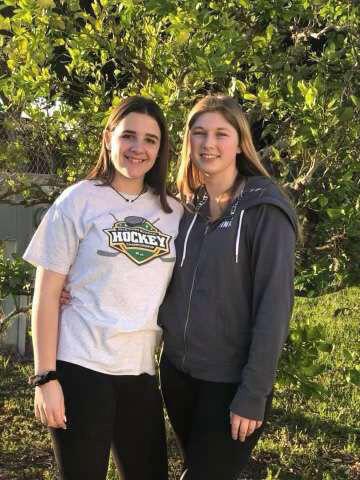 What's it like to play as opponents?
Boissonneault: "Even though I haven't played in net against Lora yet, it's still the same feeling. It makes the game more enjoyable, and you want to win against them."
Fresn: "I like to talk to the people I know from opposing teams before and after a game. It's good to have that friendly face on an opposing team."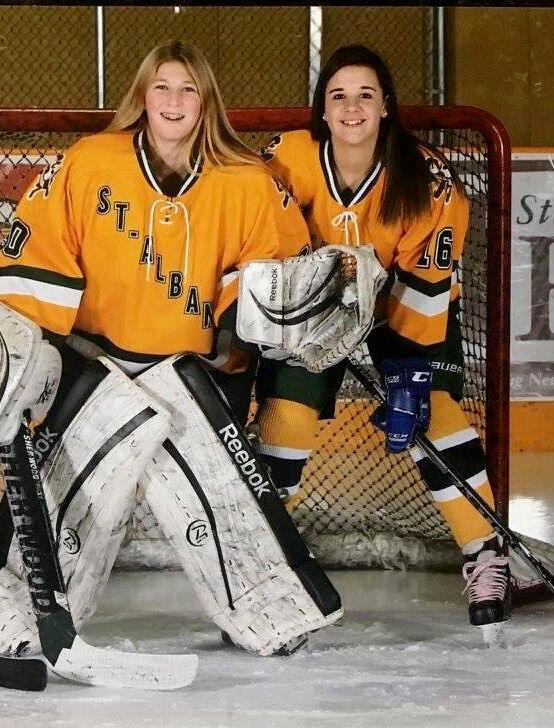 Memorable moments over the years:
Boissonneault and Fresn recalled the fun of traveling together with travel teams.
"It was fun to stay in a hotel together for weekend tournaments. We might go with each other's families--both of us with my mom or with hers," said Fresn.
Fresn recalled the Thunderbirds' state title in the 2018-19 season. The Comets lost to Essex that year, but Boissonneault did get to see Fresn compete.
"The title was memorable because we won and because it was Wynn's (Paradee) last game coaching. I was friends with older players like Renee Bouchard and May Gates, and it was my last time playing with those girls."
Paradee surprised the team, wearing the same suit to the title game that he'd worn when he began coaching two decades before.
"That's Wynn; he's funny, always nice, always looking to better your skills, and if he's trying to teach you something, he's never putting you down," said Fresn.
Fresn has enjoyed playing for her new coaches, Brian and Adam Fortin, and for Katie Campbell, all former Thunderbird hockey players.
"Katie can relate to us and help us because she was a player on this team," said Fresn.
Fresn also recalled playing for Matt Laroche in MAHA. Laroche coached Campbell and had the high school girls help with MAHA practices, something Fresn appreciated as a youngster.
Boissonneault recalled a standout game from the year the two girls played for SASA.
"We went to SASA Nationals at UVM, and we won one game and tied one that year," said Boissonneault.
Boissonneault remembered her first varsity game in net with the Comets when asked about her most memorable game.
"It was my freshman year, and we were playing our top rival, Essex. I was nervous, but we won 4-0."
Boissonneault has been grateful for the coaches she's had growing up with the game.
"I played for Caitlin Manahan in SASA and high school; she's fun to be around. Kristin Veins knew the program really well and was very dependable," said Boissonneault.
"Jeff Rouleau coached me in SASA; when I got to high school, I had him as a coach. That made the transition more enjoyable.
"Rouleau and (Luke) Cioffi make sure we're getting better every day, but they are also there to support us in anything."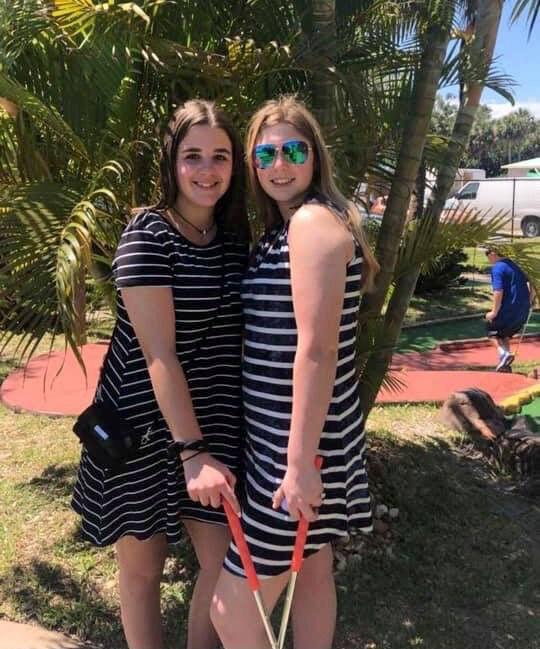 Hockey is great, but so is a Florida vacation!
Two years ago, Boissonneault invited Fresn to travel with her to Florida to pick up a car. The girls flew down, and Macie's mom drove them back.
"We ate Krispy Cream donuts and got blankets and pillows and slept the entire way back," said Fresn.
The girls hope they'll have the chance to play this winter if COVID guidelines allow.
Fresn: "We joke about the games we play against each other. It makes it not so bad to lose; I'm happy for Macie that her team can win."
Boissonneault: "You're always there to support each other. If Lora scored against us, I'd be happy for her. We support each other regardless of what team we're on."