COLCHESTER/SHELDON — This year Saint Michael's College is celebrating the 50th year of women's enrollment.
Meggan Roberge (Class of '07) is one of many women who benefited from St. Mike's decision to open enrollment to women.
Roberge, who grew up in Sheldon, went on to break records with the St. Michael's Purple Knights softball program during her collegiate softball career.
Before she was breaking records in college, Roberge played for MVU.
"MVU was the best choice for me; they had a wonderful softball program. I also loved field hockey and played some basketball," said Roberge.
Roberge had bittersweet years with MVU softball.
"Softball was bittersweet; we had a strong team, but we always came up short. It was hard for the coaches and for me at the time," said Roberge.
"BFA St. Albans was the powerhouse in DI at the time, and we always ran into them before the finals."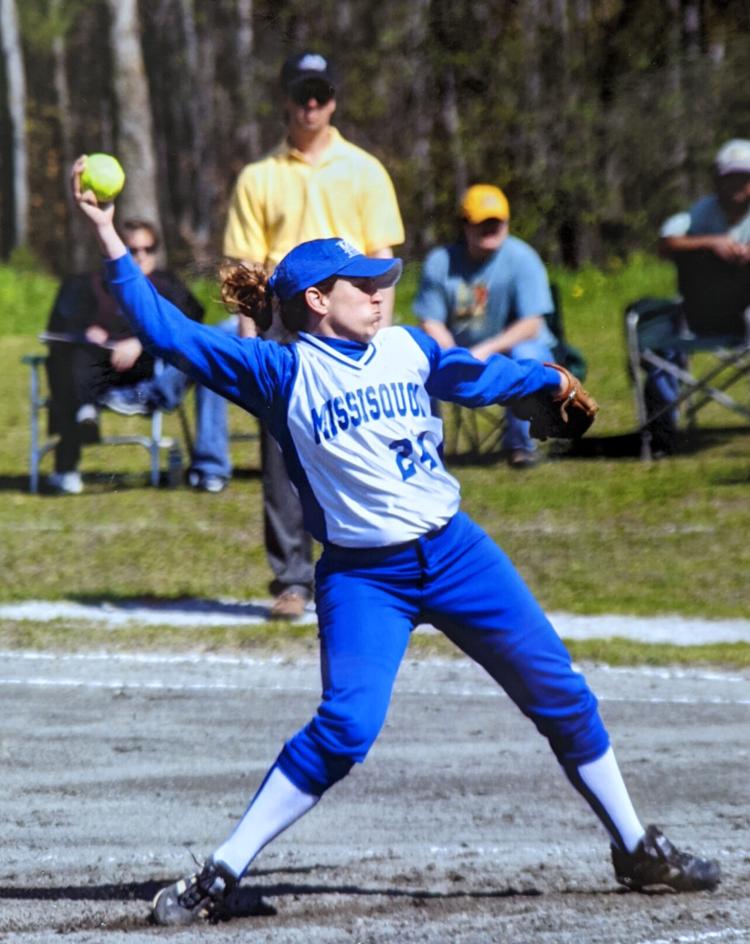 The years of missing championships were tough, but they built character.
"When you play in challenging situations, you learn to work through them. I was able to put that mental toughness to use at St. Mike's."
"I was excited to go and help build the program."
Roberge had a tremendous catcher, Noelle Gill, at St. Mike's.
"I had never been on a team with someone who could literally be a game-changer as Noelle was. I was very grateful for her," said Roberge.
The Purple Knights made a playoff run Roberge's sophomore year. She is the only player in Purple Knight's history to pitch in four post-season contests and finished with a 0.54 ERA.
Records are meant to be broken.
"The four years I played for St. Mike's were impactful for me and important for the program," said Roberge.
"I hold a lot of records at ST. Mike's, and I look forward to seeing the softball program grow to where we are breaking those records."
What comes after a life of competition?
"As I got closer to senior year, I was concerned that, for the first time in my life, I was looking at a future without a team," said Roberge.
"I loved my teams, and anyone who has been part of sports knows that your teammates become family.
"My advisor suggested I look into the decline of women's coaching since the start of Title IX (1972). I discovered that the drop-off was shocking."
The decline of women coaches since Title IX became Roberge's thesis.
"In many cases, men have taken over women's coaching positions as more opportunities grow with women's athletics," said Roberge.
"Before Title IX, most athletic departments had athletic directors for both men's and women's programs. Title IX combined the positions."
Roberge pursued a career in athletic administration.
After earning her Master's in the spring of 2010, Roberge took a position at St. Michael's as the Coordinator of Athletic Facilities and Student Workers.
She has been there for 11 years and is now the Associate Athletic Director; she is responsible for budget management, eight varsity programs, and all student leader programming.
"This job is fun, but it's a lot of work and requires many hours. People did this for me during my athletic career, and that's why I do it for others," said Roberge.
"The 'behind the scenes' work creates the moments others can treasure. My AD's at St. Mike's, Geri Knortz and Chris Kenny cared about me personally and professionally and helped me grow into this industry.
"There are so many women who worked to allow me the opportunities I've had. Celebrating these anniversaries creates a time to acknowledge them."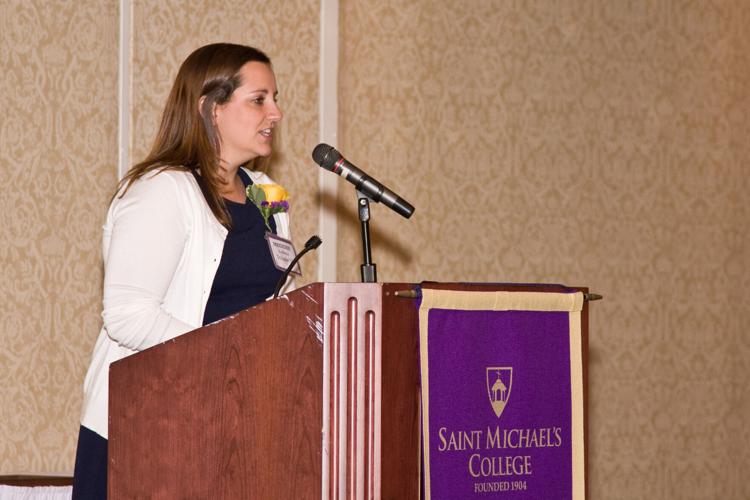 Roberge recalls highlights from the three stages of her athletic career.
High school softball at MVU:
"The collective experience of losing in the playoff games and what that required of me at the time stands out," said Roberge.
"I was fortunate that I always had the goal of playing in college."
College playoffs at St. Mike's:
"My proudest moment was in playoffs in my sophomore year against Le Moyne, a team that had made a playoff run the previous year," said Roberge.
"I won my first playoff game against Merrimack, and then we went on to beat Le Moyne; it was a tremendous experience for the program and the coaches."
As a professional:
From 2013-2016, Roberge was a member of the NCAAl Field Hockey Championship Committee and worked at the NCAA Championship game.
"Attending the game and being part of the post-game celebration, complete with the confetti guns and handing out t-shirts to players who had worked so hard, was incredible!"
St. Mike's annual year-end awards are another perennial favorite for Roberge.
"The athlete receiving the Don Jacob's Award doesn't' know they will receive it until their name is announced," said Roberge.
Roberge recalled watching one specific athlete, a field hockey and lacrosse goalie, receive the Doc Jacob's award.
"I watched her face as she realized we were talking about her, and she became emotional, which was unusual for her. She was so proud!
"The moments when we see athletes have had a transformative experience, like when they receive recognition, are really special. It's special to be part of someone's success," said Roberge.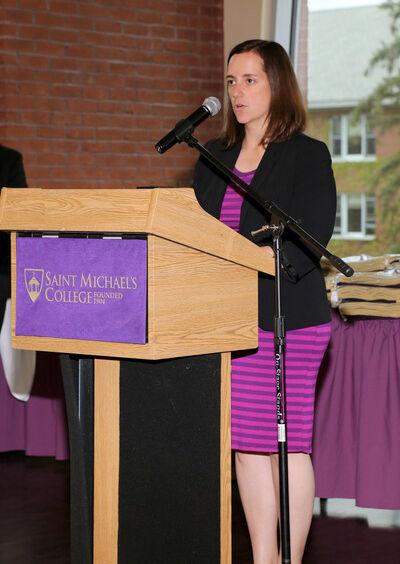 The power of sports.
"I'm a huge proponent of the power of sport and of what students can do when they work together," said Roberge.
"The emphasis for me is giving forward the experience I had as a student-athlete to current students and helping them realize the value and power of their experience playing sports."