I'm always up for a winter hike, especially in great weather. Last winter, on a glorious bluebird day, I set out on my first solo winter hike with Yadi, our 90-pound Labrador retriever.
Yadi is a seasoned hiker and always garners lots of attention on the trail. He's big, so he's hard to miss, but it's not just his size that stands out.
I've never owned such a friendly, absolutely jolly animal. On the trail, Yadi has been referred to as a 'ball of golden Labrador sunshine,' and the description fits him perfectly.
There's another description that also fits him, and that's why it took me three years to get him on the trail alone.
"That's the buffest retriever I've ever seen."
A pair of college students made that observation on the Kinsman Ridge Trail in New Hampshire, and it's accurate.
Yadi is all muscle, and it took three years of steady training before I dared to hit a winter trail with him by myself. Adam and I joke that he could pull us to our death; it's probably not far from the truth.
If you've climbed the Stowe Pinnacle on a clear day, you know the effort-to-reward ratio is pretty fantastic.
Yadi and I hit the trail as the sun crested the Worcester Range, a ridge of mountains that parallels Mount Mansfield and the Green Mountains. The Trapp Family Lodge and the village of Stowe nestle between the two ranges.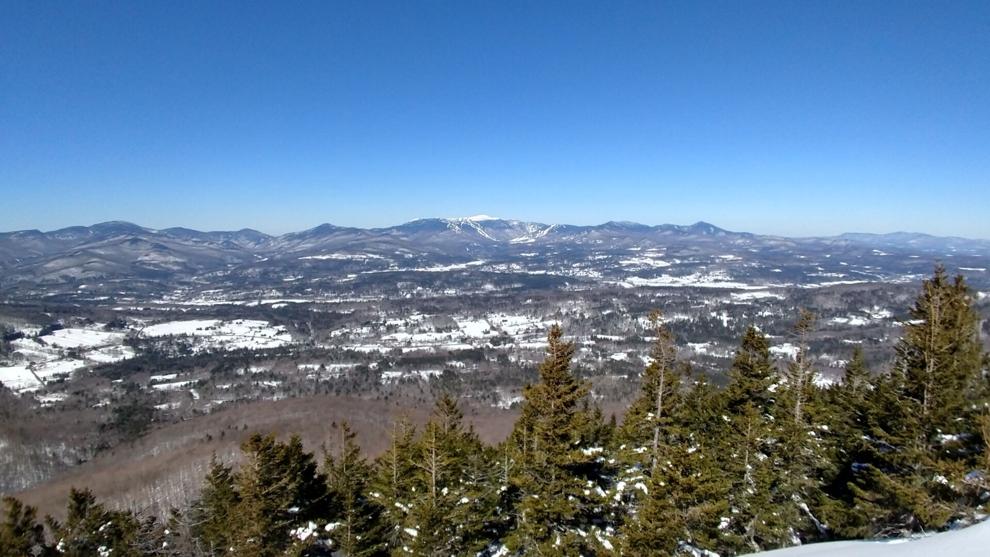 Yadi and I opted for the longer hike and took off from the car in high spirits.
The trail was in perfect condition, with plenty of snow for my microspikes (tire chains for your boots) to grip.
When we're in the woods at home, Yadi is never on leash, but we keep him leashed any time we're out in public.
I would like to hope, after all the training I've done, that his recall would be good, but I've got more doubt than hope!
Apparently, Yadi wasn't exactly sure what he'd do if he got the freedom his dog heart craved.
Things were going splendidly as we trotted along, but suddenly, the clip on Yadi's leash let go.
Neither of us moved a muscle; I was making lots of internal calculations (my speed vs. Yadi's--I would never catch him).
Yadi was staring at me with a look of equal surprise. I took advantage of his hesitation and quickly grabbed the bag of cooked chicken from my pocket.
A buff retriever needs a lot of fuel to keep moving. Yadi traded his new-found freedom for two handfuls of boneless, skinless chicken breast.
While he happily munched on the treat, I secured his collar and breathed a tremendous sigh of relief.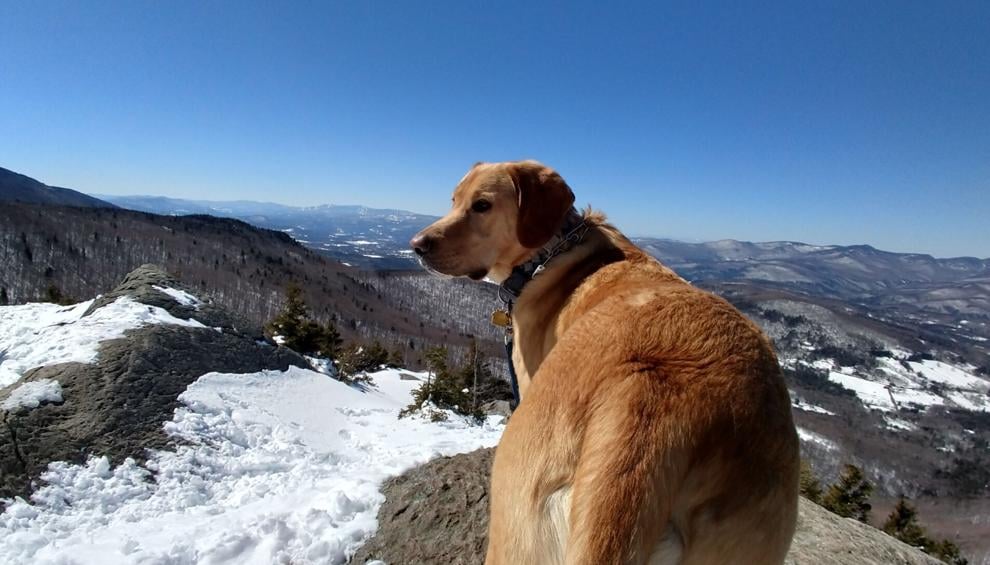 Snow-capped mountains and a photo op awaited us at the summit.
Winter hiking can be easier than summer hiking when the snowpack settles in. Roots, rocks, and uneven ground are covered under a blanket of white.
Yadi and I zipped our way through the trees, popping out on the rocky summit and a breathtaking expanse of snowy peaks.
Camel's Hump, the Bolton Range, Nebraska Notch, Mt. Mansfield, the Sterling Mountain Range, and the rest of the Worcester Range spread out around us.
Two men, who we'd passed on the way up, arrived after we did. When they joined us on the summit, they offered to take our photo.
Yadi wasn't interested in posing for the picture; when I knelt down beside him, he showered me with kisses. That was a good reward for my efforts.