ST. ALBANS — Jeff Harvey grew up in St. Albans in the 50s, when soda fountains and sandlot teams were part of everyday life.
"I remember helping throw papers from Congress Street to the Messenger Street School on Ronald Chagnon's paper route," said Harvey.
"We'd pick up the papers at the Messenger office near the Blue Lion and Dutcher's Drug Store."
The Dutcher's Store was a favorite hangout for Harvey and some of the local boys.
"Mrs. Dutcher ran the fountain, and Mr. Dutcher was the pharmacist. She would keep the store open, and the Chagnon twins and I would have our milkshake--Roger always had a 'banilla,' and Ronald and I would have strawberry," recalled Harvey.
The boys would eat their Nab crackers, drink their 20 cent milkshakes, and thank Mrs. Dutcher before heading out.
Harvey and his friends started high school at St. Mary's in 1954 and graduated in 1958.
'I played everything they had--football, basketball, baseball. Jim O'Conner was our coach for three of those years. We were successful in everything he coached. He eventually went to Swanton, where he turned Swanton High School athletics around," said Harvey.
"We played football and baseball at the end of Gilmore Avenue, off of Lincoln Ave, beside Greenwood Cemetery, where the city used to dump the snow from downtown streets.
"As soon as the snow melted in the spring, we'd move chunks of pavement and rocks (and find some spare change). Our first practices were with rakes, shovels, and wheelbarrows."
The St. Mary's boys played Cathedral (now Rice), Newport, Winooski, St. Johnsbury Academy, and the St. Johnsbury Trade School.
In football, six games were played from September to October; the 'big' high schools played eight.
All St. Mary's basketball games were played against in-county schools: Brigham Academy, Cambridge, Fairfax, Enosburg, Swanton High, St. Anne's, Richford, and Milton. Occasionally, they'd play Winooski.
O'Connor was 'the coach' at St. Mary's; he coached girls basketball, which was half-court, three offense and defense, all three boys' sports, and he taught history and civics.
"Jim was the guy that made me think I wanted to coach. He was tough, organized, demanding, and professional, but he was approachable. He didn't care if you were the star of the team or the guy carrying the water bucket," said Harvey.
"He approached me and the Chagnon boys (whose brother Robert 'Soybean' worked with the National Guard and was a star at St. Mary's) and Jackie Ovitt.
"We were seventh and eighth-graders at the time; he told us we could practice with the football team and get a uniform. We became live blocking dummies, but we learned.
"We had some good athletes—George Burno—'Chuck' was one of the county and state's best athletes. He graduated the year before I started high school. He was a tremendous person and an excellent athlete."
The year Harvey joined the practice squad, St. Mary's won the B State Championship in football.
During Harvey's time at St. Mary's, the football team never had more than 19 players, so O'Connor enlisted outside help for scrimmages.
"The alumni would come at 4:30 after their workday at the railroad and other places. They'd get helmets from Jim, and we'd scrimmage against guys in their 20's and 30's. They made us tough; when we played people our own size, we loved it," said Harvey, chuckling.
"We were playing against guys like Buddy Ovitt, who was head to toe muscles--about 210 pounds of them!"
High school football games in the 50s were played in ten minute quarters, and most St. Mary's athletes played the entire game.
Harvey made up his mind to attend UVM, thanks to trips to the college made during high school.
"After our high school season ended, St. Mary's would go to UVM to watch the Green and Gold play football, and I knew I wanted to play there," said Harvey.
At that time in College football there was limited substitution. A player who left the field could only re-enter once a quarter.
"During the Middlebury game my sophomore year, I played 55 minutes of the game. We scored a touchdown and our kicker couldn't re-enter so Coach Mike Vendetti told me to kick off. If we scored that was just the way it went," said Harvey.
"At the Norwich game a couple of weeks prior, I started one game as a guard, finished as a center, long-snapping on punts and extra point, played defensive end and guard at times depending on the defense and who was in the game. You can't do that today.
"In my senior year, they had opened it up so that you could substitute three people per play. A year or so later, it became unlimited substitutions which introduced special teams."
While at UVM, Harvey played with Tom Mongeon, a former Burlington High standout.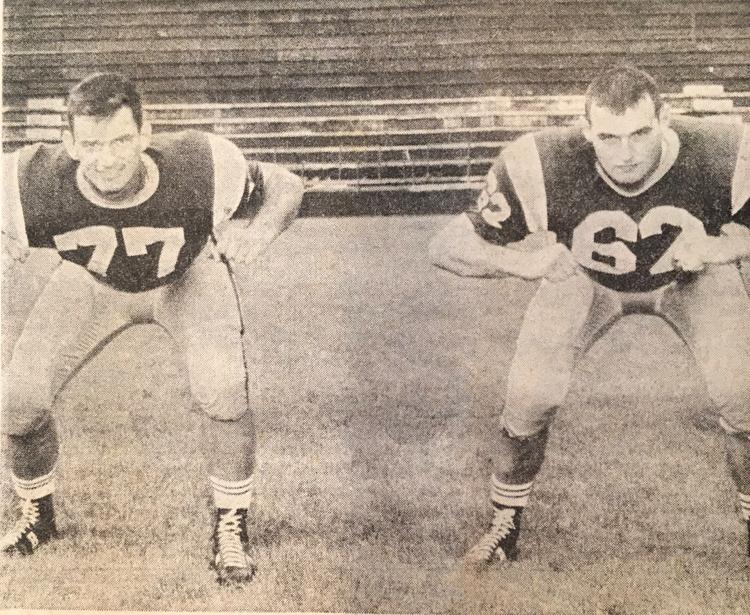 "As I recall he had gone in the military after high school. When he got out he moved to St Albans and went to UVM and started playing football again," said Harvey.
After graduating from college, Harvey joined the military, where he served 14 active years (including two tours in Vietnam) and 14 years in the reserves. He retired as an Infantry Lieutenant Colonel in the US Army.
After his time in the military, and working as a Department of the Army Civilian, he retired and began coaching. He chose to craft his manner of coaching from the multitude of experiences he had gained in his time in sports and the military.
"As I followed my wife Janet (an Army Chaplain) around, I found a volunteer coaching position at Benedict College, where I was an assistant football coach," explained Harvey.
Harvey then coached football and baseball at a US high school in Heidelberg, Germany, and then at Oakton High School in Oakton, VA.
"I'd tell the kids to look around them and see that they were actually doing something special for the high school. Whether it's band, athletics, theater--these all add to the school and to their experience that they would never forget."
Harvey enjoyed acknowledging students who added to the school community in any way.
"I'd drop into events and congratulate the kids. Naturally, parents are supposed to recognize their children, but it's good for kids to have someone else who can recognize their efforts."
Harvey values his lifelong love for sports and the lessons he's learned from them.
"I've often said I've gone through life as an observer and a participant. I learned to be a good coach from men like Jim O'Connor and from John Coons, the position coach at UVM my senior year," said Harvey.
"John Coons brought light, semi-sarcastic humor into his corrections. He didn't have to be cold and harsh to get the point across; that was a defining moment for me.
"I used that while I was coaching younger kids in Germany at The DODD (Department of Defense Dependent Education system) high school.
"I had a good kid who had so much energy. We were running a drill in football practice, and he couldn't get it down. Finally, I looked at him and said 'the tackling dummy knows the drill.' He and the kids laughed, and he eventually learned the drill," said Harvey.
"Another time one of the players was having a problem getting his assignment. I stopped the drill and asked him, 'what did you eat for breakfast?' He answered "Fruit Loops, Coach" I turned to everyone and said, 'there it is guys, you are what you eat, so be careful.'
"Todd became proudly known as 'Loops' the rest of his time at Heidelberg. He became a standout player on our two Division I Championships."
After his first tour in Vietnam, in the summer of 1969, Harvey received orders to serve as an ROTC instructor at Penn State.
"I made the acquaintance of Joe Paterno, who was then a relatively new head coach. I wanted to talk about football, and he wanted to talk about the military and how I got soldiers to function in combat," said Harvey.
"He had served two years just as WWII ended and found discipline and varying types of leadership interesting.
"I told him that when I took over my infantry company, I made a couple of changes on how we moved as a unit in search for trouble. Three days later, we were moved out of the jungle and onto a dirt airstrip.
"We moved up and down the strip, practicing our reaction drill. Everyone could see how each played a part in the training and our protection.
"A leadership element is to give a common goal and to try to get the majority to buy into the goal. I set the goal of getting home on our feet rather than in a prone position in a box.
"They got with it, and the young squad leaders took over. It was great to watch. Two weeks later, we ran into a situation in a bad area; the men reacted as we practiced, and we were successful. No orders were needed. I couldn't have given any because it was too loud.
"My point to Joe Paterno was that I had learned early in high school by Coach O'Conner that 'practice makes permanent.' In life, you always need a plan. You can change or adapt a plan to a situation. If you don't have a practiced plan, you will be in trouble."
It's been a few years since Harvey was drinking milkshakes at Dutcher's, shoveling the field at the end of Gilmore Avenue, or taking orders from O'Connor, but he has never forgotten his time in St Albans and Franklin County.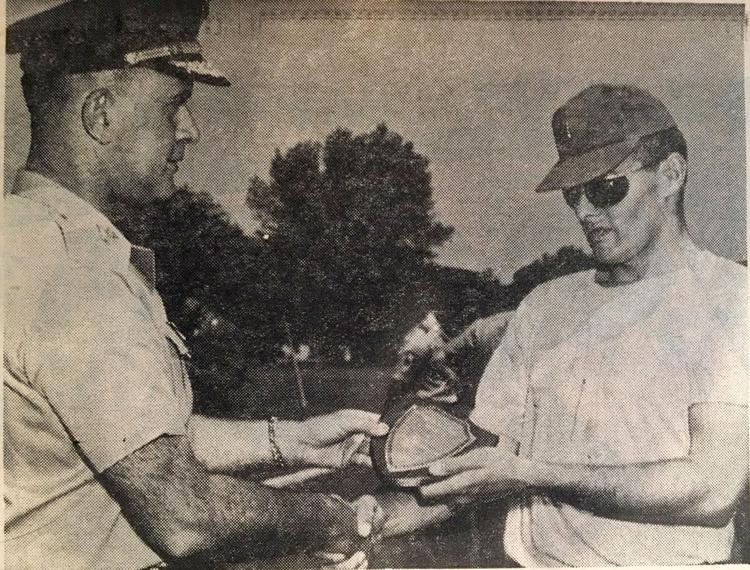 "My world has always revolved around sports; from the time I was 11, I knew I wanted to be an athlete," said Harvey.
"Growing up in Vermont when I did, being in sports, and being in the military was a big deal. Those were the places where I developed, worked, and lived. Hopefully, I'm still developing."