ST. ALBANS/MYRTLE BEACH, S.C. — Nate Loughlin has played and loved the game of football most of his life.
This fall, Loughlin made the tough decision not to return to campus at Bishop's University in Canada after the collegiate football season was canceled.
"I've invested so much time and effort in the game; I can't wait to get back up there with my team," said Loughlin.
Loughlin, who's currently living in Myrtle Beach, S.C., is doing classes online and preparing to return for football.
"I'm looking to arrive back on campus in the best shape possible, and I'm still looking for that start," said Loughlin.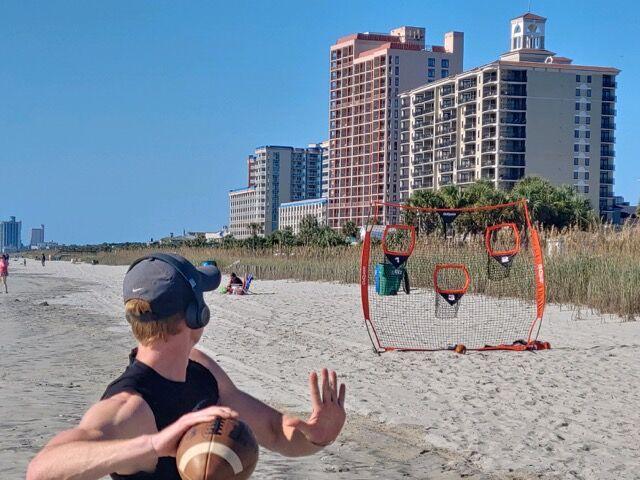 Concerns about lengthy quarantines kept Loughlin stateside this fall.
"I have dual citizenship and a residence in Quebec, so I could have crossed. But once I got to Canada, I'd really have been cut off from coming home."
The last four years haven't been easy ones for Loughlin.
"My mom was diagnosed with breast cancer three weeks into my junior year of high school. She took cancer head-on," said Loughlin.
Loughlin recalled the day he found out about his mother's illness.
"One morning, my mom told my sister and me that she'd been diagnosed with stage three cancer. That stopped us in our tracks," said Loughlin.
"Stepping into that QB role my junior year of high school and finding out my mom had cancer was tough.
"I'm very thankful to all my BFA coaches. My mom asked them to keep an eye on me over my first season starting. They took me aside and told me they had my back."
Loughlin made the decision not to tell his teammates about his mother's diagnosis.
"I kept it on the down-low, but I did use my teammates to keep me going," said Loughlin.
"On a football team, you make friends and brothers. Being in football every day and knowing that all those guys had my back really pushed me through."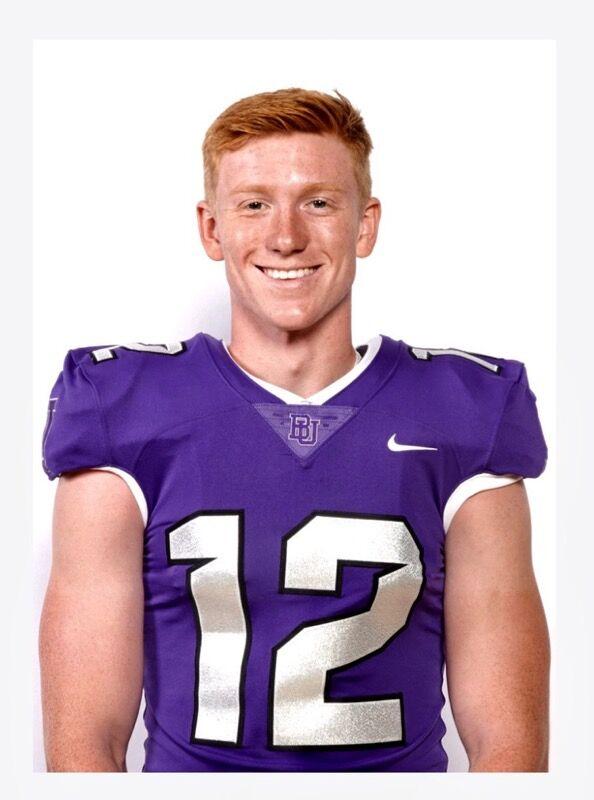 In the fall of 2019, Loughlin began his academic career at Bishop's University, where he joined the football team.
"One of the big things that my coach at Bishop's drills into us is to control the controllable, and I've taken that to heart," said Loughlin.
"I can't control a pandemic that's getting in the way of things I want to do. I couldn't control my mom's illness, but I can control where I am and how hard I work--what I'm striving to do and who I'm striving to be."
Anyone who has the opportunity to talk with Loughlin can hear the confidence and kindness in his voice, but things haven't been easy.
"If my mom can talk about her illness, why should I feel bad about talking about the problems I've been encountering," said Loughlin.
"A lot of stuff happened in my high school years. My parents split, my mom was diagnosed with cancer, I lost family and a childhood friend passed away--it all came crashing down after my junior year."
When college classes went online and the college football season canceled, Loughlin made a tough decision.
"I've been dealing with a lot of anxiety, and I saw an opportunity to take a step back and work on myself," said Loughlin.
"It was hard to see all these things happen and not be able to do anything about it. I've always tried to set my problems aside to help others, which is good, but things catch up with you."
A late-night panic attack got Loughlin's attention, and he called his doctor the next day.
"In that first year of college, there was so much exhaustion, stress, and just growing up so quickly," said Loughlin.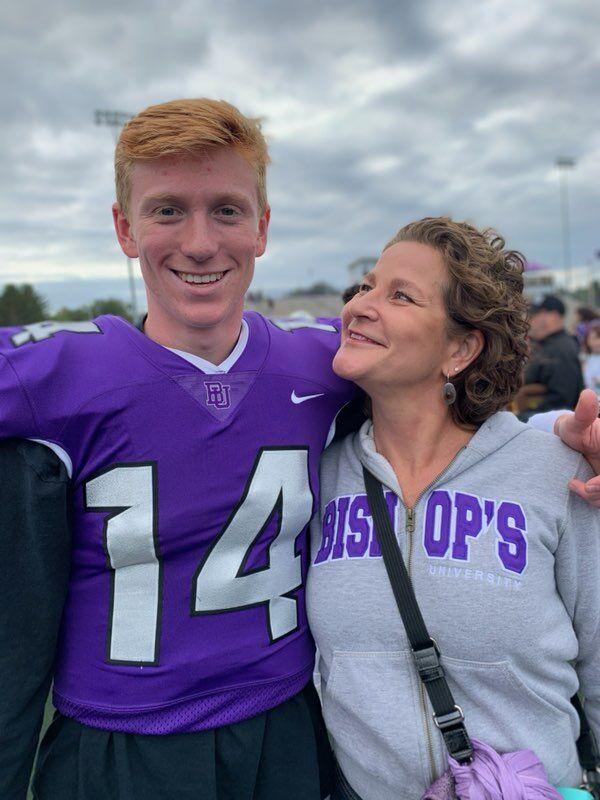 "My family noticed changes in me, and I noticed changes, too. My family was so supportive, and my doctor helped me to recognize what was going on.
"The more we talked, the more I realized how hard things were. I was lucky to make it as far as I did without really falling apart."
When it came time to decide whether to return to Canada and quarantine, Loughlin had more hard decisions to make.
"I talked with my coach about my anxiety and how I needed to get things straightened out," said Loughlin.
"He said something that really resonated with me, 'with something like this with my players, I'm not treating it as 'just a mental health issue.' I treat it just like an ACL tear or a broken bone. Take the time you need to get healthy. When you're ready, we'd love to have you back.'
"Hearing my head football coach tell me my anxiety wasn't just in my head but was something I could work on was incredible.
"He assured me the team loved me and told me I had incredible potential on the team."
At first, Loughlin wasn't sure he wanted others to know of his struggles, but he realized his openness might help other people.
"Anxiety can build into other things; I've lost family and a friend to suicide. Thinking about that got me thinking that if one person reads this and seeks help, it's worth it!" said Loughlin.
"Talking about mental health is so important, especially with people my age. People need to know it's okay to seek help, and things can get better."
Treating emotional and mental health issues, Loughlin noted, should be no different than treating physical ones.
"When people need help, they need help. You'd never try to heal a torn ACL by yourself," said Loughlin.
Loughlin recalled his first visit to Bishop's University, shortly after he had lost a friend to suicide.
"Coach Cherif explained how Canada has a holiday from a cellphone service, called 'Bell, Let's Talk Day' that's been created to talk about mental health," said Loughlin.
"My coach talked about how the athletes' mental health is so important to the staff at the school."
Although he wasn't concerned for himself at the time, the mental health focus at Bishop's spoke to Loughlin.
"I've seen so many people lose their battle to mental health. It genuinely breaks my heart to think that many people out there believe there is no way to get better and no one to talk to," said Loughlin.
"I'm incredibly lucky that I had the people around me who were there to support me when I got to the place where I knew I needed to work on things."
Not everyone may feel they have people around them who care, Loughlin noted.
"There are people who are willing to help. It doesn't matter if everyone knows your name at your high school, or no one knows you.
"Mental health isn't dependent on how popular or athletic you are. So many people suffer, and it's gone unnoticed," said Loughlin.
"The present can hurt like hell, but it can get better. Stick around for the future."