ST. ALBANS — COVID-19 may have taken many things from communities, but Saturday's celebration of the 2021 girls basketball state title at BFA St. Albans was a perfect example of what hasn't been taken: community.
The Comets loaded on a bus and enjoyed a parade through downtown St. Albans and around Taylor Park, complete with fire trucks, police cars and decorated vehicles.
This year's Comets didn't get to go to Barre to play their final game after Rice was forced to forfeit due to COVID-19 concerns.
A caring community member, Bryan Deslauriers, who was a three-sport athlete at BFA St. Albans, reached out to a teacher to suggest a parade.
The parade was quickly organized, and on Saturday afternoon, the community, the athletes and their families had a chance to celebrate together.
Before the parade, the team met with BFA Athletic Director Dan Marlow to cut the net, with each team member receiving a piece of string as a keepsake.
After cutting the net, Marlow led the girls in an exercise referred to as a circle of positivity. Each of BFA's five seniors went to the center of the circle and listened while their teammates spoke words of encouragement.
The circle has been around for a while, according to Marlow, and was part of Comet coach Jim Bashaw's dedication to raising up great people.
"Jimmy and I were sitting on the bleachers after a basketball camp, and he said to me, 'One of these days we're going to fill this gym, not just because we've got good athletes but because we've got good people,'" said Marlow. "I told them today that Mr. Bashaw would be so proud of them. It's all about taking care of people who are important to us, and that's what we did today."
Marlow noted that some kids in this year's program had aunts and mothers who played for Bashaw.
"Anyone who played for Jimmy, they'll relate to this. His influence still continues to impact the kids who play now," said Marlow.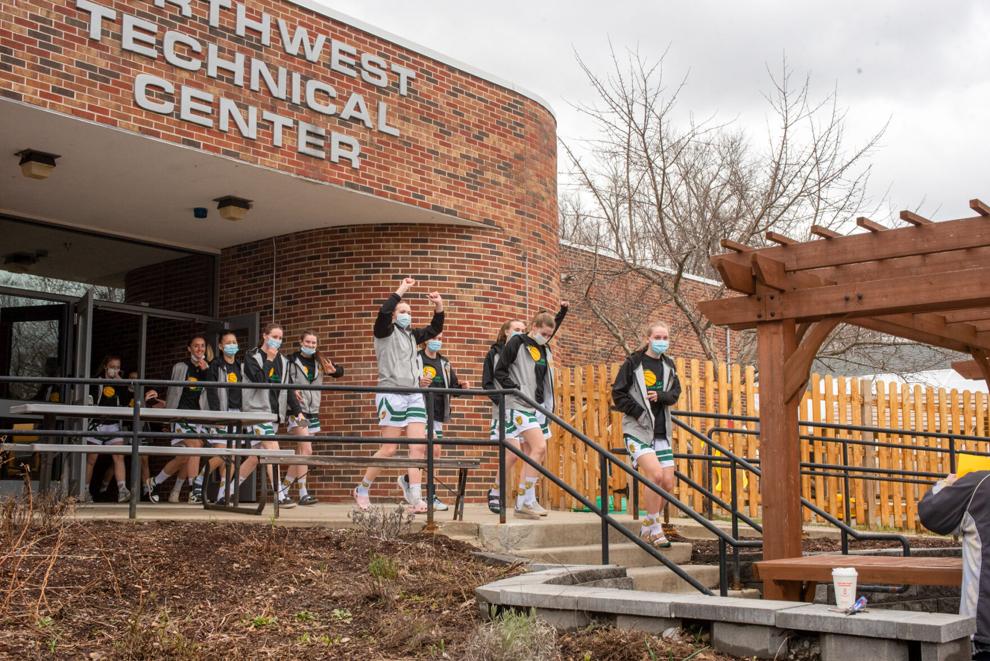 After the parade, the girls gathered for photos, interviews, and a chance to be together in the gym. Messenger Sports caught up with the Comet seniors.
Megan Buckley, who graduated last season, helped with TV coverage for the Comets and came to photograph and celebrate on Saturday.
"It was fun to watch them through the season. Their last game was such a great game. They played so well together!" said Buckley.
Comet coaches Paul LaFountain and Dylan Baker also shared thoughts on the season.
"We've talked a lot about how lucky we were to play, but also to play our best and go as far as we can. The team came to work every day and made the protocols easy. They never let anything slip. For all the talent we had, a lot of the season went into being as diligent as we could, and that's just as hard as winning any game, I think," said Baker.
"Everything was so unknown, but we told the girls we weren't going to let COVID dictate our season. We worked them hard, and they responded. We were prepared for the season, and it all started with the first practice: we were going to control what we were going to control."