ST. ALBANS TOWN – Voters in the Town of St. Albans are already seeing the two questions town officials have added to November ballots: a pair of appropriations for supporting the town hall's relocation.
Those two articles – each asking for $200,000 from the town's local options tax fund for a land purchase in St. Albans Bay and predevelopment work for a new town hall – would set the stage for a final vote on building a town hall in March, addressing a longtime goal for town officials.
Here's why officials want to build a new town hall in St. Albans Bay.
The current town hall is running out of room, especially for the documents state law requires municipal governments to keep.
One of the most oft-cited reasons for the town's push for a new town hall involves record keeping. Its vaults have, according to town clerk and treasurer Anna Bourdon, only enough room for another two years of records. "If that," Bourdon added.
Under Vermont law, municipalities are required to keep physical copies of certain records indefinitely and maintain other records for a period of time. Those records are required to be kept in secured areas with certain safety measures in place to protect records from the elements – like fires and flooding.
In St. Albans Town, those records have been confined to several vaults – namely a vault tucked into the clerk's office and, for records that can be purged after a given period of time, in a larger basement vault.
The vault in the clerk's office, according to Bourdon, is about full.
A limited amount of shelf space remains in a vault space already occupied by a tracked shelving system intended to provide more space. "This used to be a working vault, with a table and chairs," Bourdon said, moving a row of shelves to reveal the few remaining slots available for the books containing the town's land, birth and death records.
The vault in the town hall's basement was more chaotically organized, with records collected in carboard boxes stacked atop one another and on a metal set of shelves.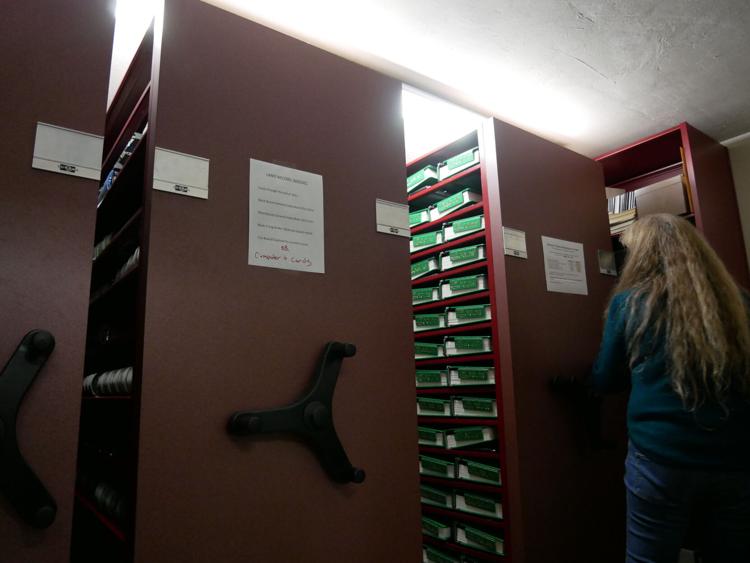 Aside from the hall's meeting space and the clerk's office, most of St. Albans Town's offices are located on the hall's second floor, presenting accessibility challenges for some visitors.
According to town manager Carrie Johnson, office staff will accommodate any visitor with reason to visit the town office, often meeting those visitors on the building's first floor, but there are challenges for some facing a movement disability.
Several of the town's staff – administrators, assessors, the zoning department and manager's office – sit on the town office's second floor, accessible only by a set of stairs.
For those needing to use an accessible entrance, the town hall's only ramp leads into the town's public meeting space, which is also home to the town hall's only handicap accessible bathroom and kitchen.
From there, visitors needing to visit the town clerk would need to exit the meeting space into another hallway and, from there, pass through a set of doors leading past one of the town hall's few stairways into its basement – a path seeming both unintuitive and uninviting for first-time visitors to the town hall.
"We're compliant, but it could certainly be better," Johnson said.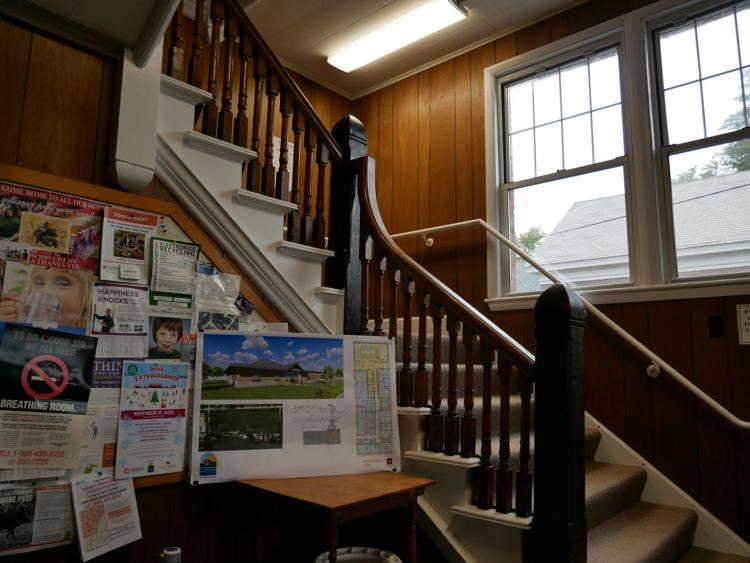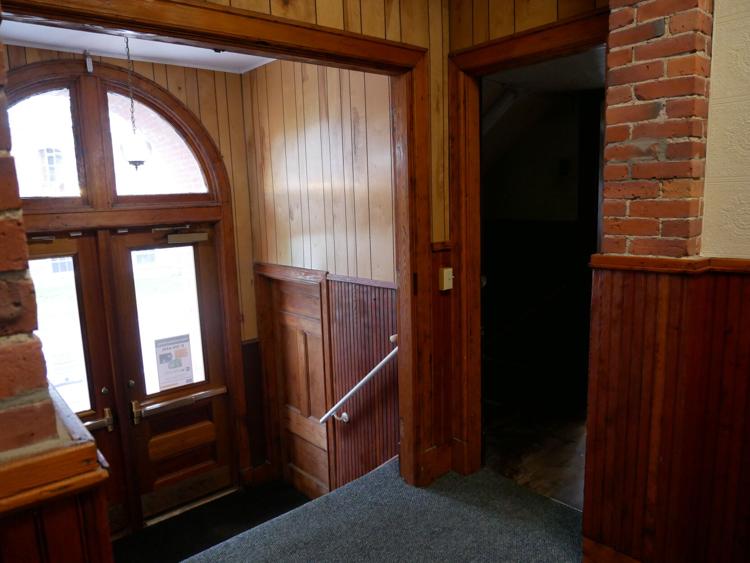 For town staff, the upstairs office space can be a distracting place with little room for private meetings and, at times, seem inadequate for the actual size of St. Albans Town's staff.
The St. Albans Town Hall's second story houses most of the town's offices, save for a handful now expected to work out of St. Albans Town's new department of public works building.
Some office spaces, like zoning and the manager's office, have dedicated rooms. Others, like the assessors' office or the manager's assistant's office, are tucked into a labyrinth of dividers and filing cabinets framing an open office.
For those staff persons, the limited privacy offered by the town's open office can make confidential meetings a challenge and more generally be distracting for workers and visitors.
"I don't feel there's a very good space for meeting with people and helping them with research," Molly Mashtare, the town assessor's office's administrative assistant, said.
"It's kind of distracting," Jennifer Gray, the town manager's executive assistant, agreed. "There are times where I need privacy for [human resources] work, and I don't have it."
"You have to work around it," Johnson said of confidential meetings in the town hall.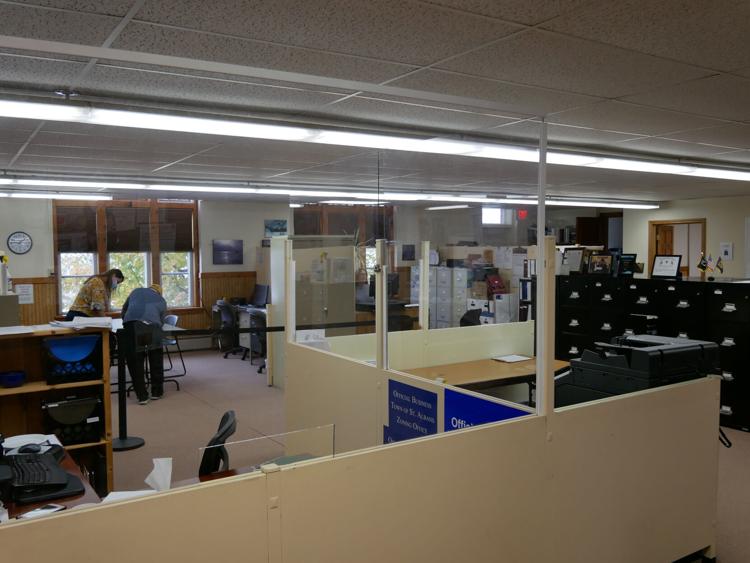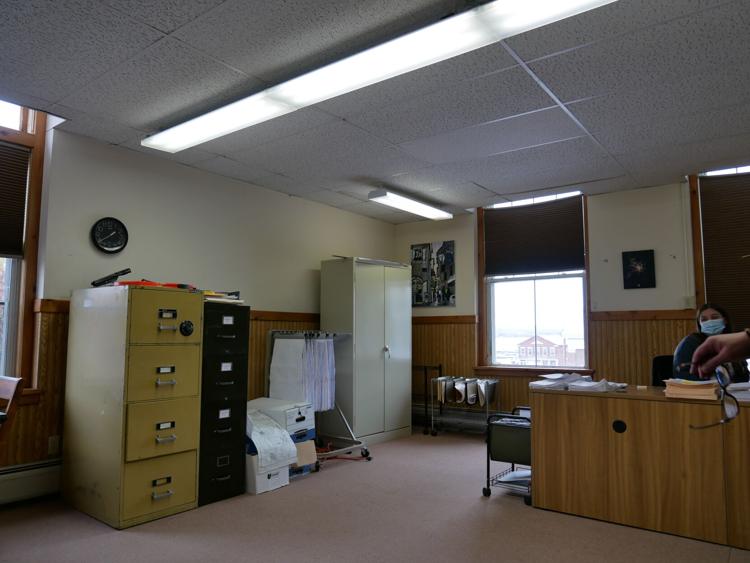 The office spaces pose their own physical challenges as well.
For the staff of eight or so who work in the town hall's second story, the building itself – a 120-year-old town hall and former school – poses its own problems.
There are obviously maintenance concerns that come with historic structures, according to Johnson, but everything from electrical systems to the smaller amenities needed for a comfortable working environment seem to be constrained by town hall.
During the Messenger's visit this week, jokes were tossed between staff about the small breakroom and, maybe most notably, the cramped, yellow bathroom barely larger than a broom closet stuck into a wall near the zoning office.
Officials also bemoaned an electrical system that was so sensitive that it forced employees in one section of the office's upstairs to decide during the summers whether they preferred having air conditioning or lights.
"The electrical is maxed out at this point," Johnson said. "You have to choose sometimes between cool air or lights."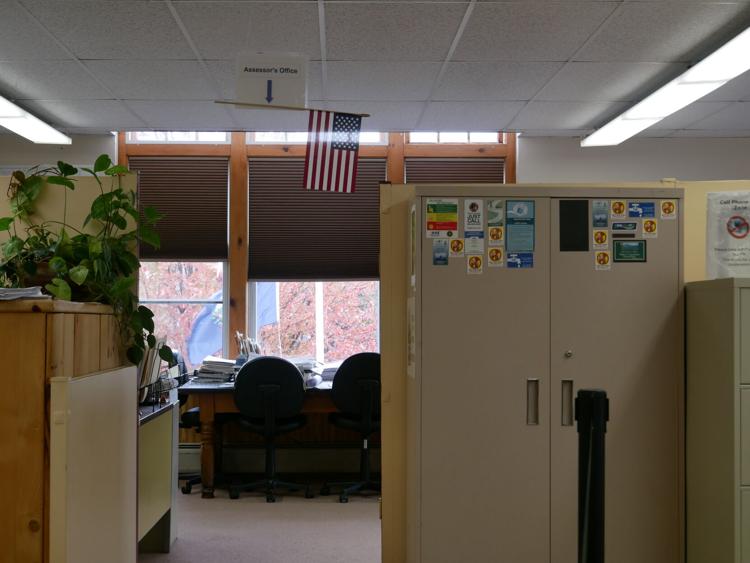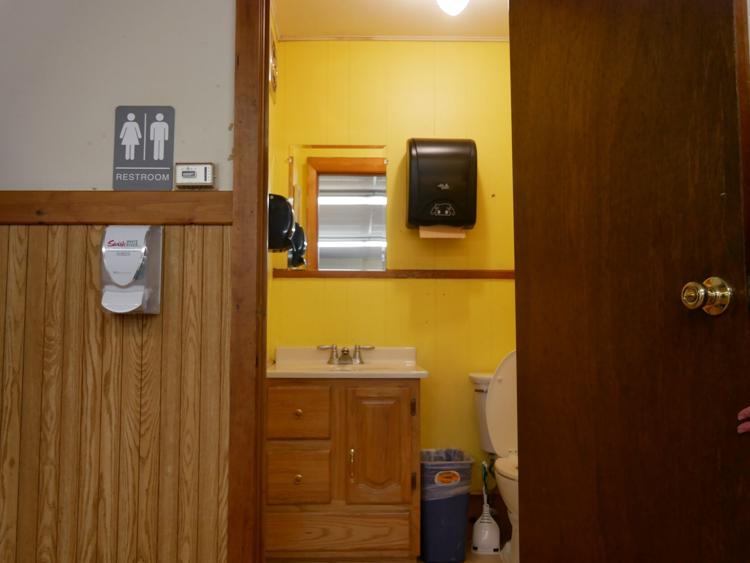 Has the town weighed any other options?
The town has considered expansion and improvements to the town hall in the past, a project town officials have said could cost as much as $2 million.
While a restoration job might ultimately be cheaper than the $3 million price tag officials have floated for building a new town hall, the improvements garnered through a restoration were expected to keep the town hall alive only for another decade.
The town hall remains short on space and capacity in its current location, with limitations ranging from septic capacity to a shortage of parking that, while capable of accommodating most municipal meetings, would be packed to the brim during the occasional full-house meeting.
Meanwhile, the admittedly more expensive project officials are bringing before voters – first with two articles this fall and with another construction vote expected next year – aims to support the town's government at least another five decades, according to Johnson.
The proposed structure, slated for a plot along Georgia Shore Road in St. Albans Bay, would have room for possible expansion if needed, something officials have underscored as they weigh the future needs of a still-growing St. Albans Town.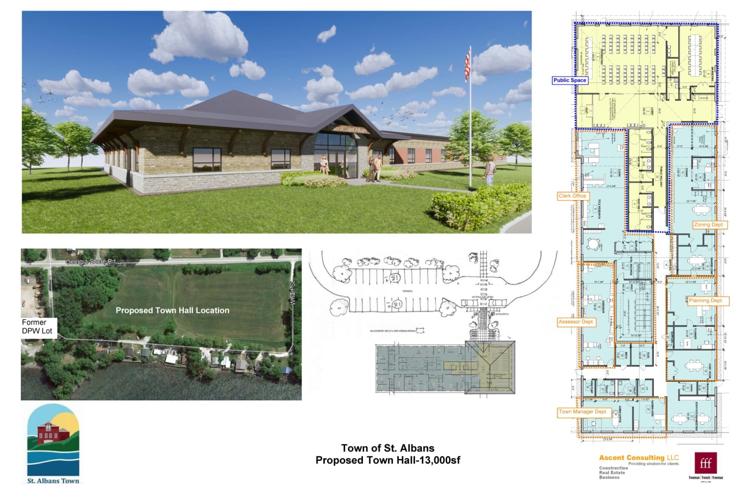 Should voters ultimately approve a new town hall, what will happen to the current building in St. Albans Bay?
What a move means for the current town hall is still an open question.
The building has a significant place in St. Albans Town's history, having long served as a centerpiece in St. Albans Bay's historical village. The building has housed the town's government since the end of the 19th century and currently sits on the National Register of Historic Places.
Johnson said town officials hope to meet with developers to talk about future uses for the building.
"It's a beautiful building and we don't want to get rid of it right away," Johnson said.
At least one developer has already reached out to town officials about the town hall, though town officials have yet to identify the developer and, according to Johnson, their conversation was only cursory and hadn't continued following the developer's initial contact.
Future conversations, she insisted, wouldn't happen until voters ultimately approve the town's plans for building its new town hall in the bay.
Meanwhile, while members of the town staff might share some appreciation for their old home, there appeared to be a consensus that it was time for a new one.
"If you've got a two-bedroom home and ten kids, you have to move," Bourdon, the town's treasurer and clerk, said. "It's been a good home, but it's time."
"This building was made with the needs of a 19th century office space in mind," Johnson agreed, "not a 21st century town hall."