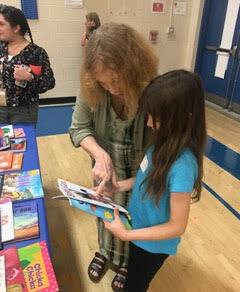 A collaboration between the Swanton Public Library, the Children's Literacy Foundation and Swanton Elementary School put nearly 150 free books into the hands of Swanton students Wednesday. 
The event featured an appearance by Swanton-based author Rebecca Rupp, who has penned more than 200 articles for national magazines and 20 books for children and adults. Rupp currently blogs on food science and history for National Geographic. After reading a story to students, she discussed the importance of reading and writing as lifelong skills.
The event was funded through a grant from the Children's Literacy Foundation written by the Swanton Public Library. Founded in 1998, the non-profit Children's Literacy Foundation, known commonly as CLiF, aims to inspire a love of reading and writing among children up to age 12 in Vermont and New Hampshire. The group has served more than 250,000 low-income, at-risk, and rural children in 420 towns across the Twin States. During the past 21 years, the group has distributed more than seven million dollars in new books.
"Events like this are really important because so many families are underserved with books," Abbey Gaudette, Youth Services Director for the Swanton Public Library, said. "Books can be expensive and it can be hard for families to afford them. Our goal is to get great books into the hands of children and families."
Gaudette said the event was part of the library's summer reading program. Families may still register for that program by visiting the library.
"The Children's Literacy Foundation is a wonderful organization, dedicated to getting books into the hands of kids," Rupp said. "The thrill of getting to choose and keep your very own new books truly excites the participating kids. There's something for everybody at these events and always, afterwards, those kids are eager to curl up with their books and read. In the long run, literate, empowered future citizens are the seed corn of our community."
Each participant selected two new books from hundreds on display at the school. The books were given to students to take home and keep.
Rupp also stressed the importance of strong relationships between schools, libraries, outside speakers and a variety of community organizations. "Those connections are such a benefit for all of us," she said.
Rupp said she brings her expertise to events such as this in order to give children a positive feel for books that they might not otherwise have encountered and to encourage them to associate books and reading with a fun and fascinating time.
"Say nothing of something that has the potential to enrich, entertain, and educate children for the rest of their lives," Rupp added. 
"Hearing the author read the story was really cool because the book had lots of detail and really described things well," fifth grader Brayden Peters said. "I learned a lot of words that I can use in my writing to be a great author."
"Being able to pick out books to take home was really special," fourth grader Rylan Nesbitt said. "I always love to add books to my collection."
Swanton Elementary is currently making plans for continued collaboration with the public library and Children's Literacy Foundation for the upcoming school year.