ST. ALBANS – An agreement between St. Albans City and St. Albans Town to build a municipal pool at the Hard'ack Recreation Area has expanded to include joint ownership of Hard'ack should voters approve the pool's construction on Town Meeting Day.
Officials from both the town and the city came together in St. Albans Bay Wednesday to reveal the proposed deal to the public with a meeting that was mostly amicable despite two town selectpersons walking out in protest at the meeting's start.
The proposed agreement would see St. Albans Town acquire 50 percent interest in the land making up the Hard'ack Recreation Area and share some governance of Hard'ack's facilities through an advisory St. Albans Recreation Commission staffed by an equal number of town and city residents.
In exchange, the town is charged with paying 50 percent of the costs for liability insurance for the community pool proposed at the site and would be allowed to contribute "any additional sums to support operations as the selectboard deems appropriate," per a draft of the agreement shared Wednesday.
Both would still evenly share construction costs of the proposed $5.5 million pool project, which includes a new pool house, a sidewalk to Hard'ack and a new entryway to the recreation area in addition to the pool itself.
St. Albans City, meanwhile, would manage the pool's construction and funding for the project authorized by town and city voters on Town Meeting Day.
Responsibility for the pool's maintenance would fall on the city's recreation department, with input from the proposed joint recreation commission and Hard'ack's board of trustees, and the city would manage the pool's operating costs and set access rates for the pool accordingly.
Town and city residents would pay the same rates for accessing the proposed pool and other facilities at Hard'ack.
Enacting the agreement is contingent on voter approval from town and city residents in March.
While the agreement remains unsigned, city officials said Wednesday they would likely agree to the letter of intent outlining the proposed deal. Hard'ack trustee Tim Hurlbut, meanwhile, confirmed the trustees already unanimously agreed to the deal.
The St. Albans Town selectboard will likely take up the issue at their next regular meeting warned for Jan. 21.
Outright, two members of the selectboard – vice chair Bruce Cheeseman and selectperson Stan Dukas – spoke out against the proposal, walking out within the first few minutes of Wednesday's meeting in protest.
"I have not changed my mind," Dukas said. "It doesn't change the fact that we listened to a half-hour pitch from St. Albans City and it took us 10 minutes to reach a quorum agreement to spend $2.5 million ahead of everything else we had in the capital plan."
Cheeseman, meanwhile, accosted selectboard chair Brendan Deso, who was selected by the town's selectboard to negotiate the proposed deal alongside Dukas, for handling the negotiations himself in what Deso said was a 20-minute call with city officials.
According to Deso, the deal's terms with the city were negotiated in 20 minutes and shared with Dukas later that day in what Deso described Wednesday as an hour-long conversation between the two selectpersons.
"We asked – and you agreed – to take Stan to those meetings with you... We don't agree to do something and then just do the opposite of that," Cheeseman said. "I'll go along with Stan – I haven't changed my mind either and I don't approve this."
Cheeseman was likewise critical of how fast the town and city had agreed to float a municipal pool project before voters and of how much time the selectboard had spent on the pool before town voters had a say in March.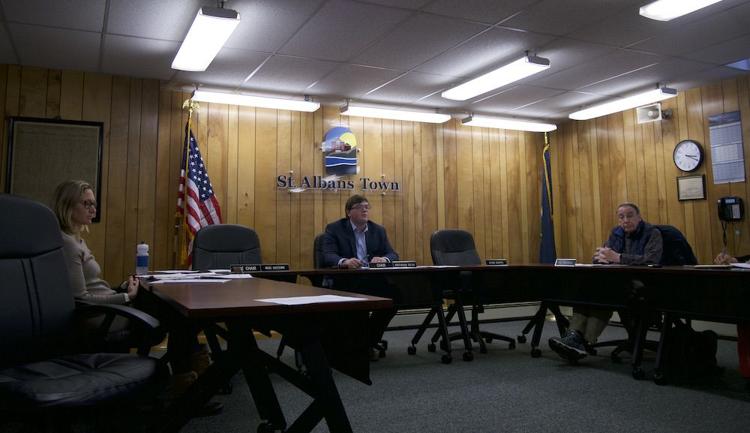 "How many documents have we signed on this? What is the big push?" Cheeseman said. "We said we're going to take it to the voters. Why can't we wait until March? We signed a declaration and now you want us to sign a letter of intent?
"You're pushing it too hard my friend, and if it fails it's going to be because of the big push," Cheeseman said as he prepared to leave. "I'm done."
"Are you walking out?" Deso asked.
"This is what the meeting is about. I've spoke my piece and I am done," Cheeseman said on his way to the door. "I don't like the way this is going down and I don't like the things you're doing in the background, Brendan. It's not right."
"I'm almost glad that he left, if you're going to take a negative connotation on something like that," Deso said as Cheeseman left.
"I'm concerned that our vice chair had walked out without discussing the actual merit of the letter," Deso said as the meeting continued. "To have our vice chair walk out on such a ridiculous ground and shoot down this whole process when we're trying to come up with some solutions to our recreation problems – it's just disappointing."
Deso said he had reached out to Dukas after negotiating with city manger Dominic Cloud to discuss the agreement and ask if Dukas felt a follow-up meeting was required. "He said, 'No, that's fine,' or something to that effect because we obviously didn't call a meeting," Deso explained.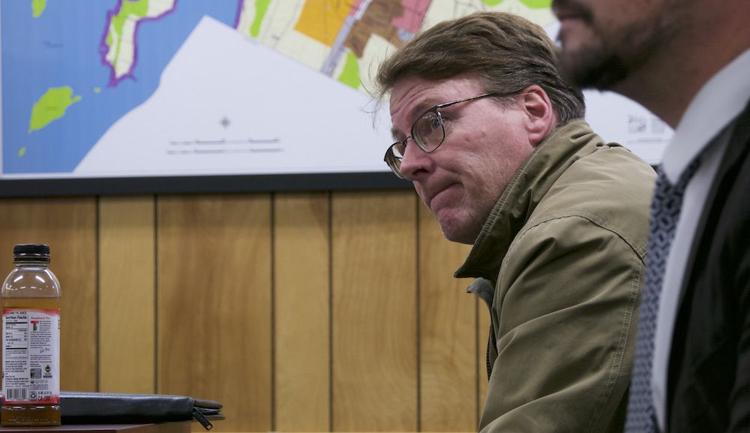 As Wednesday's meeting – also attended by members of the Hard'ack board of trustees and town residents – continued, the remaining town officials restated the town's interest in partnering with the city on a municipal pool at Hard'ack.
"A pool is not going to be something that's going to be a money maker for the city, but it's an amenity and it's an asset that people could move here to have access to," selectperson Jessica Frost said. "I think there's demand and there's need, and it would get highly used throughout the year."
An analysis conducted for St. Albans City found the city's current pool saw as many as 400 users a day and, according to town manager Carrie Johnson, roughly half of those users came from St. Albans Town.
With city officials present, questions were raised about whether the city considered simply rehabilitating its current pool near St. Albans City School.
According to Smith, the city had raised the idea of paying $2 million to restore the pool, but opted for a replacement when considering repairs could only buy a few more years with the aging facility while a new pool would allow city officials to keep the pool open longer.
"You go from ten weeks to 52 weeks, and you're investing more money," Smith said. "But in terms of accessibility for all ages for a year round pool, it made sense."
The city's analysis of its pool found the 40-year-old structure was well past its initial 25-year lifespan and that, despite "a tremendous effort" on the part of city staff, maintenance issues continued plaguing the city's pool.
Conditions were enough that, in a past interview with the Messenger, the city's recreation director said staff wonders every year whether the pool would even be operable.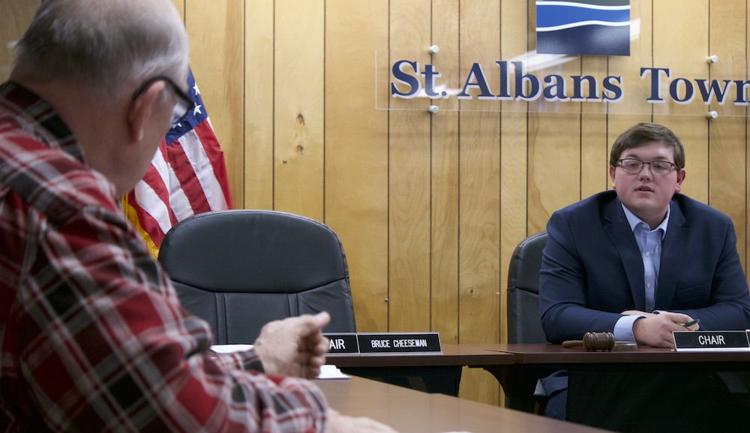 Pressed by a town resident about the tax impact of a multimillion dollar bond funding the town's share of construction costs, members of the selectboard said they planned to ease possible tax increases through a capital plan supported by the town's local options tax (LOT) – the town's 1 percent sales tax.
Per Deso, the selectboard planned to bring a capital budget built from annual allocations of the LOT fund before voters this March. If that capital plan were approved, it would remove larger budget items – like funding for renovating or replacing town hall – from the town's general fund and place those costs on the largely untapped LOT fund.
According to Deso, that meant, should voters approve the LOT plan and the pool on Town Meeting Day, the pool would not raise annual property taxes "above or beyond normal operational tax increases."
The town has yet to formally agree on the LOT spending plan it would bring before voters.
Following comments from former selectperson Paul Larner and resident Anne Pomeroy, present members of the selectboard agreed they may shift around some of the projects included in the current draft of the LOT plan – namely replacing planned expenses for fire trucks and work vehicles with annual bond payments for the pool.
Wednesday's meeting ended on a more positive note from those who were still present, with residents and officials applauding what they saw as progress between city and town officials on what at least a few attending considered a good project.
Though he expressed some disagreements with the proposed management of the pool, Larner told the selectboard, "We benefit substantially from this – we've never been in this situation before."
"I think I speak for the whole city council when I say this is a project that's going to benefit the entire community," Smith said. "This is something that will resonate with young families [and] senior citizens who want to locate in this community because of the amenities we're offering."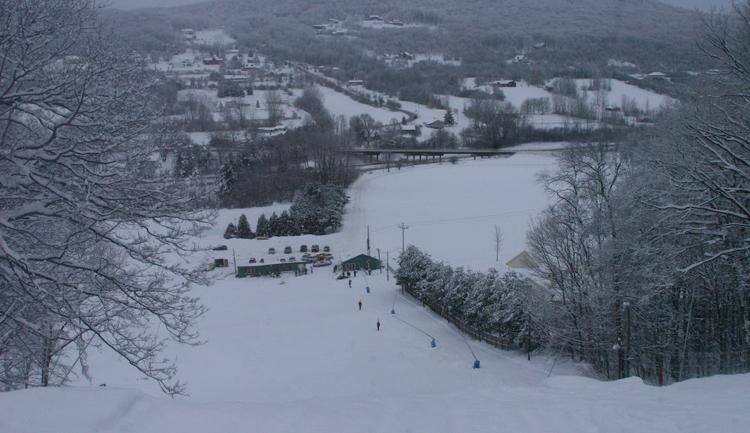 In light of some of the negative reactions the pool's drawn and some of the contention aired earlier that meeting, Smith also praised Deso's leadership in particular. "It's unfair for him to take the heat for having the vision to benefit our community," Smith said. "We're all on the same page – we want what's best for the community."
Board members said they aimed to have a community meeting featuring town and city officials where members of the community would be able to ask more in depth questions about the proposed pool project sometime ahead of Town Meeting Day.
The selectboard is now expected to take up the proposed agreement for sharing Hard'ack at their next regular meeting.
Read the current draft of the town's and city's agreement over the Hard'ack Recreation Area below: