ST. ALBANS CITY — Spectrum Youth and Family Services is expanding to St. Albans with a drop-in center in the works, and a friendly, familiar face from Northwest Vermont has been hired to run it.
Spectrum Executive Director Mark Redmond announced that Stefanie Comstock will take the reins as the drop-in center's program manager, being tasked with managing day-to-day operations, supervising program staff, developing and implementing programs, making community presentations, and participating in community meetings and committees.
"We are thrilled we are able to bring on someone of her caliber, experience and knowledge of St. Albans for this important position," said Redmond.
Comstock first heard about the opening in October and wasted no time in applying for it, seeing it as an opportunity to get back to helping the population she'll be working with at the drop-in center.
"I really wanted to get back to that, have a chance to start this from the ground up, and really make it an awesome space for the St. Albans community," said Comstock. Upon learning she had been chosen to direct Spectrum's new space, she said, "I was over-the-moon ecstatic.
"I really felt like it was meant to be. I found where I am supposed to be doing what I love to do."
Since graduating with a bachelor's degree in criminal justice from Castleton State College in 2005, the New Hampshire native has worked in both Chittenden and Franklin counties, most recently being a medication assisted treatment care coordinator at Northwestern Medical Center. She also spent time as a substance use case manager at St. Albans' Department of Children and Families Family Services Office while employed with Lund Family Center based in Burlington.
Comstock received her master's in criminal justice with a focus on psychology from the University of Cincinnati in 2007 and is currently working on another master's, in clinical mental health counseling with a focus on addiction, through Northern Vermont University. She's also a certified alcohol and drug counselor.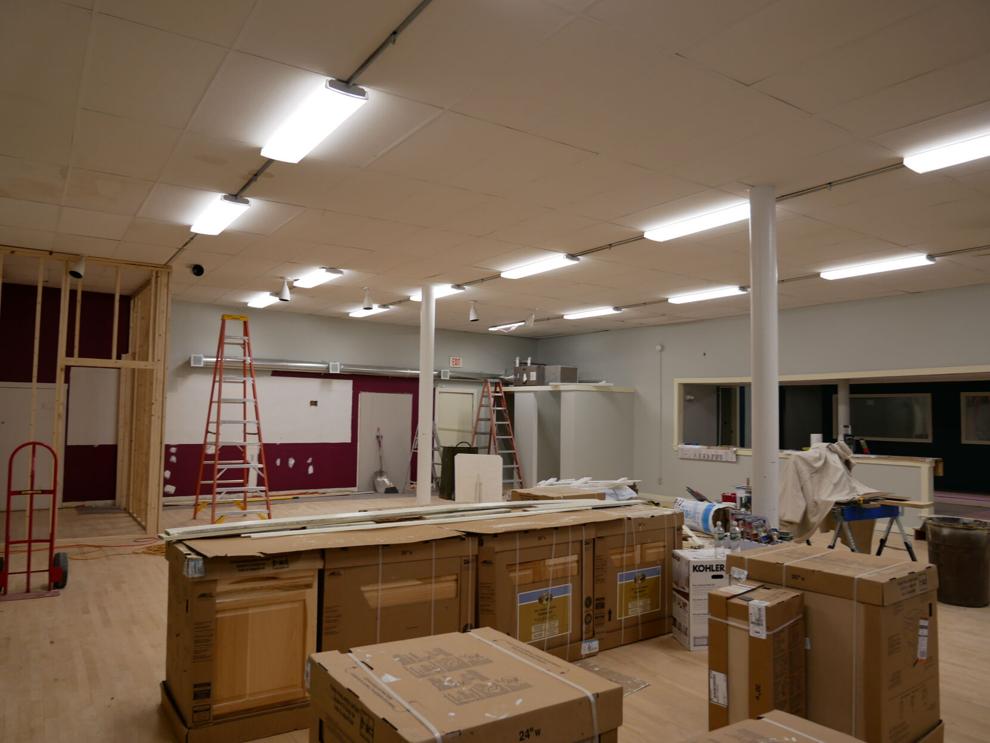 Comstock lived in Swanton for a short time but has spent the last 10 years living in Georgia.
In addition to a couple stints with the Department of Corrections, she's worked for Job Corps as a residential supervisor and Howard Center as a case manager.
While at Howard Center, Comstock was contracted to work at Community Health Centers of Burlington's Safe Harbor Health Center as an outreach case manager. In that role, she conducted homeless outreach and connected people with housing options, helped them get disability benefits, and assisted them with finding medical resources. It was the work she did there that she's trying to return to with Spectrum.
"I really enjoy helping people, being with people, and creating a safe place for people to come — being available for them to talk to, if that's what they need in the moment," said Comstock. "Being able to provide somebody a meal, in a safe place to go, when they might not have any other options at the time, that's what I really enjoyed doing with Safe Harbor and my work with the homeless population in Chittenden County. Being able to do that in the county that I live in really would mean a lot to me."
One of Comstock's most-immediate responsibilities is the hiring of three other employees to round out the drop-in center's staff, two being youth coaches and the third being an AmeriCorps member. After that, she'll turn to focusing on the center's opening and being prepared to serve the community.
"I really think my number one goal is to create a safe, supportive space for youth to come, so that they want to come back and really feel like they're getting their needs met," she said. "That's the feel I really want to create there."