ESSEX JUNCTION — With people staying home to avoid the spread of COVID-19, and disruptions in the workforce, Meals on Wheels has experienced a rapid increase in the number of seniors seeking deliveries as their primary source of food.
Additionally, Age Well — which serves clients in Addison, Chittenden, Franklin, and Grand Isle Counties — has seen the growing demand for its services result in making those deliveries of large quantities of food more expensive during the coronavirus pandemic.
"Age Well is experiencing unprecedented change as a result of COVID-19," said Jane Catton, CEO of Age Well. "We are busier than ever as we continue to offer the same high-quality services to our clients in all four counties that we serve. We must ensure that our most vulnerable populations are well cared for as we continue to focus on our mission."
An additional 485 people have signed up to receive Meals on Wheels from Age Well since March 10, according to spokesperson Tracey Shamberger.
A recent survey conducted by Meals on Wheels America is showing that 89 percent of its programs across the country saw an increased demand and substantive shifts in their operations in April compared to the last week of February. Of those, 79 percent reported the number of new requests doubled.
As the largest provider of Meals on Wheels in Vermont, Age Well is bringing deliveries to over 1,200 older adults who have food insecurities and are at risk of social isolation--all of them scoring a six or higher for being susceptible to malnutrition on the Nutrition Risk Assessment. Its most recent data shows that 59 percent of new clients scored highest for risks of food insecurity.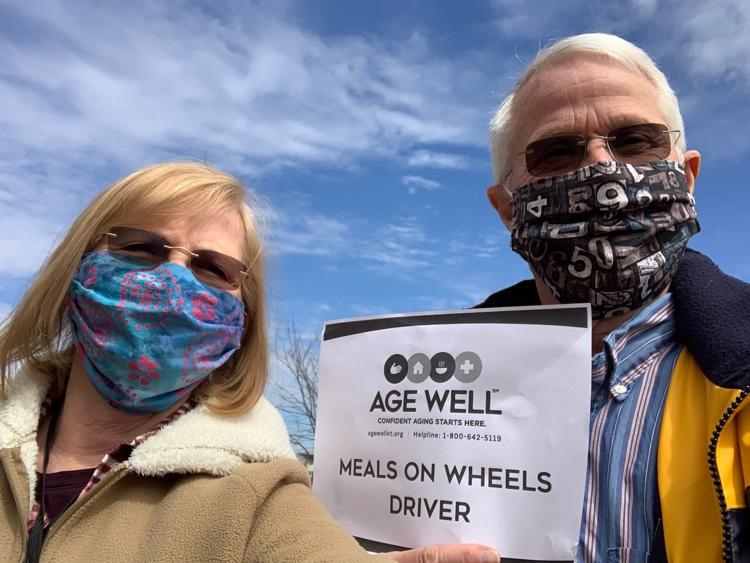 Aside from funding the additional costs for increased meals, 63 percent of national Meals on Wheels programs are reporting that acquiring safety supplies — such as gloves and masks — is the biggest challenge and unexpected expense. Age Well says that it is experiencing the same trends.
"There is no debate that older Americans have borne the brunt of this pandemic, and if we only examine infection, hospitalization and death rates, we vastly underestimate the true impact," said Ellie Hollander, president and CEO of Meals on Wheels America. "This survey data offers critical insights into the level of support necessary now and beyond the pandemic, to ensure we meet the needs of our most vulnerable populations.
"Sheltering at home is keeping seniors safe, but we must also strengthen and protect the support systems that enable them to do that, such as nutrition services and programs that reduce isolation," Hollander added. "We can't do one without the other."
As discussions over how and when to end stay-at-home orders ensue, Age Well expects demand to continue to increase.
"Our top priority in each of our communities in Vermont is to keep our most vulnerable populations safe, through the Stay Home, Stay Safe order," said Catton. "Yet, with this comes numerous other challenges, including managing increasing social isolation and providing the much needed social supports for our clients. Age Well's span of services, including our care management, volunteer, and Meals on Wheels programs have risen to this challenge during this COVID-19 event. We couldn't do what we do without our dedicated teams, community partners and donors helping us every step of the way."
Visit agewellvt.org to learn how to support Age Well and its efforts to meet the growing demand for Meals on Wheels during this unprecedented time.