ST. ALBANS – A growing group of local seamsters and sewers have come together through Facebook to produce cloth face masks for the public – and since March, they've produced more than 11,000 masks for communities in Franklin County.
Messenger readers might be familiar with this group of sewers. In the weeks after COVID-19 first came to Vermont and struck up fears of personal protective equipment (PPE) shortages, the Messenger spoke with the group's organizer, retired nurse Pam Cross, just as they began coalescing over Facebook.
Since then, the St. Albans Face Mask Group has grown to nearly 400 and assembled more than 11,000 masks, almost all of which were donated to Franklin County businesses and organizations to bolster their supplies of PPE amid the COVID-19 pandemic.
"For myself personally, this is one of the most rewarding efforts I've ever been involved in," Cross said during an interview last week. "With the amount of dedication, selflessness and willingness to help each other, these women that are involved with this project – it's almost hard to describe."
The group of sewers coordinates through the public Facebook group "St. Albans Face Mask Group -Pam Cross," where they'll communicate about where to drop off sewing packages or completed masks for delivery somewhere in the community.
According to Cross, most of the masks produced by the group have stayed within Franklin County, helping strengthen stocks of available PPE in local businesses and municipalities, as well as the county's network of health care organizations and several long-term care facilities.
In an interview Monday, Northwestern Medical Center (NMC)'s vice president of community relations Jonathan Billings estimated the hospital had received "multiple thousands" of face masks courtesy of the St. Albans Face Mask Group.
"What Pam Cross and her army of volunteers have done around providing cloth face coverings is remarkable," Billings said. "It's just a huge credit to how much Pam cares about the community and how much people want to get involved and help."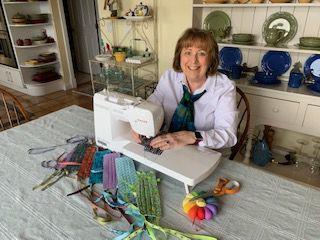 While NMC still requires those in its clinical areas to wear sterilized surgical masks or respirators according to federal guidelines, Billings said the masks provided by Cross's group have helped build out a supply of PPE the hospital can offer staff in its nonclinical area and for patients visiting NMC.
According to Cross, the St. Albans Face Mask Group had also worked with the Franklin County Industrial Development Corporation (FCIDC) in order to distribute masks to businesses who might've struggled with finding their own supplies at the start of the pandemic.
Speaking with the Messenger Monday, FCIDC's executive director Tim Smith said the organization had been able to distribute about 1,000 of the masks produced through Cross's Facebook group to businesses and organizations in Franklin County, including municipal offices in Georgia and Highgate.
While FCIDC came across "a number [of businesses] who had found the resources" to acquire masks, Smith said there "was a number who had not" that were "very appreciative there was a resource" like Cross's organization to acquire masks amid the pandemic.
"It was very impressive – the network that Pam and her team had created," Smith said. "I think a lot of people early on didn't know where to get them, and we were able to be a resource for a lot of those."
The Centers for Disease Control and Prevention (CDC)'s guidelines now call for Americans to wear face masks whenever they're in public and in close proximity with others regardless of whether they display symptoms for COVID-19, a recommendation now seconded by state health officials in Vermont.
The CDC's guidelines were updated in early April after a study revealed COVID-19, a highly contagious respiratory disease that, while mild for most of those infected, could result in life-threatening illness, could be spread by people who were infected with the disease but didn't show any symptoms.
While some states have mandated that people wear face masks in public to help prevent COVID-19's spread, Vermont officials have avoided mandates in favor of education, often times pitching wearing a face mask as an "altruistic" voluntary decision to not help spread COVID-19 to other Vermonters.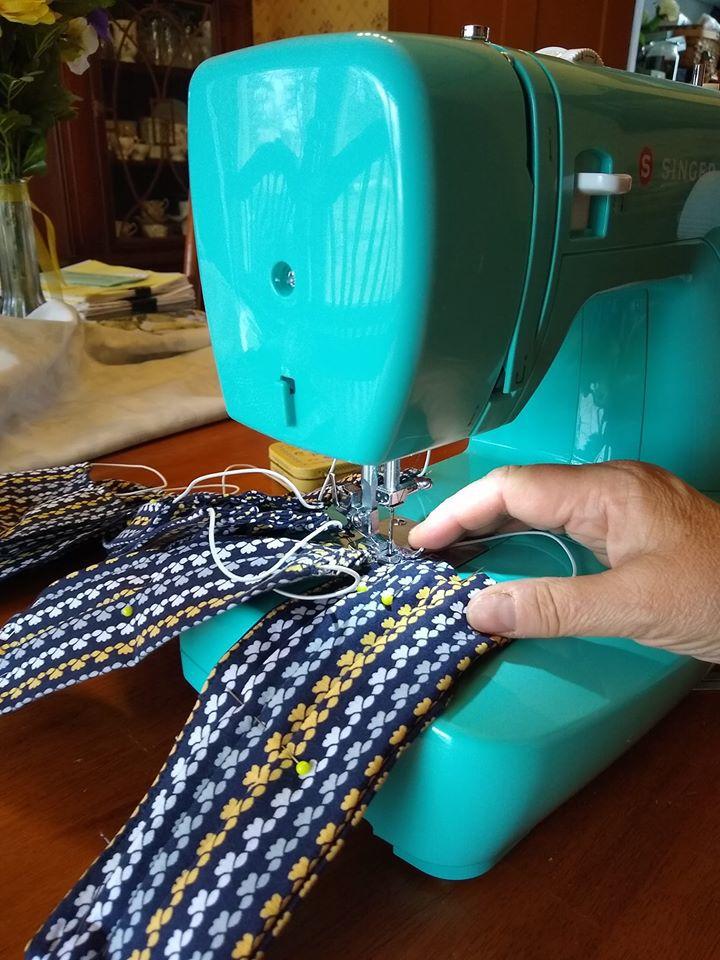 The St. Albans Face Mask Group's page is still abuzz even as the state slowly reopens with the plateauing of COVID-19's spread, with messages of new batches of masks rolling out daily.
When she originally spoke with the Messenger in March, Cross said there were supply challenges for the organization, with cloth and elastic coming in short supply as similar mask-making groups popped up across the country and craft stores closed in response to the COVID-19 pandemic.
While those supplies have reportedly evened out, Cross said supplies for mask-making had seen a "significant price hike" with the heightened demand for masks.
That's partly why Cross asks that, if anyone is interested in supporting their work, they do so financially either by reaching out through the group's Facebook page or its GoFundMe account.
When she spoke with the Messenger last week, Cross noted there was another benefit to having the sewers and seamsters of the St. Albans Face Mask Group come together amid the pandemic, one that wasn't as obvious as the more public charitable efforts of the group.
According to Cross, forming the group had "created a network of very supportive women" who were "taking care of each other" at a time when public health called for people to distance themselves from one another in order to prevent the spread of a potentially deadly disease.
In Cross's eyes, the group has also given people an outlet during a pandemic that, in her words, has left people with "a lot of fear and anxiety."
"Folks don't know what to do," Cross said. "People really want to do something to help."
Cross shared a message from a volunteer speaking to that effect, leading with that message during her interview with the Messenger.
"'Last night I was very tired both physically and mentally,'" Cross read. "'Tired of staying home, not being able to see family and friends, tired of not being able to do anything, and yes tired of making masks.'"
Cross interrupted herself to note this particular mask maker, named Shirley, had single-handedly produced 700 of the masks donated through the St. Albans Face Mask Group.
"'After a good night's sleep, I turned on the CBS News,'" Cross said as she resumed reading the message. "'They had a piece on which they honored people who had passed away from the COVID-19 virus.
"'So, the next time I might think that I can't make another mask, I imagine even if one person is saved from this virus while wearing one of our masks. Imagine one of our masks making a difference between life and death,'" the message concluded. "'Our efforts are making a difference.'"