ST. ALBANS — One in four Vermonters is now food insecure, according to researchers at the University of Vermont, meaning they have skipped meals or are at risk of doing so because of a lack of access to food.
On Monday, John Sayles of the Vermont Foodbank told Vermont's Congressional delegation he believes that number is likely accurate, but still doesn't capture the full extent of the problem. "There are a lot of people who wouldn't be categorized as food insecure who still need help right now," he said.
UVM researchers attributed the massive increase in hunger in Vermont, more than 30 percent, to the loss of jobs created when businesses closed to prevent the spread of COVID-19, a potentially fatal illness caused by a coronavirus not previously seen in humans. Vermont has seen a record 70,000 people apply for unemployment assistance since late March.
Sen. Bernie Sanders, I-Vt., organized the meeting so the delegation could hear from people around the state who are working to get food to hungry Vermonters. Sanders said he was interested in how people could find help and what the barriers are to receiving help, such as lack of transportation or stigma.
Sen. Patrick Leahy, D-Vt., asked for information that would help the delegation and their staffs make improvements to federal programs. "We want to know what's worked and what hasn't worked and what the needs are," Leahy said.
At the top of the list for those on the call was a continuation of waivers to various federal programs that allow those programs to be used more flexibly.
For example, thousands of children around the state are being fed breakfast and lunch by their local school system. Waivers allow the schools to feed anyone under the age of 18, regardless of whether or not they're a student, and to feed all kids, regardless of whether or not they previously received free or reduced lunches.
Although Congress authorized the continuation of those waivers until September 30, the Trump administration has only continued them through the end of June and has asked the states to apply for statewide waivers instead of continuing the national waiver currently in place, explained Rosie Krueger of the Vermont Agency of Education.
"If we don't have those waivers, the whole system that's providing meals for children through schools will collapse this summer," said Anore Horton, head of Hunger Free Vermont.
Schools have been asking about continuing the feeding program through the summer.
Speaking on behalf of the state's community action agencies, Jenna O'Farrell of Northeast Kingdom Community Action said, "The ability for schools to maintain feeding programs over the summer is critical."
In rural areas, including throughout Franklin County, schools are delivering meals on buses. In urban areas, meals must be picked up. Many of the rural areas are serving more meals than before, while the urban areas are serving less, Krueger said.
USDA reimburses schools for the cost of the meals themselves, so those schools seeing a decline in meals are also seeing a loss of that revenue.
Schools are currently paying the cost of distributing food via bus because the reimbursement would come from the Federal Emergency Management Agency (FEMA), but FEMA doesn't see children as a vulnerable population and so won't provide any reimbursement, Krueger explained.
"The schools are eating the cost to do bus distribution," she said.
The Abbey Group, which is currently making many of those meals distributed to kids in Franklin County, recently received a $5 million contract to prepare food boxes for distribution to households.
There are three types of boxes, one with meat, one with produce and one with dairy products, explained Sayles. The Abbey will be using local products as much as possible, especially in the produce and dairy boxes, he added. Distribution will be done in conjunction with the Vermont Foodbank at least through the end of June, according to Krueger.
Krueger said USDA didn't envision a role for the state in this program, but the state took one anyway, identifying the Abbey Group as a partner and then working with them on the grant.
"We kind of made it work in spite of the USDA," she said, which has been the case in other instances, as well. "We're having to work within their constraints and figure out ways to work around them."
The state has also distributed nearly 600,000 meals, ready-to-eat (MREs) to Vermont households at pickup sites around the state. The first, held at the Highgate airport, was temporarily closed after all of the initial MREs were distributed and additional meals had to be brought in.
The food bank has also been working with the Skinny Pancake on a pilot program for distribution of cooked meals.
But challenges remain, especially for those without transportation or who cannot leave their homes, said Sayles.
The best anti-hunger program is Supplemental Nutrition Assistance Program (SNAP), known in Vermont as 3SquaresVt, said Sayles.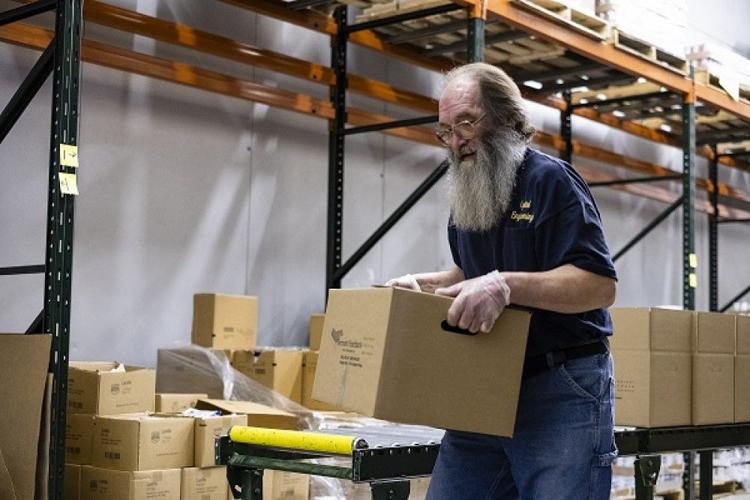 Republicans in Congress have so far refused to increase SNAP benefits. However, families who were receiving less than the maximum benefit for families their size were allowed to temporarily receive the full benefit. For the poorest, it hasn't made a difference, noted Jessica Radbord from Vermont Legal Aid, as they were already at the maximum. While benefits aren't going up, prices for staples like milk and eggs are, she said.
Radbord said she had a client describe herself as "too poor to live."
Legal aid clients in rural areas are having trouble accessing food. Radbord suggested allowing SNAP recipients to pay local stores online for delivery.
While SNAP recipients in Vermont may soon be able to use their benefits online, it will initially only be for major retailers, such as Amazon and Walmart.
As with summer meals, the Women, Infant and Children (WIC) program which provides food assistance to 11,400 mothers, infants and pre-school aged children also needs a current waiver allowing recipients to be enrolled without an in-person interview extended, said Karen Flynn of the Vermont Dept. of Health.
O'Farrell may have captured the situation best. "We're seeing people we've never seen before," she said, adding, "we're feeding anybody who needs food."
"We want to be able to sustain these efforts," O'Farrell said, but to do that, community action agencies need unrestricted funds with which they can purchase food from the Vermont Foodbank and other sources for distribution.
No one on the call expected the situation to improve anytime soon.
"There are going to be people where it's going to take them years to recover," said Sayles.
Horton agreed, stating, "We're going to be in this struggle for the next couple of years."
"It's immoral to have hungry people in the wealthiest nation on Earth," said Leahy.