GEORGIA – In less than two months, Georgia's public will be asked to approve a $3 million bond for building a new public works garage near Georgia Center.
According to town officials, a new garage is a necessity, needed in order to accommodate an expanded highway department and replace a town garage currently nearing the end of its projected lifespan.
A new garage would be situated behind the highway department's current home on Plains Road, with enough space for both maintenance and wash bays and enough room for a larger department with a larger vehicle fleet than the current building can manage.
It would also allow the highway department to transition its current garage to cold storage and create a safer working environment for its five-person staff currently struggling with the cramped space at its Plains Road home.
"At the end of the day, this building is 45-years-old," the town's administrator and treasurer, Amber Baker, told the Messenger this week. "A lot has changed in the Town of Georgia in 45 years."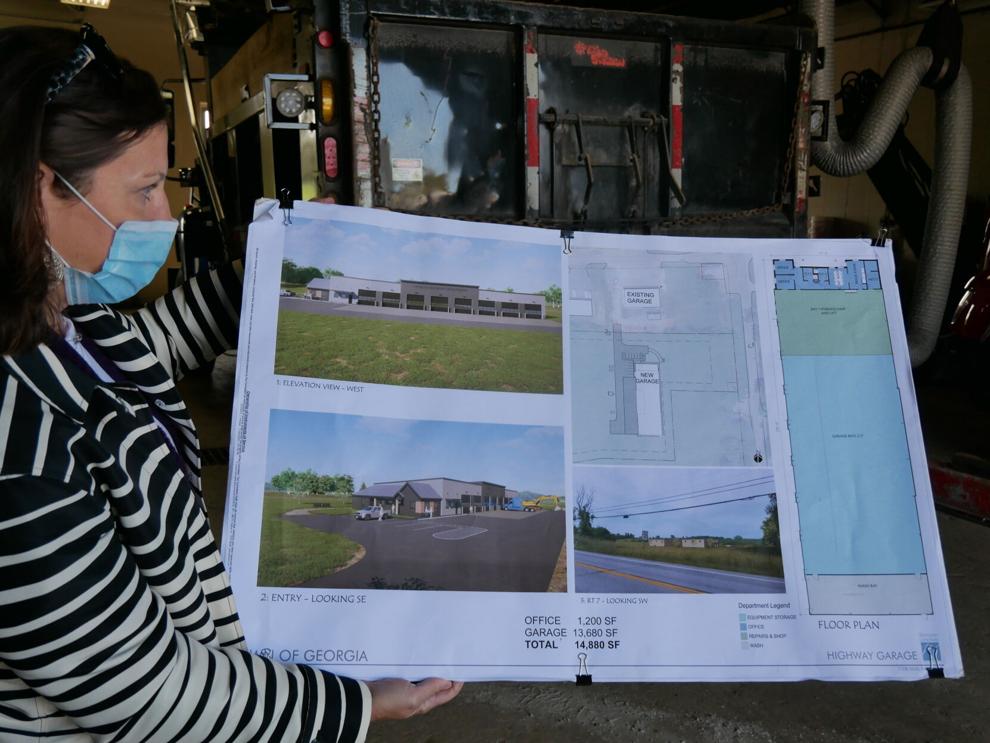 Why replace the current town garage?
According to town officials, Georgia's highway department has handily outgrown its longtime home on Plains Road.
A study conducted by South Burlington's VIS Construction Consultants found the garage to be one of the town's buildings in the greatest need of repair and ultimately concluded it had passed its prime as a headquarters for Georgia's public works department.
It's that study, which looked at Georgia's whole roster of municipal buildings, that officials pointed to as the spark ultimately leading to their current garage proposal this coming November.
Built in the 1970s, the decades-old public works garage is faced with structural issues beyond simply no longer being large enough to accommodate the greater demands placed on Georgia's highway department by a growing community.
Its brick walls are settling into the surrounding soils, shifting window frames and emergency exits tracing its walls. During a tour, Georgia's highway foreman Todd Cadieux toyed with the idea of windows being so dislodged from the shifting structure a gust of wind could sweep them down.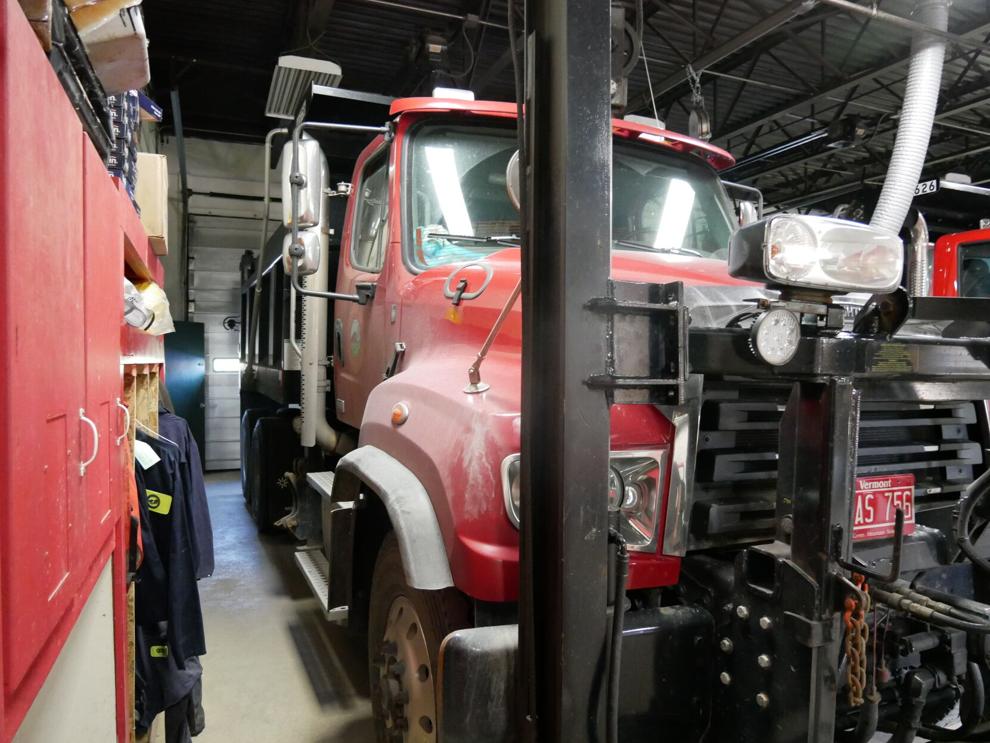 Those settling walls can pinch shut the building's emergency exits, a clear safety hazard for the department's staff of five who, judging by the boot prints still visible on doors, have probably had to force their way through an unagreeable exit.
When vehicles are brought for storage every night or safekeeping during the winter months, the garage can become a maze of chokeholds and crannies blocking straight lines to exits and an emergency wash station in the bathroom.
According to Cadieux, keeping vehicles indoors also throttles the amount of space available for servicing those vehicles, which is why highway department vehicles are a common sight outside of the garage during the warmer months. "That's why you see all our vehicles outside right now," Cadieux said.
During the winter months, vehicles are moved outside for servicing even amid heavy snowfalls.
"At least once a week we're outside in the snow, fixing a hydraulic leak," Cadieux said. "As soon as we start putting plows on, we don't have room for this."
The building's main electrical panel sits in the department's break room, leading staff to break near, per Cadieux, "480 volts of electricity" every day in a room with only one exit and now outside ventilation.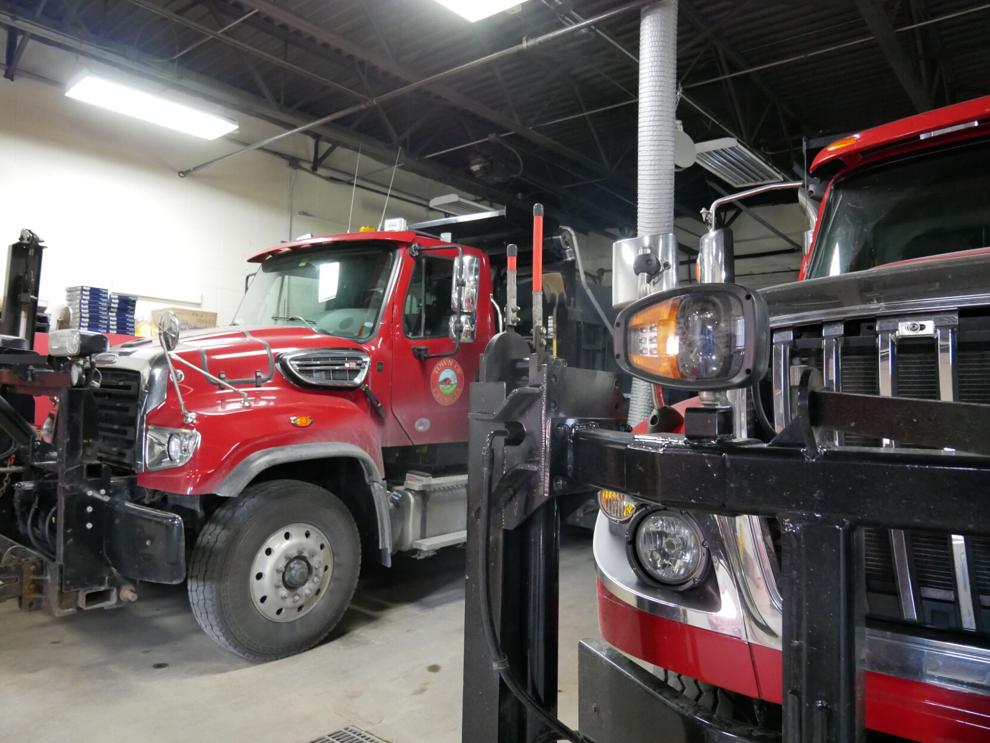 While the break room is no longer used due to the limited space making social distancing in the age of COVID-19 virtually impossible, the widespread meeting area on the garage floor taking its place also has a time limit, as cooler weather threatens to force more vehicles indoors for safe keeping.
There's also no room for the emergency showers recommended by the town's insurance providers in case of chemical exposure and serious concerns with the building's drainage, which currently spits onto a neighbor's property.
While some improvements had been made to the building following VIS's study – the roof was redone, ventilation was addressed and stairs to an unsafe storage space were removed – town officials say the environment is still unsafe and nowhere near large enough.
"It's outlived its lifespan," Baker said.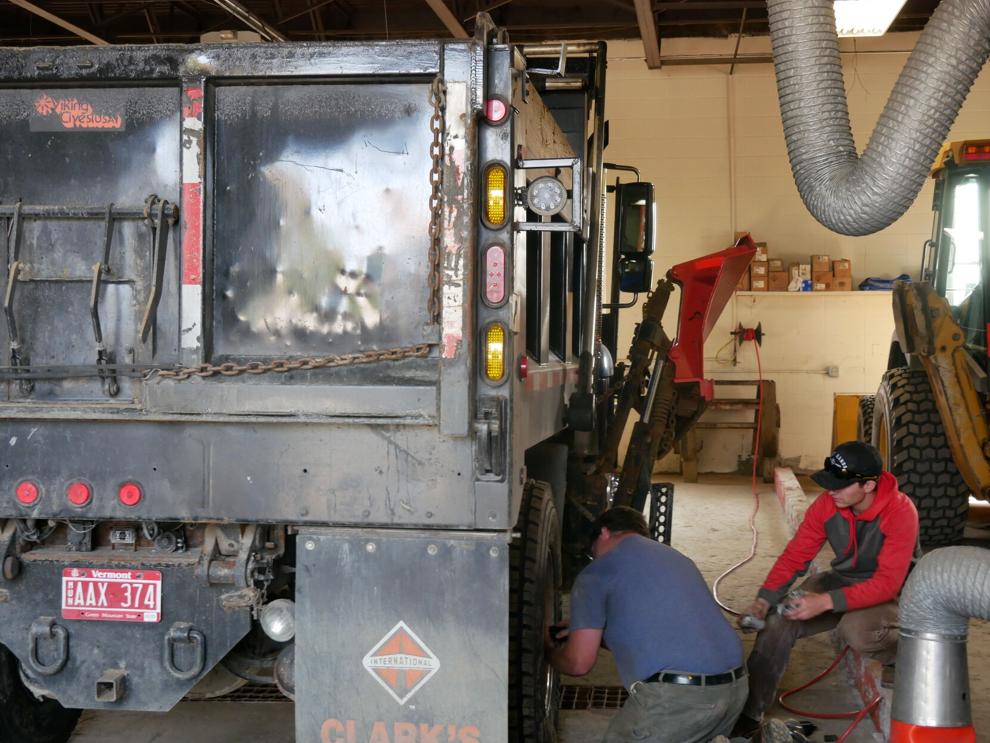 What are officials proposing?
A new garage, designed with input from a task force of local officials and a project manager whose pedigree included a public works garage recently completed in nearby St. Albans Town, would add enough space to accommodate a modern highway department.
Stretched out almost 15,000 square feet over a piece of property Georgia voters approved purchasing in early 2019, the new garage would add both a wash bay and a repair shop alongside a wider garage floor large enough to handle the department's vehicles.
The building would also have room for two office spaces, a conference room, a larger break room and two bathrooms.
Necessary improvements at the town's original garage, which would then be used for cold storage, have been included in the proposed project.
According to Georgia's town administrator, the project left enough room on the 5.4 acres purchased by the town in 2019 for future municipal use should the town need any kind of additional facilities in the area or the town garage need expansion.
Officials aren't ruling out possible future expansions either, noting the rate at which Georgia continues to buck the statewide trend of gradual population loss by being among the fastest growing communities in the state.
The widening population has in turn led to greater demand for the highway department, which has had to expand its toolset and its staff to address greater use of Georgia's roads.
"It's about what we think the future needs will be," Cadieux said. "If I looked back 20 years, I wouldn't have guessed we'd have grown as much."
The $3 million requested in Georgia's bond proposal would be serviced over the next 20 years, leaving residents with an expected annual high of roughly $30 for every $100,000 in property values during the duration of the town's debt obligation for the garage, according to Baker.
According to Baker, the town targeted a November election in order to get into both a more favorable winter bond market, when interest rates may be lower, and to catch a higher percentage of voters expected to turn out for a heavily contested presidential election.
"More people tend to vote," Baker said. "We wanted to get the true flavor of the town."
More information about Georgia's garage proposal, including a breakdown on the bond's impact to taxes and renderings of the new garage, is available online at https://www.townofgeorgia.com/towngarage.
According to officials, questions about the proposal can be directed to the town's office or to an email address Georgia has recent set aside exclusively for its garage project: towngarage@townofgeorgia.com.