FAIRFAX – The Fairfax selectboard narrowly defeated last week a resolution supporting the Black Lives Matter movement brought forward by several members of the community.
The resolution, brought by locals responsible for weekly Black Lives Matter rallies in Fairfax, would have seen the selectboard "recognize and support racial equity and the ongoing Movement for Black Lives."
In a split vote that saw approving votes from the selectboard's chair Steve Cormier and selectperson Duane Leach and dissenting votes from vice chair Sheri Rainville and selectpersons Stephen Bessette and Randy DeVine, the board defeated the resolution.
Members balked at certain pieces of language within the resolution itself, ranging from its focus on Black lives to a question of public displays of support for the Black Lives Matter movement and the resolution's assertion of historical racism in Fairfax.
The selectboard's chair, meanwhile, asserted he agreed with the statement "100 percent" and said the board's rejection of the resolution as written "saddened" him.
A local member of the Fairfax group who penned the resolution and presented it to the selectboard said she suspected "we will come back with something else" in the coming weeks.
Here's what people had to say.
"A strong statement"
Members of the selectboard appeared to uniformly agree on one thing regarding the proposed resolution supporting Black Lives Matter: That it was a "strong statement."
The resolution declares that, "historically and presently," Black, brown and indigenous people had been subjected to "systemic and individual racism on both human and economic levels," and calls for board members' public display of support and opportunities for education and conversations around racism.
"The Town of Fairfax, through this resolution, chooses to intentionally and visibly support the movement for Black Lives and racial justice," the resolution concludes. "By taking a stand in this worldwide fight for justice, we move toward equity and inclusion in our community."
Resident Lara Scott said the wording in the resolution came from members of the Fairfax community – namely those who participate in the peaceful rallies taking place in Fairfax after the killing of George Floyd by Minneapolis police spurred protests nationally around policing and racism more generally.
"This proposed document is the result of contributions of a lot of people – mostly folks who participate in the Sunday peaceful rallies," Scott said. "This is the work of a lot of people in the community."
Read the full resolution below:
What did community members have to say?
During a limited public comments section during the selectboard's Oct. 19 meeting, several members of Fairfax's community spoke in favor of the resolution, saying, in the words of local Hillary Borcherding, the statement represented "an important first step" toward discussing racism in Fairfax.
"It's very important as a town that we can come together and show support for all members of our community," she said. "I think this is a small step in that direction, but an important first step and that we can all work together beyond this resolution to take even more concrete action."
Alex Katz, who introduced himself as an immigrant from Poland, likewise threw his support behind the resolution, telling Fairfax's selectboard his support came from his own personal experiences with discrimination he and his family faced as ethnic minorities in Poland in the 1960s.
"[My family] found refuge in America, where I believe it had the promise of equality and justice for all people," Katz told the board. "As I've lived here, I've found out that that's not always the case, that some people are more equal than others and I've benefited from white privilege…
"I've had personal experience in my early years with that kind of prejudice and that motivates me to speak up today in favor of the resolution that we proclaim that we, in this town and this state, are for freedom and unity and racial justice and equality," he added.
Selectboard ultimately rejects proposal
Although Cormier came out strongly in support of the proposal, most of the board balked at several specific lines within the proposal calling for particular support for the Black Lives Matter movement, public displays from members of the board and assertions of historical racism in Fairfax.
"I would support a movement if it said Black, brown and indigenous lives. There are Chinese out there, there are Japanese out there. It's racism," selectperson DeVine said. "I support a movement for racial equality, and I just don't want to point out the Black lives movement."
"I know there are issues – I totally understand that," Rainville began in her explanation for her vote against the resolution. However, she took issue with a line in the resolution asserting that, "historically," people of color struggle with racism in Fairfax.
"I grew up here," she continued. "To think that our community, historically, has had prejudice against people? I'd like examples. Please."
Instead, she argued, there was a "bigger picture" the resolution overlooked.
"What about poverty level? You tell me that children who come from a family that has little and they're not targeted? It's a bigger picture," she said. "There's a bigger picture. I'm all for supporting Black lives – that's not what it's about."
Cormier responded he believed there were issues with racism in Fairfax, basing his opinion both off of what he saw from passersby while joining protestors during local Black Lives Matter rallies and off of what he said he observed in his own Fairfax neighborhood.
"I can tell you in the neighborhood I live… we have a couple of Black families with children, and I have seen… people in our neighborhood who have talked to them differently," Cormier said. "I would guess, in this community, not that I grew up in it, there has been racism. There's racism in every community."
The selectboard's chair said he "100 percent" supported the resolution, adding "that's sad" when an initial motion from Cormier to vote for the resolution didn't find any seconds from Fairfax's selectboard.
"As a white male with white privilege for 65 years, I can't imagine being a Black man with, in my case, three Black sons going out at night," Cormier said. "I have never, in my life, worried about my three boys – all white – going out and not coming home.
"I'm sure there are Black men across this country and in this town and in this state who worry about that every day."
Selectperson Bessette, meanwhile, argued a "public display" in support of Black Lives Matter would open the town to controversy, agreeing with a comment selectperson DeVine made earlier during the board's debate.
"I think the way Randy's thinking, especially if we put a huge banner up out by our town office saying we support Black lives – or Indians, Chinese or whatever – I don't want to have us open for questioning or damage to our property or things like that," Bessette said.
"I don't think we should have anything posted on our town property, because then we are taking a side," he said. "By no means am I against this – I have friends who are Black people, I have friends of all different ethnicities – but I don't think we should take a stance to make public displays on town property."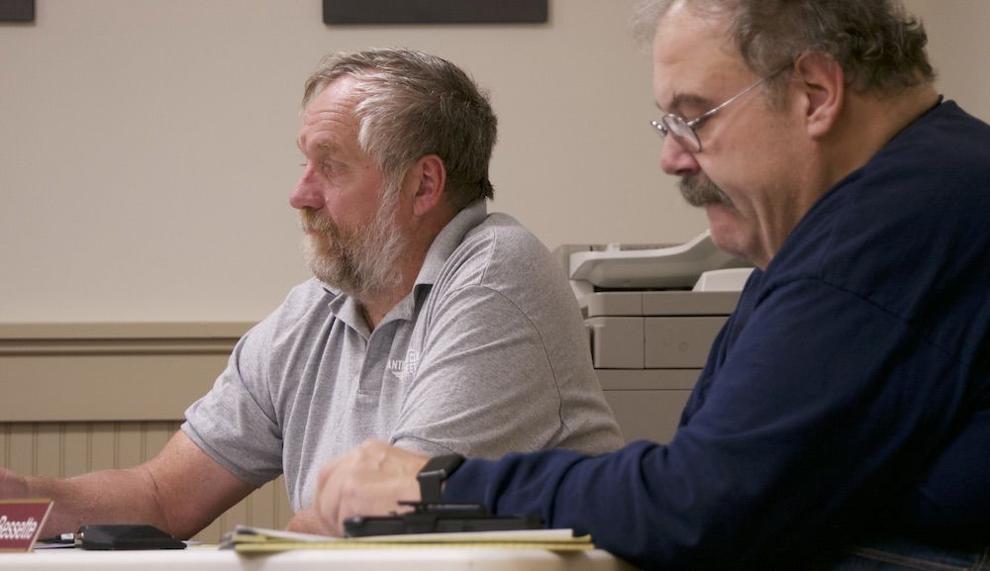 Bessette said that, absent language calling for the board's public display of support for Black Lives Matter, he would consider approving the resolution.
Selectperson Leach, who was quiet during the debate, seconded a motion to discuss and vote on the resolution, ultimately voting alongside Cormier in support of the resolution.
With Bessette, DeVine and Rainville voting against the resolution, however, the motion failed.
"It saddens me that we could not pass this resolution tonight – it does," Cormier said when the vote failed. "I'm just the chair – I'm only one member of this board – but, personally, I'm saddened."
Scott said members of the community would likely come back with another resolution calling for the selectboard's support. "I know that this town is able and capable and wants to support all community members," she said.
Fairfax's town manager Brad Docheff, near the end of the selectboard's meeting that evening, offered his own opinion as a "nonvoting member" of the selectboard's meeting of the board's decision.
"I really think the board missed the mark tonight with the Black Lives Matter vote," Docheff said. "I think it's a little nitpicky on the lines that were in question."
"I think this is not a political issue, it's a social equity issue," he said. "I was a little disheartened by that and I want to share that."