FAIRFAX – The faces behind the masks at the Fairfax food shelf want people to know one thing: They're open and here for those in need.
The food shelf, typically open only twice a month, has extended its hours to be open every Wednesday and the fourth Saturday of the month in an effort to reach more of those in the area who may struggle with accessing food amid the COVID-19 pandemic.
The Fairfax food shelf is also experimenting with being open on certain Mondays as well, though the food shelf's last Monday session didn't see any visitors.
"We added days because we wanted to make sure we were reaching more people," Michelle Sheehan, one of two Bellows Free Academy – Fairfax nurses now helming the food shelf, said Wednesday. "We just wanted to make sure that people knew that the food shelf existed and that we're open."
Sheehan and fellow school nurse Amy Black have taken on the reins of Fairfax's food shelf during the pandemic, stepping in so that the food shelf's normal coordinator, Pastor Elizabeth Griffin, could avoid risking possible exposure to COVID-19.
Griffin, who still occasionally checks in on Fairfax's food shelf, stepped aside only after members of the community approached her with concerns about the pastor and community leader's age making her vulnerable for COVID-19's more severe symptoms.
"These ladies have been really helpful," Griffin said of Sheehan and Black. "Beyond imagining."
When the Messenger visited this week, the tables now tracing the entrance to Fairfax's food shelf in the United Church of Fairfax's basement were stocked with cereals and other nonperishables, bags of fruits and potatoes, and prepackaged bags for easy takeout.
Atop one table were cleaning supplies and personal products like toothpaste, daily necessities some might not typically associate with food shelves.
Griffin, behind the table, immediately shined a light on the Fairfax community whose support helped stock the food shelf amid pandemic conditions that have seen food shelf use swell across Vermont.
"I can't think of a superlative to describe how generous the Fairfax community is," Griffin beamed. "You feel, in a physical setting like this… is there community in that real sense of the word? And then this happens, and you say 'yes.'"
"It's a fantastic community," Sheehan agreed.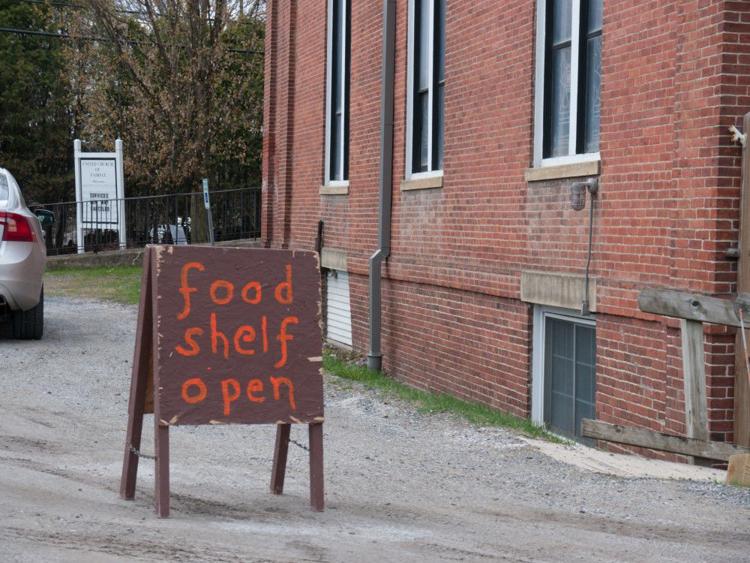 According to Griffin and Sheehan, who had stepped outside to help the last client of the day before the food shelf's posted hours came to an end, the food shelf was a relatively smaller operation, usually serving only a handful of families a week from a well-stocked closet in the church's basement.
Since taking over at the food shelf with the arrival of the pandemic, Sheehan said she'd seen newcomers and less regular visitors, most of whom had children at home and many she said were in harder financial straits due to the pandemic's economic fallout and the ensuing backlog in the state's unemployment program.
"Most of the people we have seen do have children in their homes," Sheehan said. "We do see some single people, but I'd say most have children."
Under normal circumstances, food insecurity is pronounced in Franklin County, where 10 percent of the population and roughly 14 percent of children reside in households considered "food insecure," meaning they lack consistent access to nutritious food, according to Feeding America.
With gubernatorial orders closing most businesses to prevent the spread of COVID-19, an easily transmitted disease that, while mild for most, can prove fatal, unemployment has spiked and the resulting demand on food shelves has been felt across the state.
According to the Vermont Foodbank, most food shelves in its statewide network have seen between 30 and 100 percent higher use since COVID-19 came to Vermont in March, and a survey from the University of Vermont estimated food insecurity in Vermont grew by nearly a third during the pandemic.
According to Griffin and Sheehan, use of the Fairfax food shelf has steadied at a consistent 12 families a week who come to the smaller food shelf from across the region.
Exactly where, Griffin couldn't say, as she told the Messenger the Fairfax food shelf made a point of offering food to those in need with "no questions asked."
"If you're here, it's because you have a need," the pastor said.
"It's really not a place of judgement," Sheehan said. "If you need it, you need it, and hopefully, at some point, you can turn around and give back."
"That's what it's about," Griffin said. "Neighbors helping neighbors."
Griffin said the food shelf also makes deliveries to those who might not be able to make it out to the church, a service she's offered long before the pandemic led people to self-isolate at home.
It's a step that's allowed the food shelf to work around some people's transportation challenges – something food advocates regularly cite as one of the largest barriers to accessing supports like food shelves in rural areas like Franklin County – and the stigma that can come with using a food shelf.
The stigma associated with seeking help from a food shelf was something Griffin said she saw during her years with Fairfax's small food shelf.
"A lot of people are loath to come to the food shelf because they feel embarrassed," Griffin said. "I always say, 'We're just the messengers. When it's your turn, you'll come and help us and help out.'"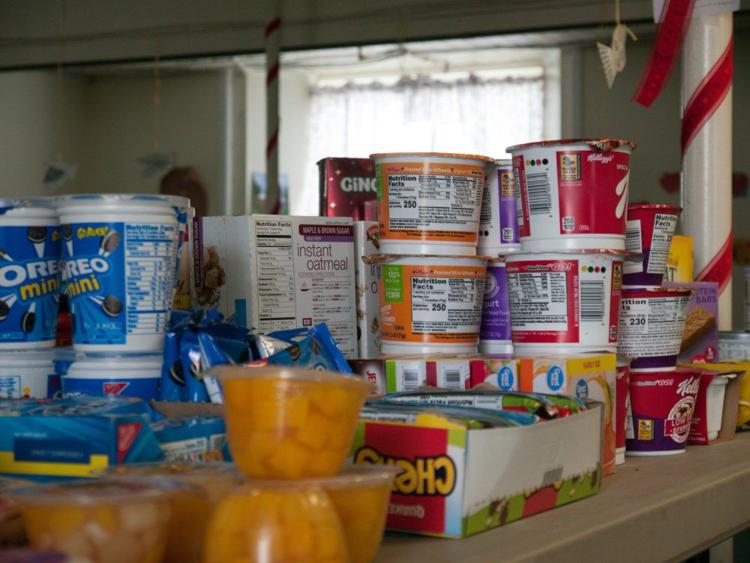 With the pandemic changing how many food shelves have operated, the Fairfax food shelf has made slight changes as well.
While the food shelf used to simply welcome clients to their walk-in pantry – an area Eagle Scout's project years ago, according to Griffin – the food shelf now arrays food products and other day-to-day necessities along three tables near the entrance to the church's basement.
Some products have been prepackaged within bags, allowing for easy pick-up from the food shelf's clients, while other products are still displayed in a way that lets clients pick what they'd like as they would during a trip to the grocery store.
On some days, those day-to-day products might be joined by some other specialty good donated to the food shelf, like the fresh bread sometimes donated by Fairfax's own Brot Bakery or the additional face masks Sheehan said the food shelf was able to distribute.
According to Sheehan and Griffin, the most important way people could support Fairfax's food shelf right now was to simply remind people they were there and available for those in need.
"It exists and we're open," Griffin said, smiling behind her mask.
At the moment, the Fairfax food shelf is available every Wednesday from 9 a.m. to 12 p.m., Mondays from 5 p.m. to 7 p.m., and every fourth Saturday from 8:30 a.m. to 10:30 a.m.
The food shelf is located in the basement of the United Church of Fairfax, located at the corner of River and Fletcher roads in Fairfax's southern village.