ST. ALBANS — Vermont is a state of woods. Its mountainous spine cuts directly into the heart of one the most intact broadleaved forests in the world, and blankets of forest – coincidentally the same woods that give its Green Mountains their name – are a cornerstone of an economy of sugaring, logging and tourism.
Those woods, however, can expect significant stress in the future, according to a recent study conducted by the U.S. Department of Agriculture (USDA), as the pressures of climate change begin to be felt throughout the state's – and Franklin County's – forests.
That Vermont's climate is changing is impossible to question. Average temperatures in the state have steadily risen since 1901, with the mean, maximum and minimum temperatures of each season increasing since the turn of the 20th Century. According to the study, the mean annual temperature has increased 2.4 degrees Fahrenheit since the study's 1901 start date.
This has largely translated to more precipitation in general, punctuated more by extreme weather events than the average light rainfalls and snowfalls that used to be the norm.
"Right now we're experiencing one of those time periods where we're getting a big dump of snow," Franklin/Grand Isle County Forester Nancy Patch said, speaking during one of the more recent Nor'easter snowfalls that buried New England in the last month.
But snowfall has steadily declined in volume over the years. Between 1965 and 2005, the USDA's study attests, snowfall in New England has noticeably declined in volume, though some years might be prone to more snowfall than others.
These changes in the climate can translate into significant changes in the forests. According to the study, some species that are particularly sensitive to shifts in the climate might be forced to migrate, either higher into the mountains or further north as warmer temperatures creep up from the south.
The study also pointed to the likely possibility of species of plants and animals traditionally from more southern locales pressing north into New England's forests as the climate becomes more comfortable for them. Those kinds of changes, though, could take decades to fully materialize.
That said, there are already signs of change in the woods of Franklin County. According to Patch, some less predominant species have made notable gains in recent years in Vermont. In particular she cites the red oak, which has crept northward into the southern edges of Vermont's forests.
The schedules of some migratory birds, often considered by climatologists to be a "canary on the coalmine" in tracking the impacts of a changing climate, have also changed.
According to a separate study cited by the USDA, the ranges of some birds, like the Nashville warbler specifically noted in the USDA's study, have pressed their range further north and have been arriving in their New England and Canadian breeding grounds earlier each year.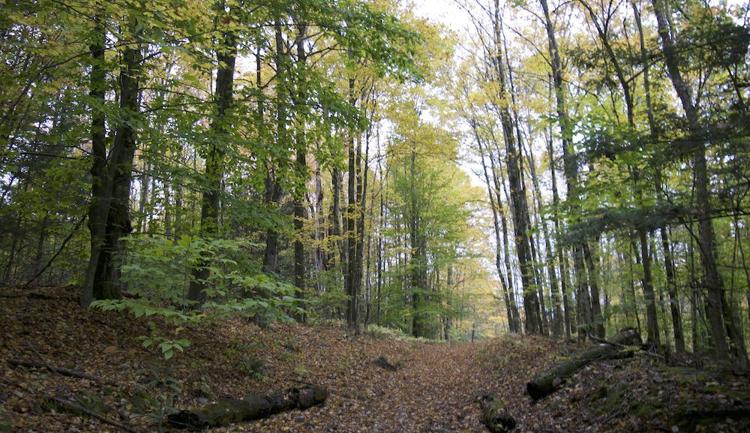 While roughly 75 percent of the land in Vermont is forested, according to the Vermont Department of Forests, Parks and Recreation, Patch estimates that maybe only half of Franklin County is covered by forest.
"We're one of the most agricultural communities in the state, so I'd say maybe about 50 percent of Franklin County is forest," Patch guessed.
Those forests, which splotch the landscape between the Green Mountains and Lake Champlain, are a little more disjointed than their counterparts elsewhere in Vermont. According to Patch, farms largely divvy up the more heavily wooded areas, leading to islands of woods rather than the more recognizable sea of green one might see further east.
This puts them at greater risk, according to the USDA's study.
"Tree species in isolated or fragmented landscapes will have reduced ability to migrate to new areas," the study states, adding later that "species in general will have a harder time migrating if isolated."
That fragmentation, which limits the room needed for species reproduction and leads to disconnects in the forest that cuts out room for migration, isolates wooded areas and can make everything from forest regeneration to plant diversity difficult.
"On landscape level, continuity is the most important thing," Patch agreed. "Keeping our large forest blocks intact and connected allows for species migration – of both plants and animals."
With climate change leading to more extreme weather events and less consistent rainfall, these pockets of forests will be under more pressure than their larger counterparts, as farmland and pavement isolate these smaller woods from the sources of new seedlings.
Even at 50 percent, Franklin County is still more heavily forested than the average American county, something reflected in the county's maple and logging industries.
With 367,567 gallons of maple syrup tapped and boiled in 2012, the last numbers published at a county level by a USDA census, Franklin County is the largest producer of maple syrup in the state of Vermont, and likely the United States as a whole.
A patchwork of maple ranges pop-up between swathes of farmland. Statistics published by the USDA estimate that there were more than 1,500 maple operations in the state, with roughly 30 percent of the state's taps punched in Franklin County.
The star of the county's maple industry is the sugar maple, a common sight in Franklin County's forests.
The sugar maple is one of the species identified both by the USDA and Patch as sensitive to the changing climate, as its shallow roots make it weaker to cold weather and more climate resilient trees, like the red maple, threaten to press north and outcompete the tree.
"Sugar maple is kind of a Goldilocks tree," Patch explained. "It needs things to be just right."
According to Patch, the sugar maple and its shallow roots manage in Vermont's forests thanks to the insulation provided by winter snowfalls. The loss of a constant blanket of snow means the roots of these trees can freeze, potentially weakening the sugar maple.
Meanwhile, competition could come north.
"You might see an expansion of red maple, which is much more adaptable and covers a much greater range of soils and elevation," Patch explained, adding that it'll likely take a while for any of these kinds of changes to be properly observable.
Even if climate change were to bludgeon the forests with new species, some plants and animals in Franklin County – and Vermont as a whole – do have a safety valve. According to the study, in more mountainous areas, species might be able to move up the slopes of mountains into higher altitudes, which are less susceptible to shifts in the climate.
Likewise, the richer soils in the region offer some protection to Vermont's plant life.
"There's a couple things about Vermont that allows us to think about resiliency, and that's the fact that we do have rich soils and we do have variation of topography," Patch said. "For a very small state, we're really diverse."
The response of state foresters like Patch has been to promote land management strategies, encouraging those who tend to their forests – more than 80 percent of the woods in New England are on private property, according to the USDA's study – to preserve some of the diversity in their woods and reconsider some of their land uses.
"There are management activities we can do to make our forest be able to withstand and be able to bounce back from stress that occurs," Patch explained optimistically.
She added that, even with better management of the land and the added boon of Vermont's topography and rich soils, in the coming decades, changes will happen in the woods of the Maple State.
"Trees live a long time," she said. "[But] there will be an expansion of a species and a shrinking of a species."