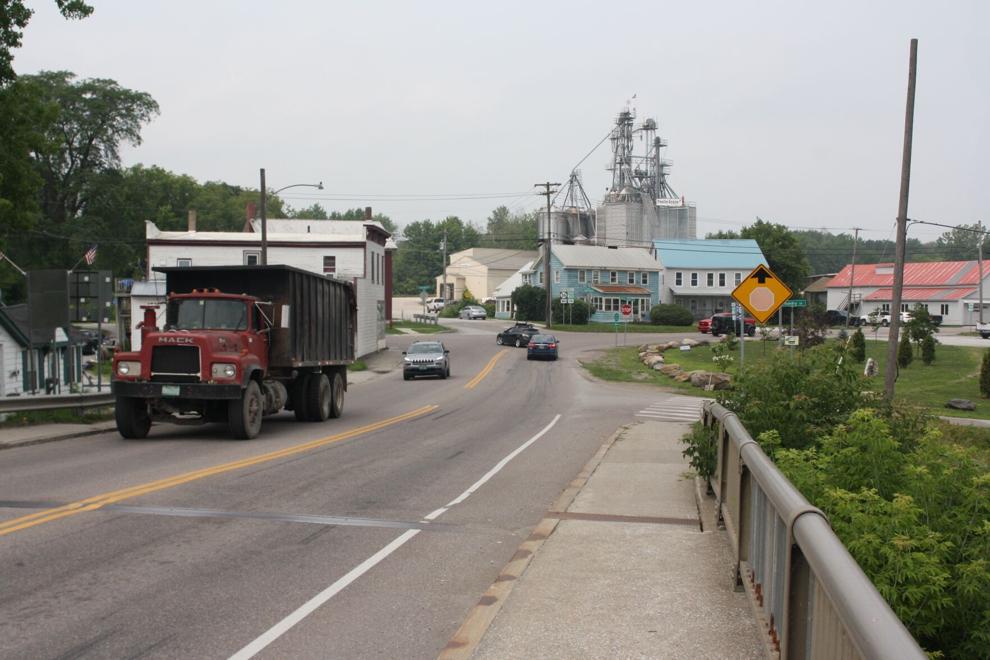 In the middle of an interview with State Representative Brian Savage, a lifelong Swanton resident, for a story about Swanton's poor cell-service for AT&T users, the audio abruptly cut him in the middle of a sentence.
"Brian? Hello?"
Unfortunately this has been the experience of many Swanton residents, as the town has been plagued by poor AT&T service for over a month.
"It's been one or two bars," Savage said. "I mean it's pretty, pretty bad."
The problem has been noticeably bad since mid-June. Savage then thought the issue was temporary, but as one day passed and then another day passed with no change, he thought it'd be a good idea to call AT&T.
When he called AT&T, they told him the situation would be fixed by June 18th.
"The 18th came and went and there was still no service," Savage said.
He put out a post on Facebook, asking if others were having the same issue. In the meantime, he kept calling AT&T, trying to get a date for when service would be repaired.
Savage said they told him that they didn't see any outages in the area.
"I said, 'Well I beg to differ because a lot of people here were certainly having an outage,'" he said.
Savage finally decided to look elsewhere for help. He put in a call to the Vermont Department of Public Service who said that they don't have jurisdiction, but that they would help get someone from AT&T to reach out, Savage said.
That's when Savage received a call from Asha Williams from AT&T Executive Care and Advocacy, a representative of the President of AT&T. Savage then was told that service would be fixed by July 15.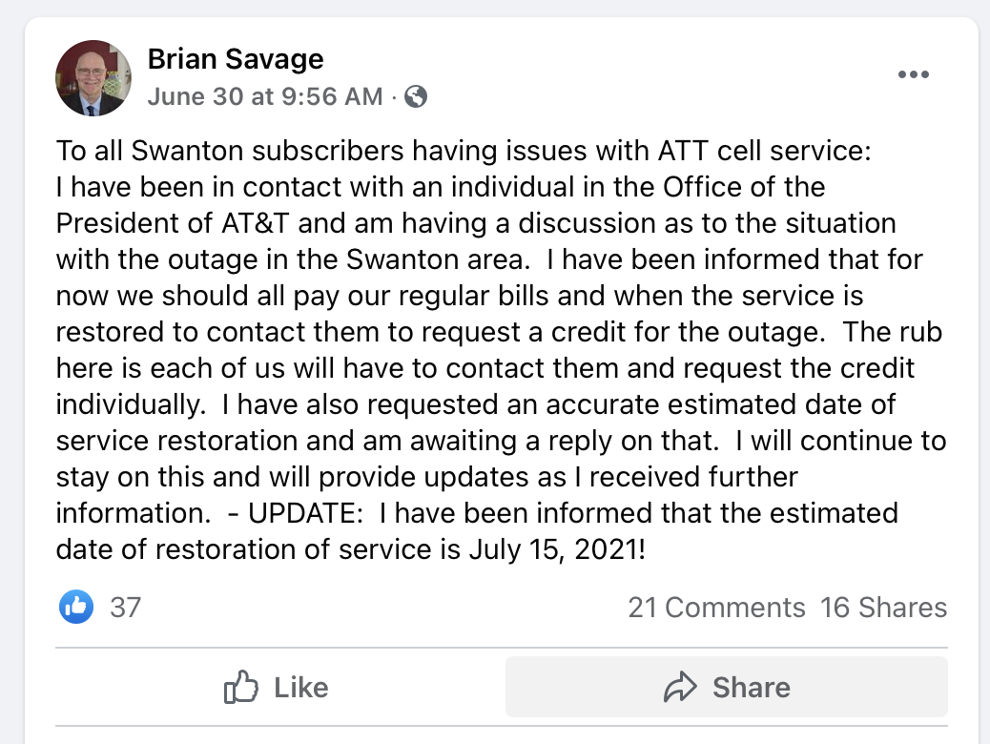 Some Swanton residents may have seen some better coverage recently as AT&T found and installed a temporary antenna, Savage said.
But with the issue persisting in Swanton, AT&T has identified the problem and is working to fix it, Williams said.
The poor coverage is most likely due to a deteriorating cell tower near Swanton Lumber, in between Dewey St. and Depot St, Williams said.
AT&T is going to have to completely rebuild the tower, Savage said.
There is no set date for the project to be completed however crews are working to fix it, Williams said.
Savage said that he heard from AT&T that they hope the problem will be fixed by Friday, July 23.
For Savage, his biggest concern about service in Swanton is centered around emergency services.
In 2017, Governor Phil Scott signed onto FirstNet, a federally funded AT&T program, whose goal was to bring 99.9% coverage to all states, bringing a nearly universal network for first responders. The coverage would also be used commercially by AT&T, according to a 2019 VTDigger article.
In October of 2017, before Scott signed onto the project, the state hired two consultancies to analyze the plan.
Televate, one of the independent consultants, found that even when the proposed plan would be finished, coverage gaps would remain in a number of areas, including in Franklin County around Enosburg, according to the article.
"I've talked with our fire chief here and other officers of the fire department," Savage said. "They didn't have any service."
In terms of reimbursements for the gaps, Savage said that Williams advised to have everyone continue to pay their bills and when service is restored, they'll be able to get a refund.
Savage said he was told that everyone will have to individually call AT&T and request a refund which he does not think is acceptable.
"We'll see what this Friday is going to bring," Savage said.
"I know things happen, however by the same token they're there to provide a service," he said. "I just want to make sure that my constituents and their customers get compensated in some manner for this loss of service."