This Weekend with Bridget is a recurring column. Every week, she recommends a place to go or a way to have fun at home. Send her an email at bhigdon@orourkemediagroup.com.
This weekend's adventure: After a day of spring skiing at the resort or in the backcountry, support local bars and restaurants by enjoying their food and drinks at home.
What to know: Après-ski literally translates to "after skiing" in French. In the U.S., it's turned into an umbrella term for a variety of post-ski activities, including a beer or two in the lodge bar.
While many resorts and ski town bars are still offering food and drink this year, the days of showing up without a reservation and standing shoulder to shoulder with folks while the band plays are gone.
Celebrating a totally rad, yet exhausting ski day at home isn't the same, but it might be safer this year.
My experience: Recently, after an evening headlamp skin at Bolton Valley Resort, I ordered a drink and a taco from The Big Spruce, a new spot on Bridge Street in Richmond that's on my way home.
I ordered on my phone from the Bolton parking lot, and was able to schedule my order to be ready at a time when I knew I'd be packed up and headed down the access road.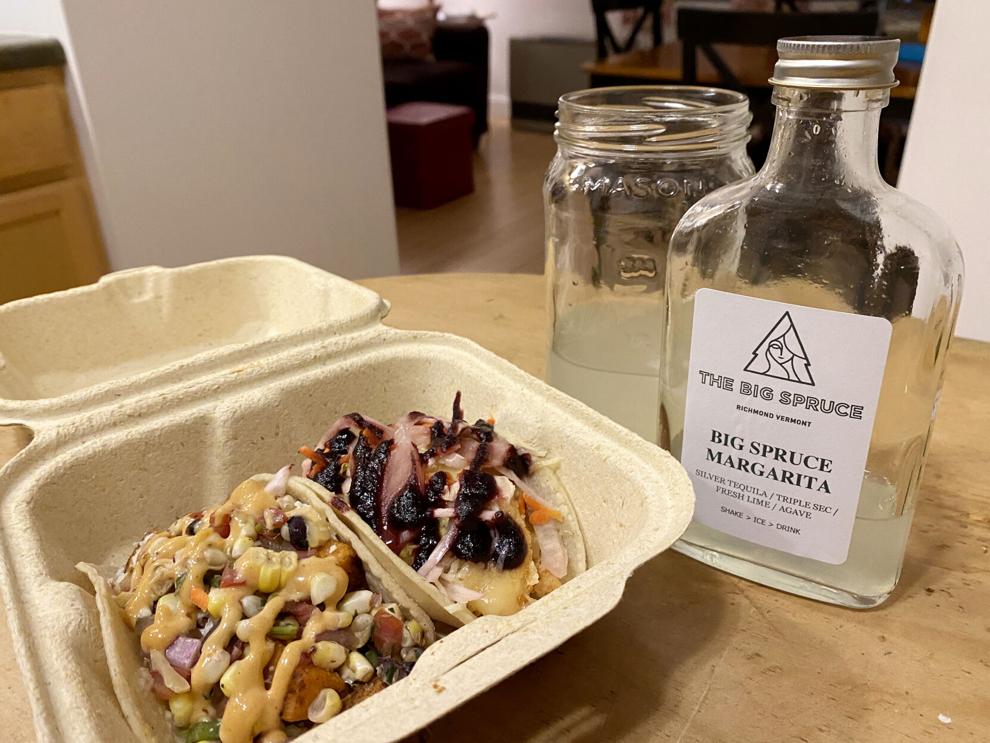 My order was ready in the takeout window when I got there, the tacos hot and packaged in a compostable container, the margarita in a small glass bottle with a screw-on cap, to ensure no spillage in the car. I enjoyed it all in my kitchen, in comfier clothes and with my ski boots off — a silver lining to après at home.
As I ate, I remembered that last ski season, my family had circled up at the Cannonball Pub at the base of Cannon Mountain in Franconia, New Hampshire. The pub was lively and loud — full of people leaning against the U-shaped bar and standing along the walls of ski memorabilia.
Eight of us sat around one table, with beers and a plate of nachos. We shed our helmets and jackets and shared our best runs of the day. We watched whatever sports game was on. We laughed.
I, like many skiers I am sure, miss that tradition this year. It's a part of ski culture in New England that is older than we are, and will hopefully exist after we are gone.
For now though, I'll eat my tacos and enjoy my drink safely at home, so that we can squash this virus and get back to that noisy yet oh so amazing tradition next year.
Here are some spots offering takeout close to three area ski resorts:
Jay PeakOn your way home from Jay, order from The Belfry in Montgomery Center. It's takeout menu has draft beer like Fiddlehead and Switchback as well as plenty of snacks — like a basket of onion rings or veggie nachos.
242 Texas BBQ Company in Enosburg Falls would also be a great place to stop for some post-ski fare. Pre-order the fish and chips, because they often sell out. Fried avocado slices or pickle chips would also make an excellent snack.
Smuggler's NotchIn Jeffersonville, on VT Route 108, Brewster River Pub and Brewery has an extensive to-go beer list. Order a canned Long Trail IPA or Sip of Sunshine online. Cocktails like the Jalapeno Margarita or the Espresso Martini also sound refreshing. Pair your drink with an appetizer of Southwestern Eggrolls, filled with black beans, corn and red pepper.
Call ahead to Angelina's Pizzeria in Cambridge to time your pick up for exactly when you'll be passing through town. Order a large or small pie or by the slice. There are options for meat and veggie lovers alike, along with gluten free crust options. Looking for a calzone or sub? Angelina's got them both.
Bolton ValleyThe Big Spruce, which opened in Richmond just a few months ago, is serving up tacos and tequila to-go. Take home any one of the signature cocktails, like the Big Spruce Margarita or, if you are a group of two, the restaurant's take on a rum and coke — the Kentucky Libre. Tacos here are also a must — order as many as you need for about $5 each.
In Richmond, you could also stop at Stone Corral Brewing for cans to take home. Order four-packs, like the Bad Rooster IPA or the Local Joe coffee porter online and pick them up just inside.