This weekend's adventure: Have an afternoon picnic with sandwiches from Poppy Cafe and Market in Burlington's Old North End.
What to know: Open 11 a.m. to 2:30 p.m. Wednesday to Saturday, Poppy Cafe is a terrific lunch spot operating out of the Oak Street Cooperative.
From a small kitchen, two sisters, Emily and Abby Portman, are serving up seasonal sandwiches to-go as well as house-made products like pickles, preserves, condiments and spice blends.
Poppy Cafe shares its location with Café Mamajuana, a Dominican fusion spot. The cafes operate at different times of the day and share a small market.
My experience: Color is returning to Vermont, and I am thrilled.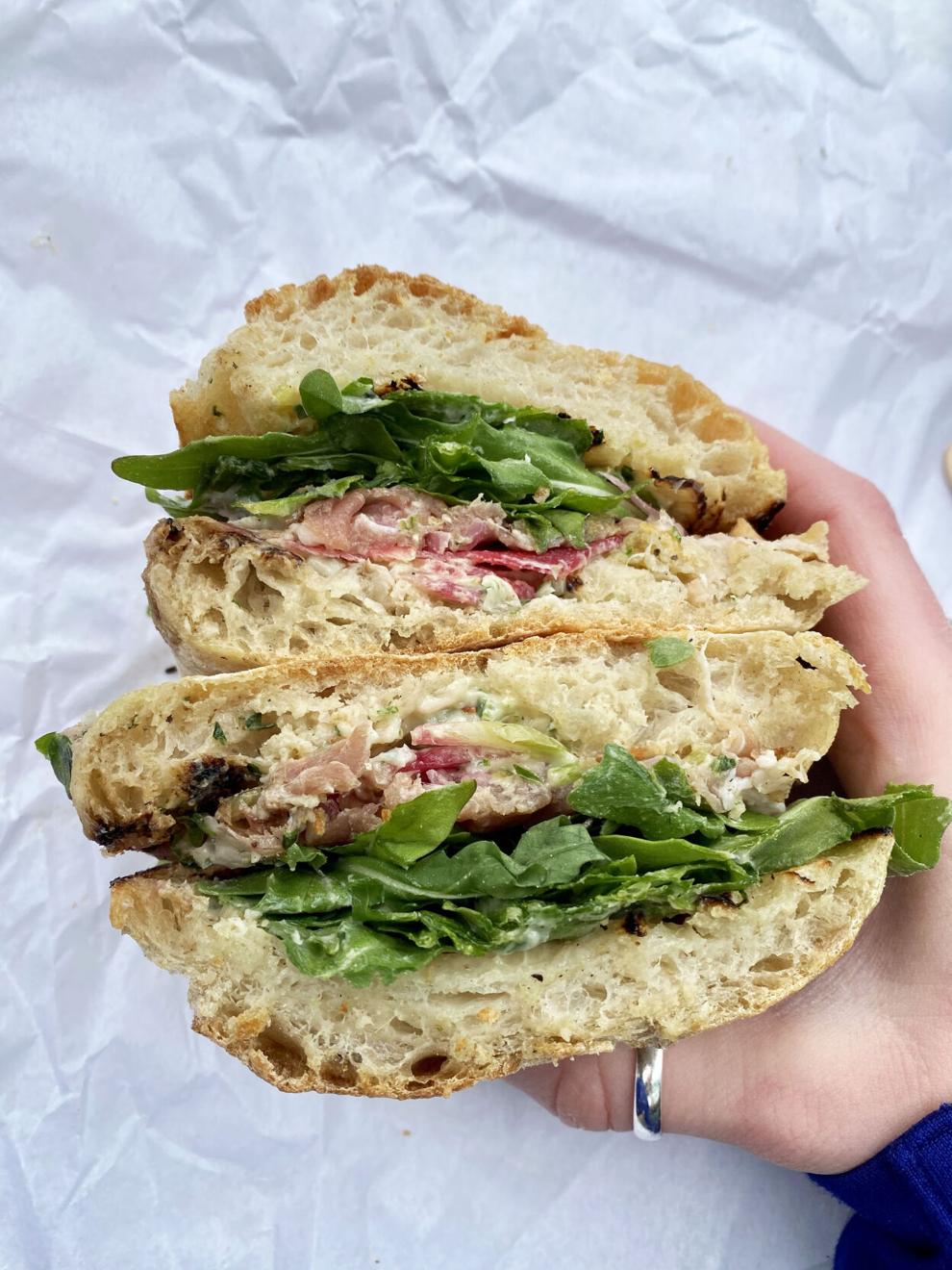 The recent rain, though dreary, is doing wonders for the state's palette. Yellow daffodils and pink tulips are cropping up in garden beds, and the tree outside my office window is filling in with lime-green buds.
All of this color is reflected in the food at Poppy Cafe, which has been open in Burlington's Old North End for nearly a year. I hadn't yet visited, but the cafe's beautiful photos on social media were recently circulating amongst my friends, and I knew I had to try it.
I biked to the teal-trimmed cafe on Oak Street and enjoyed one of their sandwiches outside in between the raindrops.
I sat at a small wooden folding table on the sidewalk and unwrapped "the polly," a sandwich of layered springtime flavors. Each bite consisted of slightly salty prosciutto, spicy arugula and creamy lemon-herb butter. Rainbow radish and pickled red onion gave a crunch and brightness to the finish. I could tell the ciabatta was fresh — it left flour dust on my hands.
While I ate, a young girl who I don't know enthusiastically shouted "hi" to me as she walked by with her mom. Dogs looked out from open car windows. I took notes for this story and then read a few pages of "Conversations with Friends" by Sally Rooney. Overall, it was a lovely lunchtime experience.
The menu: Poppy Cafe's menu of half a dozen sandwiches changes every week and often sells out before closing time.
The sandwiches often humorously pay homage to talented ladies with names like "the liza fennelli," "the aubergeena davis" and "the rhubarbra streisand."
This week, the sisters are making good use of springtime ingredients like rhubarb, asparagus and tarragon. While most sandwiches are served on house-made focaccia, "the polly" rests on ciabatta from Slow Fire Bakery in Jeffersonville and "the sweet mango" on bread from Trent's in Westford.
The menu is friendly to vegetarians and vegans alike, and all of the sandwiches can be made on gluten-free bread.
By 1:30 p.m. on the day I visited, an hour before Poppy's usual closing time, the cafe was sold out of sandwiches. I'd suggest planning ahead and utilizing their online system to order early for a later pick-up time.
Take it to-go: To pick-up, pull into one of the 15-minute parking spots out front or lock up your bike nearby. Step inside or specify window-pick-up in your order notes.
Enjoy your sandwich a few steps away in the Old North End's Roosevelt Park or zip down to the Burlington waterfront for a scenic picnic.
This weekend with Bridget is a recurring column. Every week, she recommends a place to visit or a way to have fun at home. Email her at bhigdon@orourkemediagroup.com.