This weekend with Bridget is a recurring column. Every week, she recommends a place to visit or a way to have fun at home. Suggest something for next weekend by sending an email to bhigdon@orourkemediagroup.com.
This weekend's adventure: Celebrate sugaring season by visiting Vermont Maple Outlet, a family-owned farm and country store offering cremees, coffee and every maple-flavored product you can imagine.
What to know: Vermont Maple Outlet is open 9 a.m. to 5 p.m. seven days a week. Located on VT Route 15 between Cambridge and Jeffersonville, it is about a half hour drive from St. Albans and about 45 minutes from Burlington.
My experience: Wisps of smoke were puffing from the silver chimneys of the sugarhouse when I pulled into the Vermont Maple Outlet parking lot earlier this week. The sky was robin egg blue, and in the distance, I could see the still snow-capped peak of Smuggler's Notch.
Inside the country store, Michelle Fletcher, who owns the Vermont Maple Outlet with her husband Dan, was at the counter. A few years ago, the Fletchers took over ownership of the Outlet from Michelle's parents, Diane and Rick Marsh.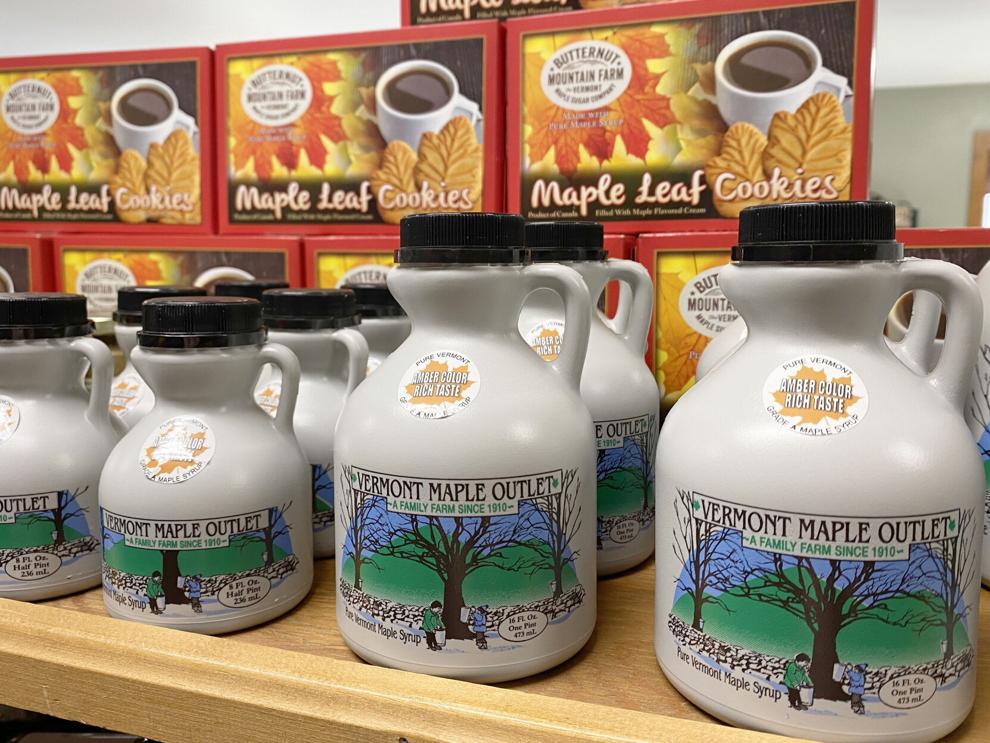 The farm has been producing maple syrup in Lamoille County for over 100 years and has been in Michelle's family for seven generations.
To the right upon entering the store, maple syrups of all grades and sizes line the wall. You'll find golden, amber and dark robust in pints, quarts, gallons. The family's syrup has won awards from the International Syrup Institute and ribbons at various state fairs and shows.
The country store is also stocked with every maple-flavored product you can imagine. Maple sugar, candy and cream? The Fletchers' make it from scratch. Maple nuts, peppers, mustards and hot sauces? They carry those too.
Vermont Maple Outlet lends its shelves to a variety of Vermont producers too, like Sidehill Farm, which makes delicious jams and chutneys. You'll find Vermont Mountain elderberry syrups and Lyman's pickled vegetables, Lowell Mountain Mills pancake mix and Halladay's Harvest Barn seasonings and spices.
Michelle told me that early spring at the sugarhouse is incredibly busy, as the taps are flowing and the sugars are boiling, March and April at the country store can be slow. The skiers, who in winter wander the aisles still in their snow pants, are less frequent now, and the summer's tourists are still several weeks from arriving.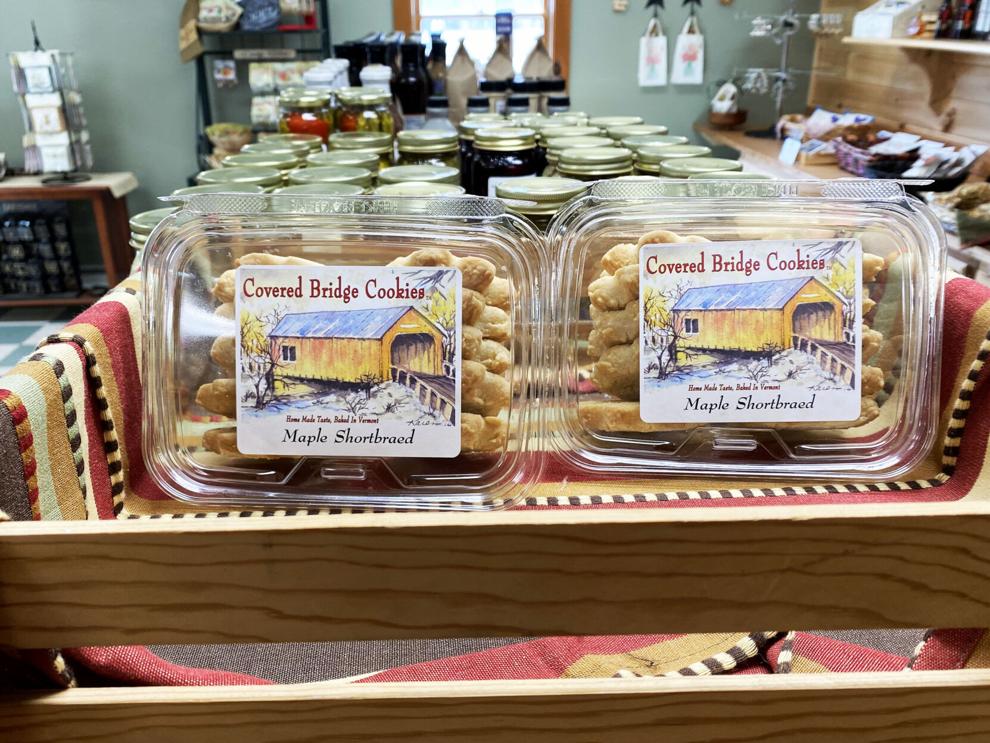 Cremees coming soon: While I was browsing, the front door creaked open and a man stepped through looking for a cremee. It was sunny and nearly 70 degrees outside, and I too, would have enjoyed a bit of ice cream.
Michelle told him they hadn't started serving yet, but planned to either this weekend or early next week.
"I'll be back then!" he called, and I soon heard the crunch of his truck tires on the gravel.
During the warmer months, Vermont Maple Outlet offers soft serve ice cream, or "cremees," in a variety of flavors, including maple and black raspberry.
Exclusive coffee retailer: Vermont Maple Outlet is the exclusive coffee retailer for Brown & Jenkins, a Vermont-based coffee roaster which was established in 1984 by Ken Brown and Carol Jenkins.
Today, though Brown & Jenkins is owned by Vermont caterer Sandy Riggen, it still produces single-origin coffees, signature blends and flavored coffees. At Vermont Maple Outlet, you can buy bags of whole beans or pre-ground, or you can grind the beans yourself.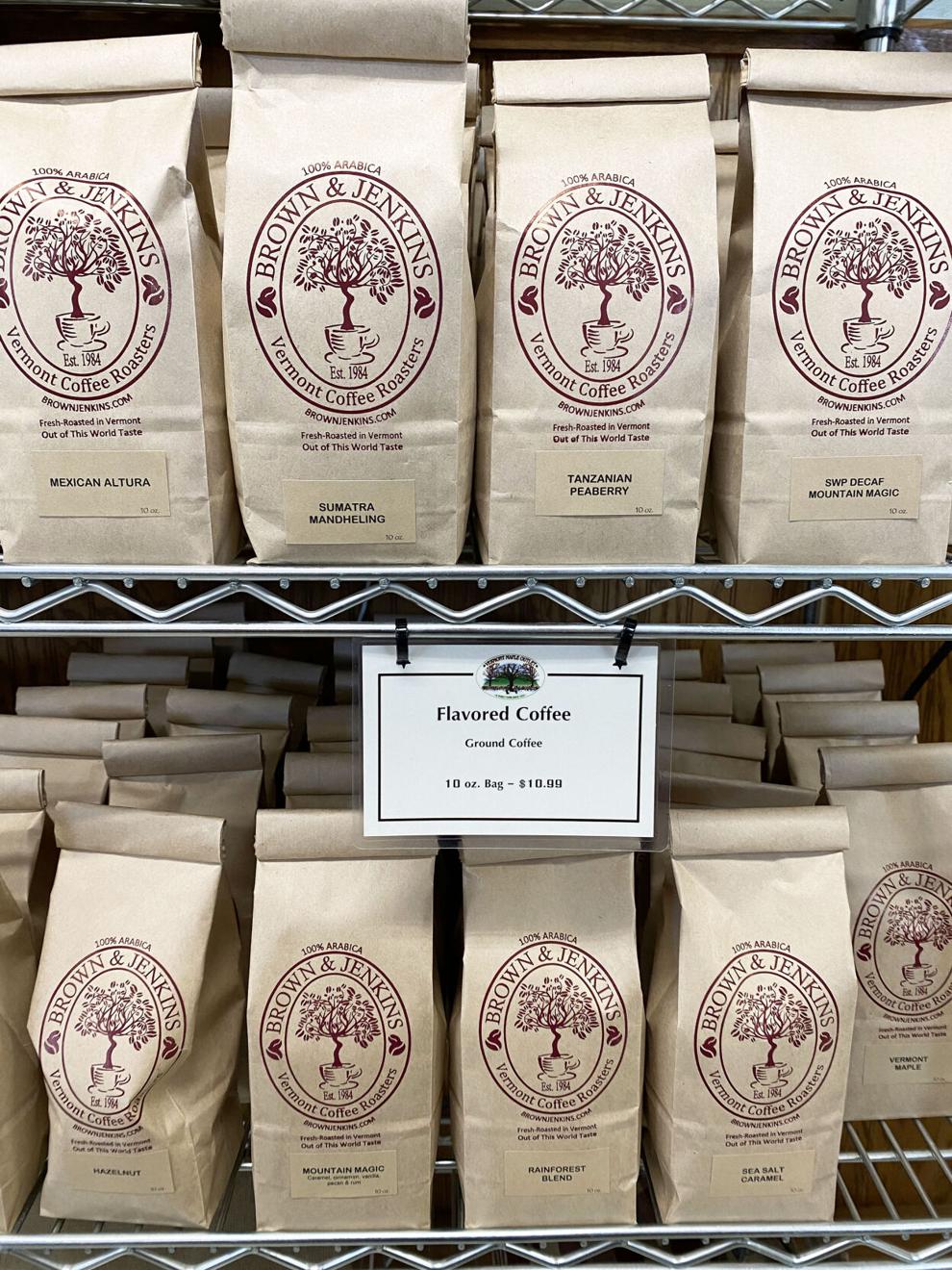 To stay on theme, I purchased a bag of Brown & Jenkins' pre-ground Vermont Maple blend, which immediately filled my car with the most amazing sent. I've been drinking it this week with slices of last week's Irish Soda Bread.
Go this weekend: Take a drive to Vermont Maple Outlet this weekend to celebrate maple syrup, a Vermont specialty that is irrevocably entwined with the state's economy and history.
It would be a great place to find the perfect Easter gift for a friend or family member and an excellent spot for the first cremee of the season.