This Weekend with Bridget is a recurring column. Every week, she recommends a place to go or a way to have fun at home. Send her an email at bhigdon@orourkemediagroup.com.
This week's adventure: Add a visit to a local farmstand to your list of places to go this weekend. You'll be glad, when your haul of fresh vegetables and local meats brightens your kitchen.
What to know: Not all farms have open stands in the winter, and many might have different processes due to COVID-19, so be sure to pick up the phone and call or check a website before heading out.
My experience: I love the winter — I love the cold and the snow, I love earning my ski turns and I love staying cozy indoors. I look forward to winter and everything it offers all year long.
But by mid-February, I do start to miss farmers markets, which we are lucky to have so many of in Vermont. I miss the crates of ripened heirloom tomatoes, the bins of soft purple plums and fuzzy peaches.
I miss the sun, strong on the back of my neck as I wait in line to pay, and I miss the weight of my bag, heavy on my shoulder as I pedal home.
I've never purchased my entire week's worth of groceries at a farmer's market, but grabbing a few vegetables or a crusty loaf of bread is always a treat.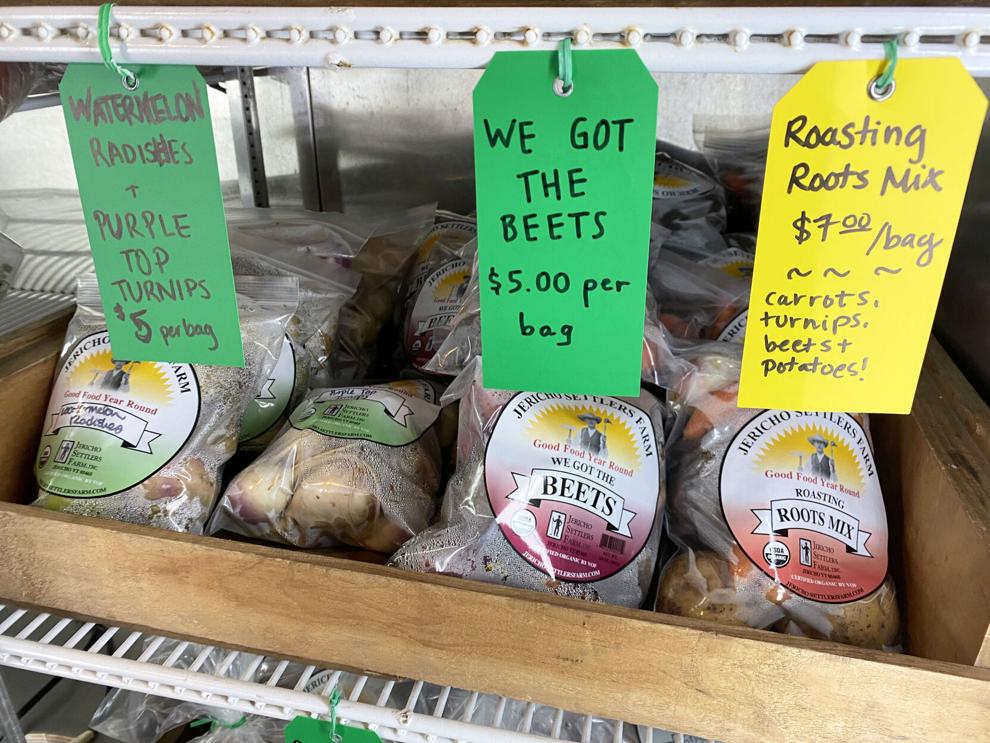 That longing was particularly strong this week, when I opened a bag of frozen vegetables with a sigh. So I got in the car and drove to Jericho Settlers Farm to see what I'd find.
On the way, I traveled roads I came to know well after spending the summer and fall on my bike. Driving them in the winter, the low-hanging sun and blanket of snow brought to life sights I hadn't noticed before — a gathering of tall evergreen trees atop a hill, a wrap-around porch stacked with firewood.
Jericho Settlers Farm, Jericho The farmstand at Jericho Settlers Farm (JSF) on Barber Farm Road is open from 8 a.m. to 6 p.m. every day. Located at the end of a long, snow-packed drive, the farmstand is inviting, its door swung wide open.
For almost 20 years, JSF has specialized in year-round organic vegetable production, composed primarily of salad greens, tomatoes, cucumbers and root vegetables grown on its 200 acre property.
At the farmstand this week, the refrigerator is full of winter produce — leafy green spinach and stringy pea shoots, carrots, beets and turnips, potatoes of all colors.
"Good Food Year Round," the packaging reads.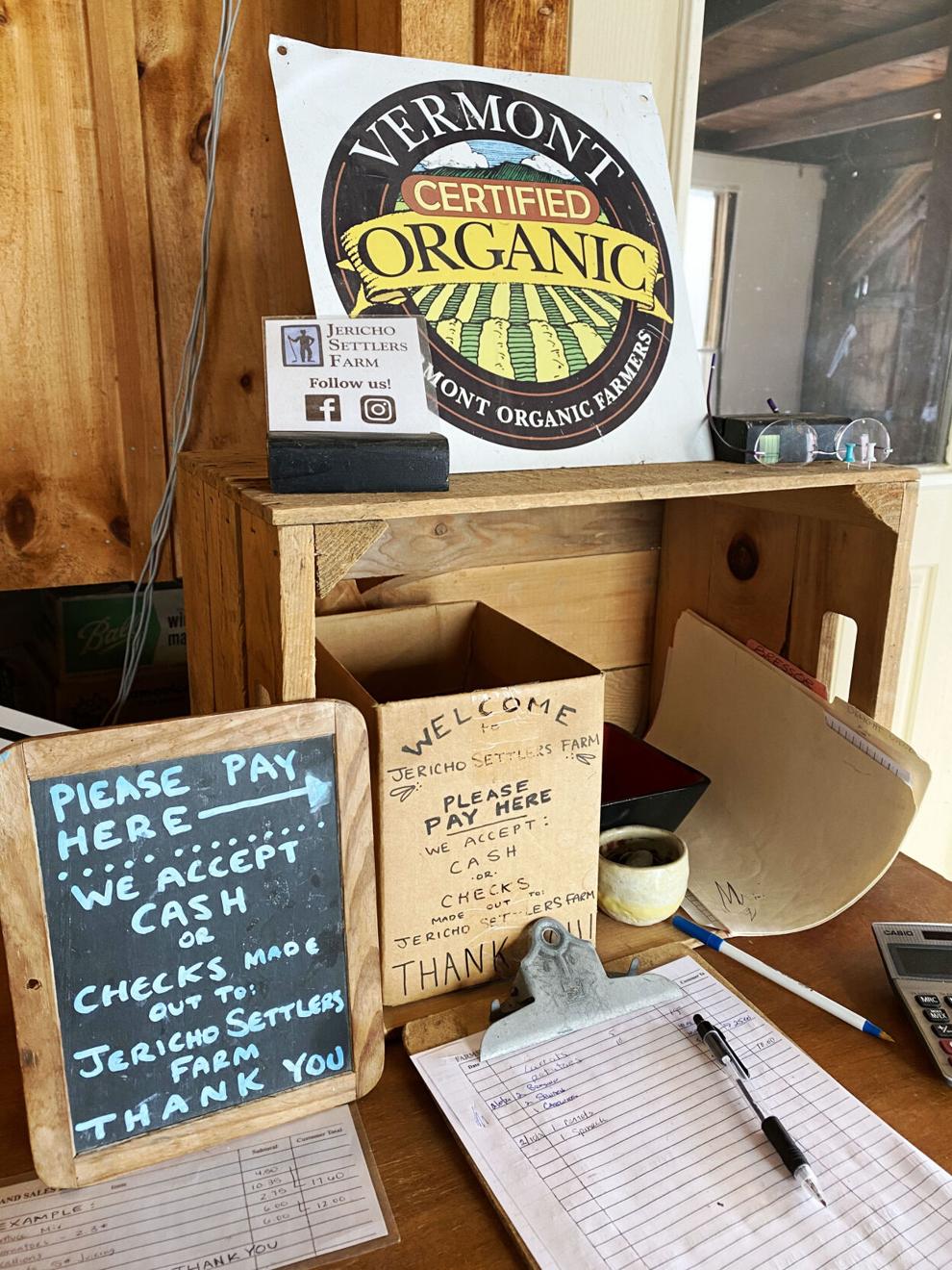 The freezer was full of 100% grass-fed meats from JSF and other Vermont producers. I picked up a package of ground beef from Stony Pond Farm in Fairfield, but there was also lamb sausage, bratwurst and whole chicken.
Payment is on the honor system, and a sign near the cash box says, "We trust you." Cash and check are accepted, but if you write down your name and number, someone from the farm will call you to take a credit card over the phone.
Does' Leap, East Fairfield This weekend would also be a great time to check out the farm store at Does' Leap on Bakersfield Road. It's open on Saturdays and Sundays only from 8 a.m. to 6 p.m.
Does' Leap started in 1997 and specializes in a variety of fresh and aged certified organic goat cheeses and pastured whey-fed pork. Much of the work on the farm, including haying, spreading manure and firewood collection, is accomplished with draft horses to increase sustainability.
At the farm store, you'll find crumbling feta and chevre and hunks of soft tomme and caprella. Farm-made sausage with added ginger and sage or pesto will be in the cooler. You'll also find Chevron goat meat, perfect for adding to stews and making into burgers.
Does' Leap's whey-fed pork loin chops or country style ribs would also make a great weekend dinner.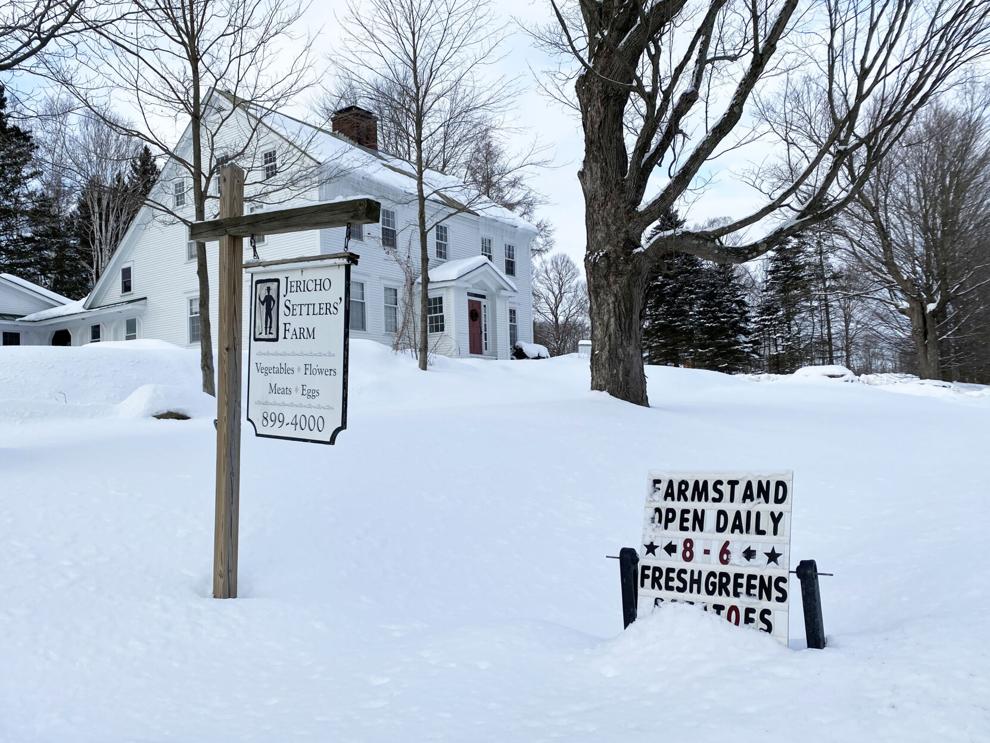 Sign-up for a CSA or utilize local pick-up: If you need more local produce and meats in your life during the winter months, consider signing up for a CSA with Jericho Settlers Farm.
The farm's spring vegetable CSA starts Feb. 22 and includes eight distributions of organic greens, herbs, carrots, parsnips, potatoes, beets and more. Register: jerichosettlersfarm.com/csa-programs
Can't make it to Does Leap? Let them come to you. Order online and then pick it up at one of the farm's drop-off locations in Franklin, Lamoille or Chittenden counties. See those locations at: doesleap.com/local-pickup
Go this weekend: Sure, you can find some Vermont-grown and made products at the grocery store, but this weekend, make the pilgrimage to your favorite farm to see and honor the place where it all comes from.