COLCHESTER — At the Athens Diner in Colchester, it's all about family – not only tied by blood or a shared last name, but by a passion for food and hard work.
Christine LeVallee has been the diner's general manager for almost two years, but her experience in the restaurant industry is life-long.
"I tried a lot of different jobs over the years — pest control, flower arranging, I worked for the State of Vermont for a few months — but I always ended up coming back to restaurants," she said. "They are where I feel most at home."
A family affair: For as long as LeVallee can remember, her family has been in the food business. Her paternal grandfather immigrated to Canada from Greece, before eventually moving to the United States and settling in Vermont.
He owned the A&W drive-in on Shelburne Road until it closed in 1968.
"I guess that's maybe where it all started," LeVallee said. "I remember going there when I was a kid and all the waitresses were on roller skates. It was just so neat, and I couldn't wait to do something like that."
LeVallee's brother and sister-in-law, Bill and Naomi Maglaris, who also own Henry's Diner on Bank Street in downtown Burlington, took ownership of Athens Diner in 2012.
They brought a Greek twist to the menu and a familial atmosphere to the 1950s railcar, which was brought to Vermont from Massachusetts and set atop Highpoint Center.
Pandemic hardships: Now, eight years later, the diner is facing the same pandemic-caused challenges as most Vermont restaurants. With capacity limited to 50 percent, LeVallee said there have been many "bad days" where only a few people take a seat at the linoleum counter.
When the Athens Diner closed for three months earlier this year due to Gov. Phil Scott's stay-at-home order, LeVallee missed the restaurant and her staff terribly.
"I missed the clinking and clanking of the dishes and silverware and everybody talking," she said. "We're never going to recoup those three months we were shut down."
Though the diner's 11 employees were laid off in March, all of them returned in June to reopen the place.
"We're like a big family," LeValley said. "We wouldn't even be able to be open without all these people, stepping up and helping. They are great folks, every one of them."
About the menu: LaVallee said the most popular item on the menu is the Hot Turkey Sandwich, which is served open-faced with gravy, cranberry sauce and a choice of side.
When LeVallee's family took over the diner, they brought traditional Greek recipes to the menu, like the Greek Lemon Chicken Soup — a customer favorite, LeVallee said.
Like at most diners, breakfast is served all-day-long at Athens, but it'll be a tough choice between veggie-stuffed omelettes, thick-cut French toast and dinner plate-sized pancakes.
(I personally will never forget the Athens Breakfast Skillet I had there a few years ago – grilled home fries topped with caramelized onions, spinach, scrambled eggs and feta cheese, served in a hot cast iron).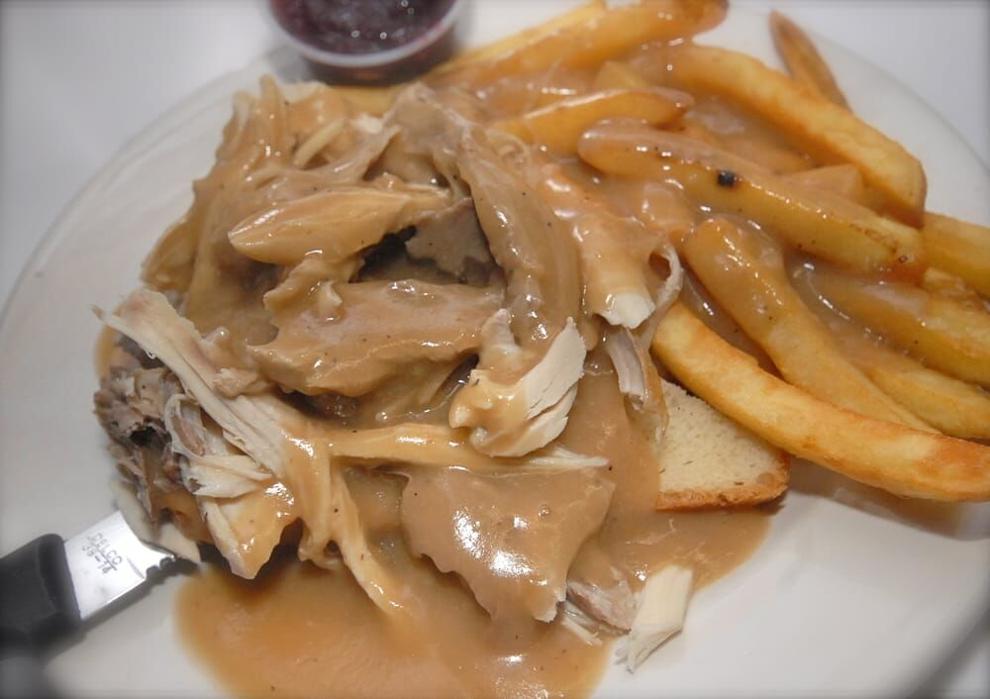 Take-out is coming soon: Athens Diner will begin offering curbside delivery starting Monday, Dec. 7 for those who want to experience the menu from the comfort of home.
Take-out will be offered during the diner's open hours from 6 a.m. to 2 p.m., seven days a week.
The diner will also offer a small take-out menu specifically for catered holiday parties.
"A lot of people can't get together for their Christmas parties this year, but a lot of people still work in an office or something, so we're going to try to offer a small menu for them," LeVallee said.
Correction: This article was updated at 10:16 a.m. Dec. 6 to correct the spelling of Christine LeVallee's last name and to clarify the diner is offering "curbside  delivery." The Sun apologizes for the errors.