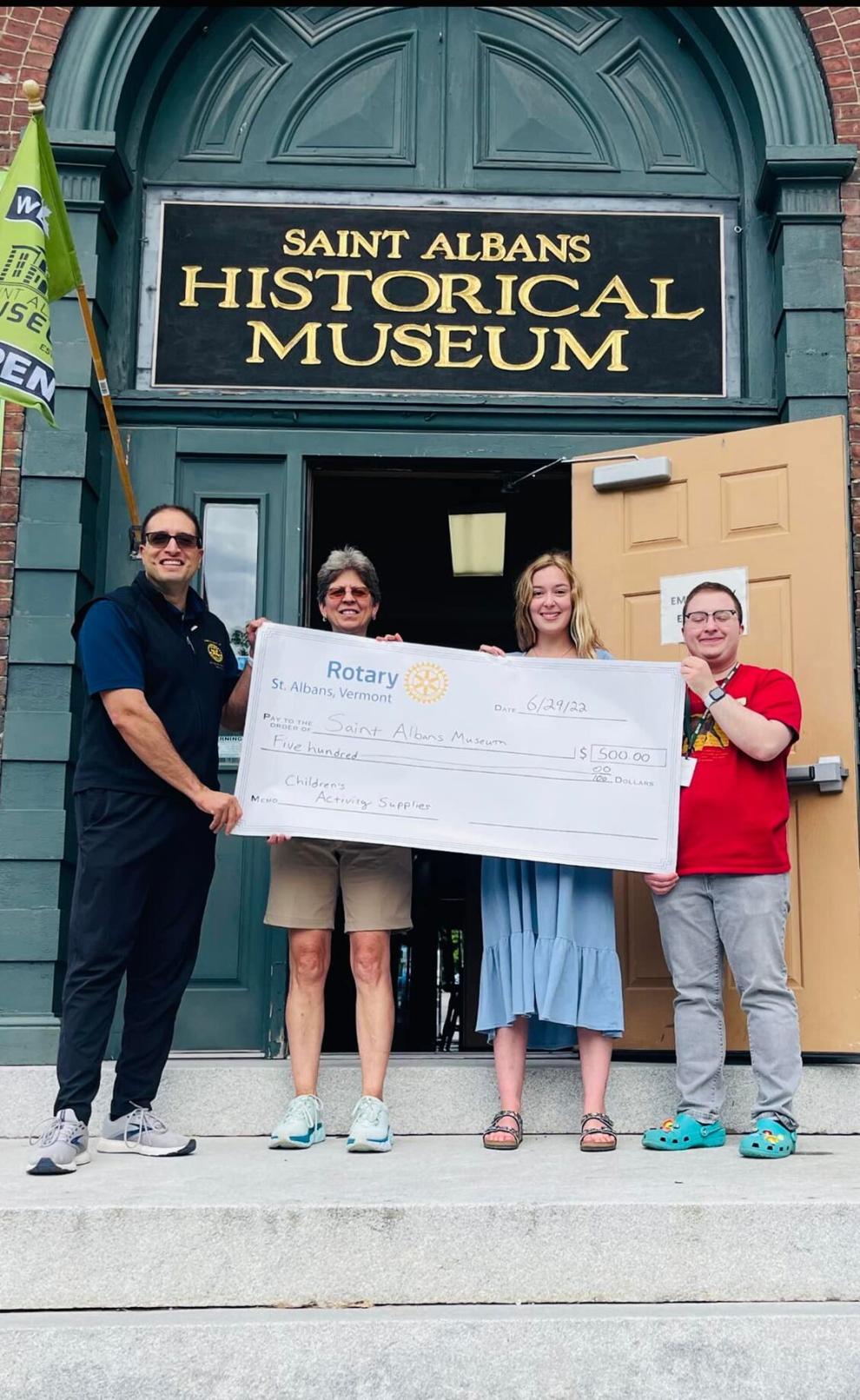 ST. ALBANS — To fund a slate of children's events scheduled for the summer weekends, the St. Albans Rotary has donated $500 to the Saint Albans Museum.
Since restrictions around the COVID-19 pandemic have been relaxed, the Saint Albans Museum has been looking to take a more active role in the community, museum director Lisa Evens said, and the extra funds provided by the rotary will go a long way toward re-engaging families and connecting school-aged children with their local history in a fun and educational atmosphere.
All activities are free and are recommended for children 5- to 10-years-old.
Events will be held throughout the summer months in the museum's third story, known as the Bliss Room.
They are scheduled to be held every Saturday at 10:30 a.m. extending through July and August. Details on each activity are featured below.
July 9: "Marble" bust sculpting - A clay project inspired by art history, children can come in and create busts of themselves during the program's second weekend.
July 16: Pot painting - Children can paint their own clay plot on the third weekend, and later, they can grow a plant at home with a packet of seeds from the museum's Abenaki exhibit.
July 23: Drive-in movie - The St. Albans Museum's upstairs Bliss room is being transformed into a drive-in theater complete with cars, snacks and concessions for the program's fourth weekend. The family friendly movie starts at 10:30 a.m.
July 30: Hat & fan decorating - They don't make hats like they used to, but that isn't stopping the museum from bringing the styles back. Children can get a little fancy with a hat decorating class, inspired by early 19th century fashions, on July 30.
Aug. 6: Bee day - In honor of National Honey Bee Day, the Saint Albans Museum is setting up decorating and planting stations for children to craft a seed starter bee, where they can plant seeds.
Aug. 13: Antique game day – Children can check out how they used to play games before everything came with a screen. A wide array of antique games will be set up in the Bliss Room for children to play at their leisure on Aug. 13.
Aug. 20: Abenaki activity - As a collaboration with Abenaki representatives, the museum will host a morning of making corn husk dolls while the whole family can learn about the Abenaki tradition.
Aug. 27: Medical activity - Children can play "doctor" with a variety of children-friendly medical supplies on the final week of the museum's children's program. A doctor-themed play area will be set up for them to test out their medical techniques.