FRANKLIN — We've got snow in the forecast, and while that may not be good news for everyone, I'm looking forward to it.
Not everyone will feel the desire to scale a peak in winter or do the reverse--put on a pair of skis and fly down one! Fear not! You aren't out of winter options.
Let's talk about snowshoeing. Personally, I've been out of the snowshoe loop for a while. Five years ago, I developed plantar fasciitis (not from snowshoeing), and unless I'm crossing a ridge with deep snow, I rarely put them on.
Do not let my troubles dampen your enthusiasm. A snowshoe in a snowy wood, along the shore of a frozen lake, or through a frosty field is a wonderful way to enjoy winter.
I had casually investigated the difference between trail and mountain snowshoes, but knowing my limitations, I hadn't given it a lot of consideration.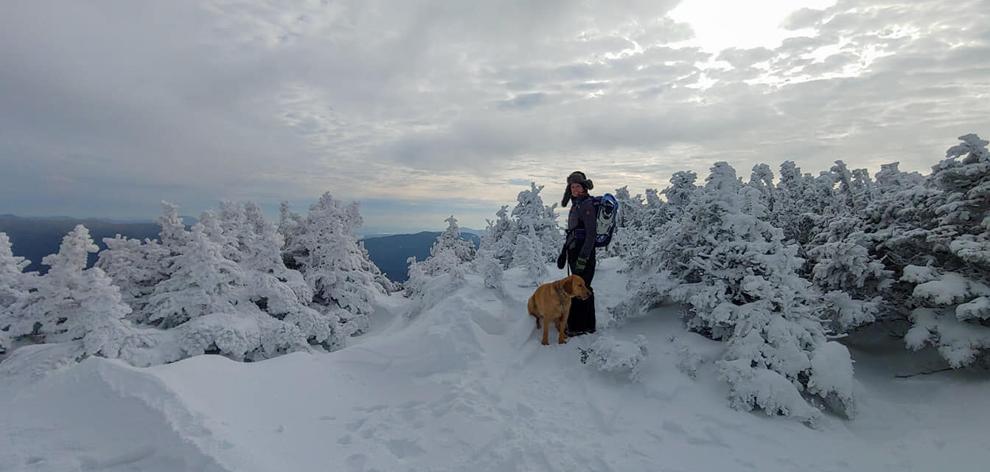 Using my trail snowshoes on a ridge traverse (and some of the descent--sliding down a steep trail on a pair of snowshoes is incredibly fun) in the lower Presidential Range in New Hampshire, I quickly found out why there are different snowshoes for different outings.
While traversing the ridge and descending the mountain, I can't tell you how many times I got one snowshoe caught on the other in the narrow trail! I'd even pitch forward and flop into piles of powdery snow. This is fun as long as you don't get hurt!
I purchased a high-quality pair of secondhand mountain snowshoes shortly after that outing!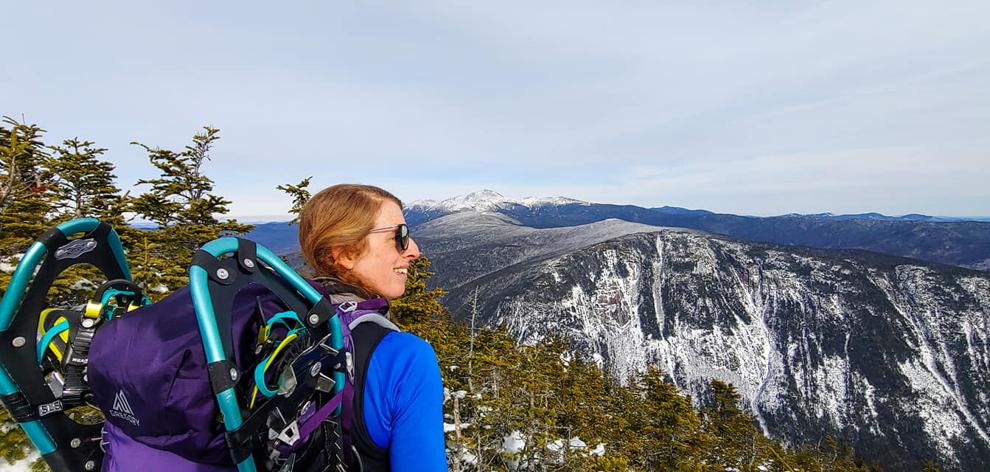 Here's some information that will help you decide what type of snowshoes are best for you based on how you plan to use them.
Trail snowshoes have a slightly wider footprint than mountain snowshoes and don't have a heel lift (we'll get into that later). They also have fewer 'claws,' suitable for small ascents.
Mountain snowshoes like the Atlas Elektra or the MSR Evo Ascent are long and narrow and generally have several sets of 'claws' or crampons. Some even have parallel ridges of saw-like teeth to contend with hard-packed snow.
These snowshoes have built-in heel lifts that pop up to reduce strain on the wearer's legs in a steep ascent.
Regardless of the style of snowshoes you select, consider investing in a pair of trekking poles—many people like retractable poles that collapse for easy storage in a pack.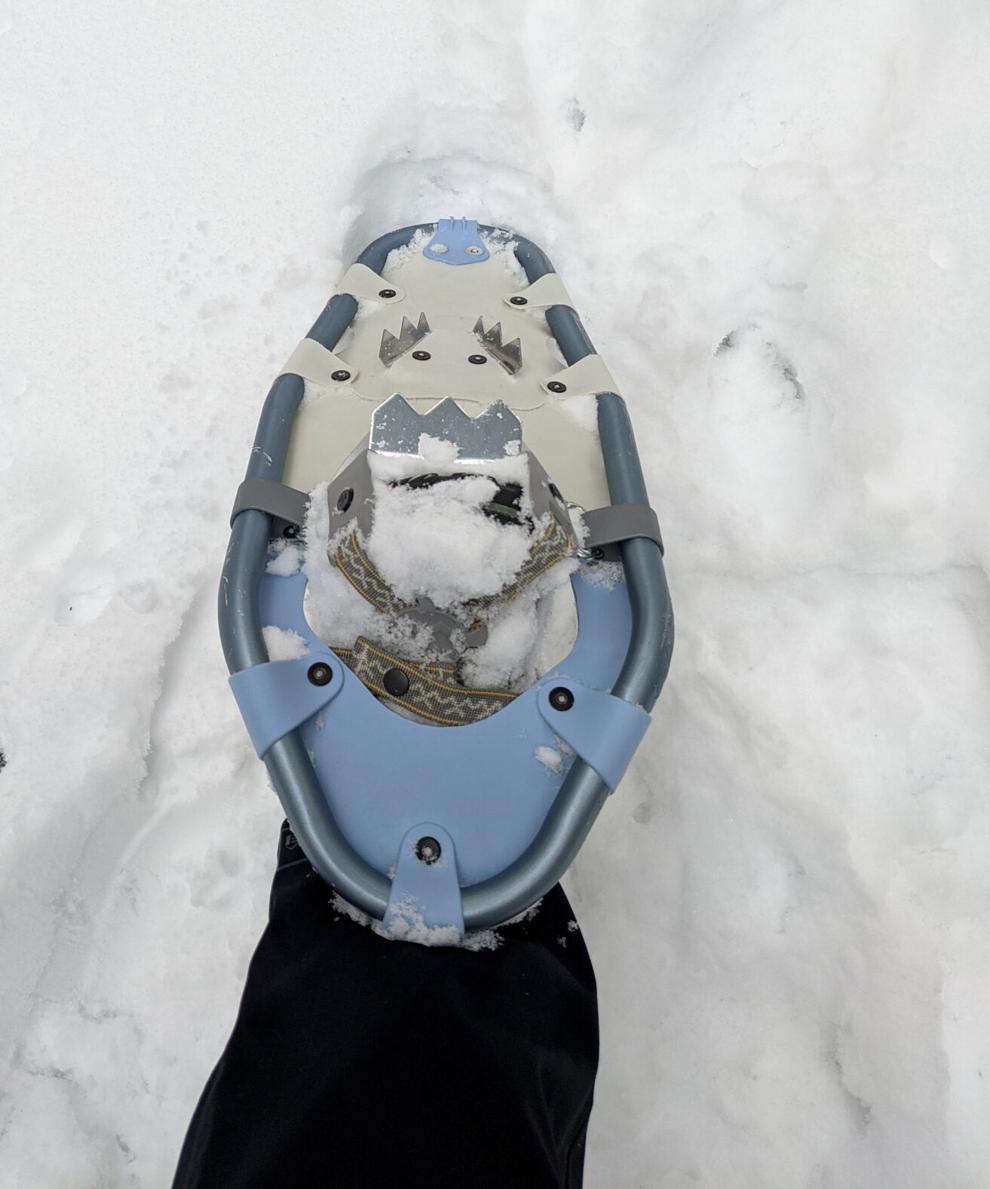 Once you get your snowshoes and poles, then what?
If you're a beginner, look for a level spot to get accustomed to the motion. Try all your gear close to home to ensure you know how to use it comfortably before you go on your first outing.
When you're comfortable with the gear and ready to do some exploring, visit a local state park, a town forest, the Hard'ack Recreation Area, the Missisquoi Valley Wildlife Refuge, or the closed portion of the Smuggler's Notch Road. If you feel more adventurous, try a snowshoe into Moss Glenn Falls in Stowe, up the Stowe Pinnacle, or Jay Peak.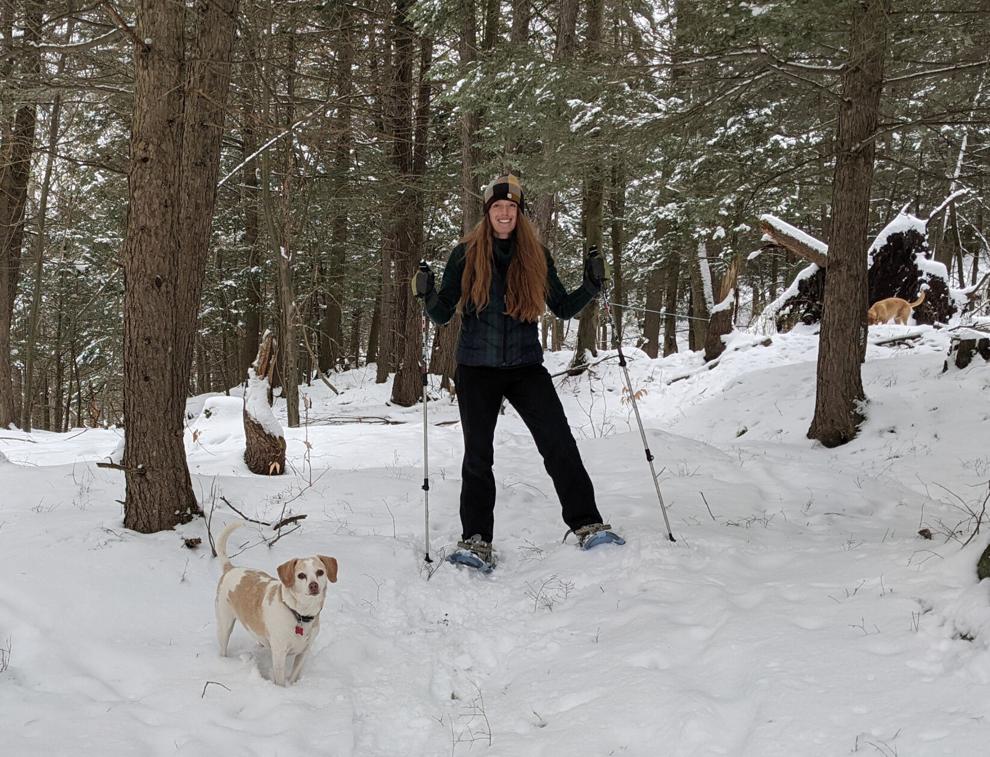 Remember, you're going to get hot while you're moving, so dress in layers, and if you're going to be far from your home or car, make sure you have a pack with snacks, water, and a place to stash layers.
Winter weather has a way of wearing on people; the months from January to March can feel long and dark if you have no way to get outside. Thankfully, we live in an area that's full of natural beauty, and whether you're looking to go half a mile or ten, you're sure to find something enjoyable on your adventure!