RICHFORD — Richford Junior-Senior High School students Luke Viens, Olivia Hatch, and Jacob Clawson shared their thoughts on the 2020 fall season, a season that was deeply impacted by COVID-19.
Luke Viens: cross country
"I was very glad we could run. We were stuck inside all spring, and my brother John and I didn't run very much," said Viens.
"When Coach Flint could pick us up for cross country, and we could get outside and run, it was so much fun."
Richard Flint, coach of the Richford cross country team, has left a lasting impression on Viens.
"Mr. Flint is one of my favorite coaches; he yells a lot when we run, which I enjoy," said Viens.
"He's one of the only coaches you here during a meet. He is really excited for us when we compete."
Getting back into running shape after a spring inside was one of the biggest challenges for Viens.
"We began running mid-summer at the Choiniere Farm. We ran six miles to start, and that was tough," said Viens.
"Getting back in shape and doing more miles than we did last year was much different."
Viens appreciated the home meets the Richford cross country team was able to host.
"We hosted a meet at the Richford Country Club and one at the Choiniere Farm. I like setting up the course. We set woodchips at Guy Choiniere's and helped get it ready," said Viens.
"At a home meet, you know the course, and you know when to push. It really helps."
Getting to spend time with his teammates was the most memorable part of the season.
"Matt Paul was our only senior, and he was so fun to be around, and he was a good teammate. I'm going to remember him," said Viens.
"We had four high school and three junior high runners, and we had fun running together.
"We all improved every meet. This was the first year we didn't have a single runner go over 30 minutes in the 5k. It was a good year.
"COVID is going to stick with me, and when I think of COVID, I'm going to remember the cross country season and running for Coach Flint."
Jacob Claussen: boys' soccer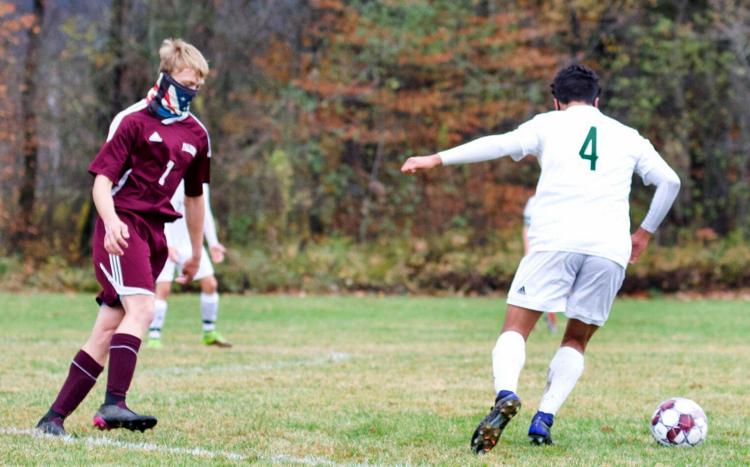 "I was so glad for the opportunity to play. Soccer is my favorite sport," said Clawson, a junior.
"The masks brought me down a little bit, but I played through it; I love playing with my teammates."
Wearing a mask was a challenge during the season, but the late start was also difficult.
"The games we played were very cold, and our field flooded a couple of times," said Clawson.
Despite the setbacks, Clawson appreciated the season.
"I enjoyed being with my friends and learning how to play soccer with my coach. I like running, so that was fun."
Clawson is looking forward to his senior soccer season in 2021.
"We'll be playing with this same team next year because we have no seniors," said Clawson.
"We'll be able to build because we won't lose anyone, and we'll be a stronger team."
Olivia Hatch: girls' soccer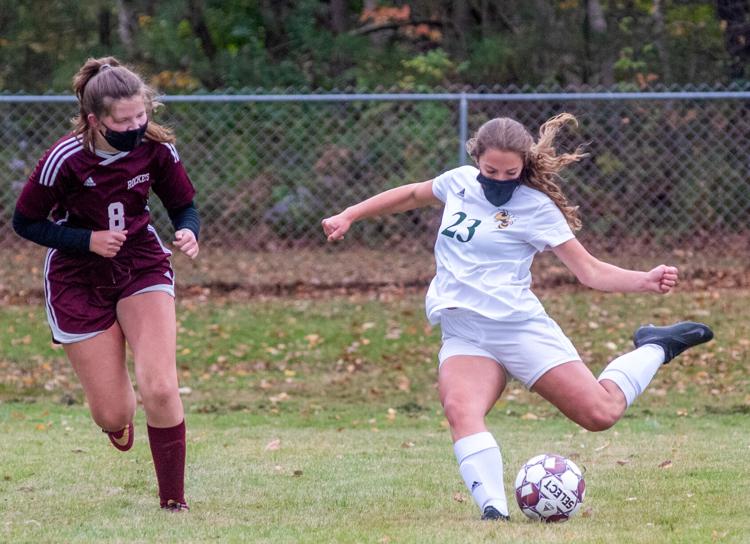 "I was pretty excited when I learned we'd have a season this fall," said Hatch.
"It's good to get in shape after being quarantined for so long! It was good to get out and get moving and see people again."
Hatch agreed with most athletes that the masks were a challenge.
"Running and getting in shape with a mask on was pretty difficult," said Hatch.
This season, the Richford Rockets' soccer team had only one senior, Nicole Cunningham.
"We were a young team, and we had a lot of people who were learning their positions and adjusting to being on varsity," said Hatch.
Hatch appreciated playing her junior season with Cunningham.
"I'm always going to remember Nicole; she was one of my best friends on the team and got to score some goals," said Hatch.
"I enjoyed the Winooski game when we got our first win. We were tied, but we pulled it out and scored. Nicole had two goals in that game. It was good to get the win.
"The season wasn't ruined because of COVID. We got to be together."