SWANTON — PJ Bouchard: boys' soccer
Bouchard's gratitude for a senior season shines though.
"I'm most grateful we had a season, and I got to play my senior year," said Bouchard.
"I'm grateful to the team for being there all season and working so hard! I was so proud of them."
Bouchard also thanked the Thunderbird coaching staff, including assistant coach Matthew Chevalier.
"Coach Chevalier helped our team astronomically. He worked on the little things. It's amazing how much difference one person can make," said Bouchard.
The Thunderbirds faced several challenges this fall.
"We lost a key player to an ACL tear in summer league, and there were a lot of minor injuries that we pushed through and overcame during the season."
Bouchard complimented fellow teammate Ethan Bushey-Hanson.
"Our goalie, Ethan, started playing a couple of years ago; he did an incredible job. I was so proud of him."
When it came to memories, the season had plenty.
"In a normal season, we ride the bus as a team to away games. We had four away games, but I only rode the bus once," said Bouchard.
"And I'm never going to forget playing with a mask my entire senior years; it was awful.
Saving the best for last: Bouchard selected to All-Lake First Team
"I had the best eight games of my career as a player. I played every position except goalie, and I did my best," said Bouchard.
"We treated every day like it was our last. We got the most out of our season by thinking about it that way. We were able to have fun and work hard the whole time," said Bouchard.
Cherish the moments
"I'd encourage younger athletes to cherish every moment; high school flies by, and it's over before you know it!
Harley Vorse: MVU football plays in house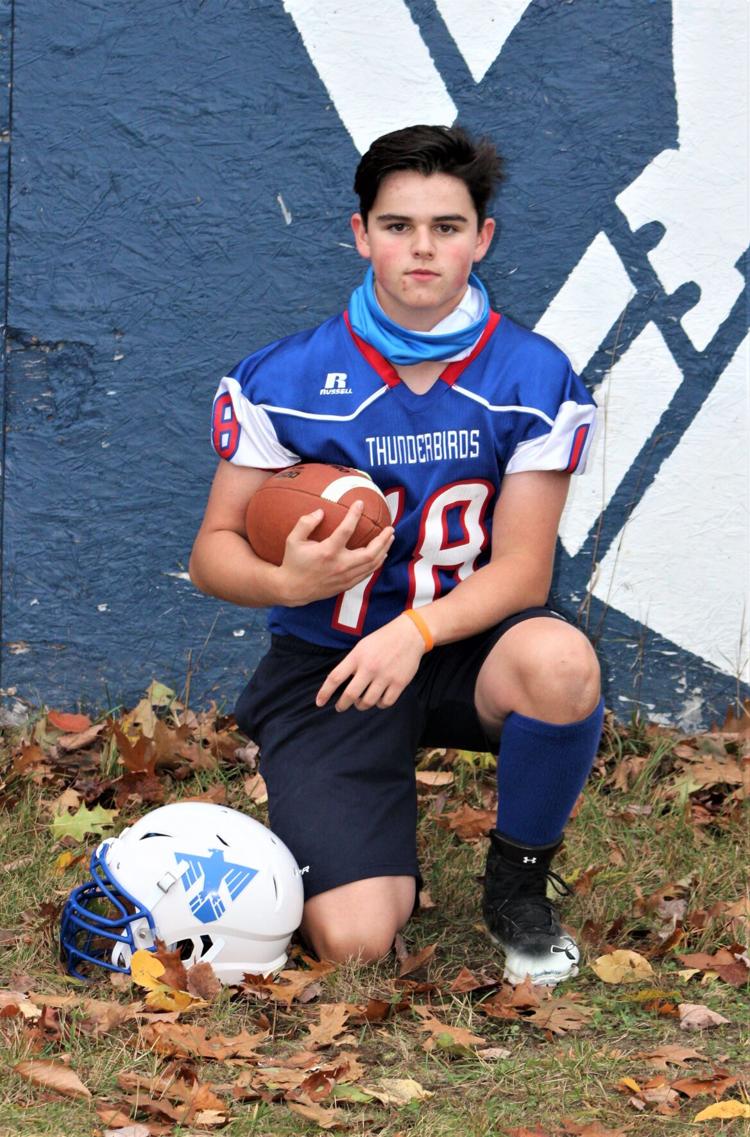 This season, the MVU football program opted to play the season in-house in a flag football format to help develop the team.
"It was a good decision on the part of the coaches. With flag, you're still going for the hips, and you're not reaching," explained Vorse.
In-house season gave time for development
"We focused on the plays and running routes without having to worry about getting hit. That will help the freshmen in the long run.
"We built a strong bond through the season. It was exciting to see the new players succeed in such a short time. I was proud of all of them.
"I know when I graduate next year, we will have motivated and dedicated players on the team."
Vorse was grateful for the dedication of his coaches.
"Coach (Chad) Cioffi goes above and beyond. I couldn't ask for a better person to coach me," said Vorse.
"It was a hard-working season, and we always found a way to have positivity on the field."
Charlie Gates and Isaac Overton: MVU golfers play for love of the game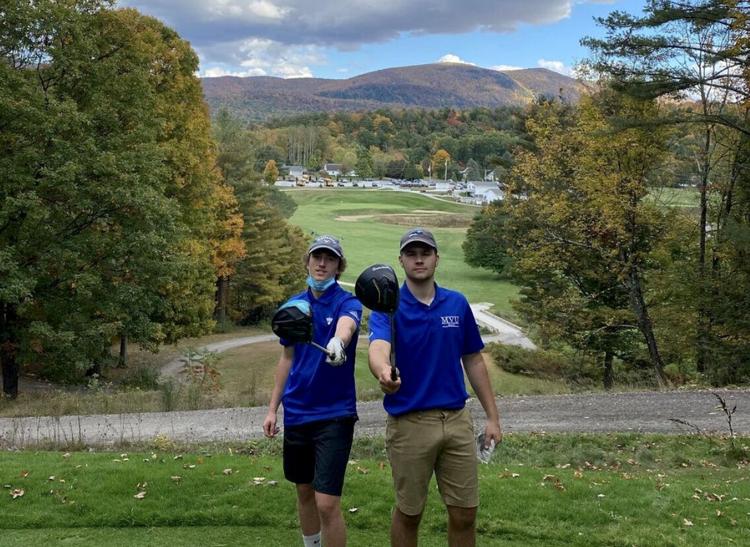 "We were pretty fortunate to have a golf season. The schools did a nice job of putting it all together in such a short time," said Gates.
"I was very lucky; I was able to play both golf and soccer. It was really fun, and I'm glad I got to play with both teams," said Overton.
A late start shaped the season.
The high school golf season began in late September, and MVU had only one match before states.
"We didn't advance past sectionals, but we went into it to enjoy the time, knowing we'd have to play the best we'd ever played," said Gates.
Both athletes were glad to get on the course with their team.
"I'm happy that there was a season in general. I wanted to have that time with my friends," said Charlie.
"Last year, we played five different courses, and some were really cool. We were supposed to play a match at Jay Peak this year, but that canceled."
This season was Overton's first on the MVU golf team.
"I've never experienced the nervousness of being in a match. Usually, you go with kids from other schools, but this year with COVID, we played as a team," said Overton.
"That made it a lot better for me. My teammates could support me, and I could enjoy it more that way."
Before the high school season began, the boys golfed all summer long.
"We played at Enosburg about 20 times together," said Charlie, "and that's something I'm going to remember."
Nathaniel Peters: cross country races through COVID season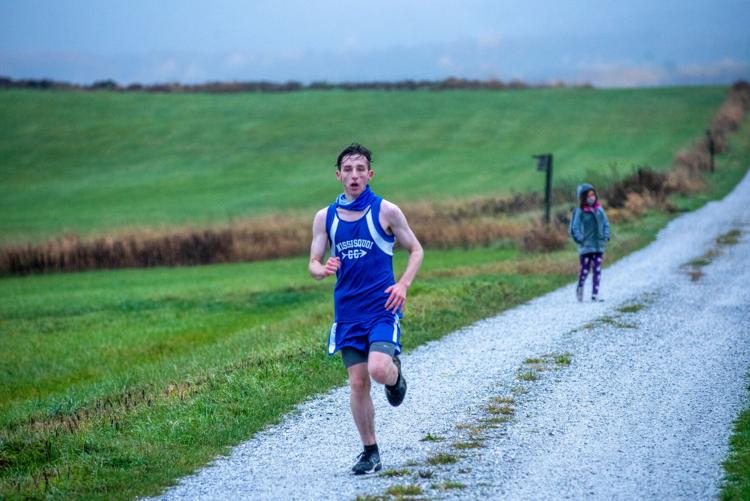 "I'm really grateful to all the people who helped with the races we had," said Peters.
"We weren't sure we'd have meets at the beginning of the season. I'm grateful I got to compete during my senior year."
Peters noted some of the challenges he and his MVU teammates faced during the fall season, including the late start.
"We had less time to prepare, and we had to run more in a shorter amount of time," said Peters.
"Masks and social distancing made it harder to come together as a team to push through and get where we needed to be."
The shortage of head to head races was also a challenge.
"When you're alone in a race, you could be going quickly, but you also don't know how fast you're going," said Peters.
"It was nice to get together with a few different schools and race. NVACS was one of the races; that reminded me of how cross country was last year.
"The race at the Choiniere Family Farm was really memorable because we'd never raced there. It was nice to do that during my senior year.
"The state meet was also really memorable. It was so different seeing everyone on the line with masks on; seeing the masks come off when we began racing was a relief."
Little things stood out this season.
"I enjoyed doing our team cheer and talking with each other when we could," said Peters.
"It was nice to talk about what we were going through as a team and as students.
"I'm thankful for all we got to do this year and that I could have a season for my senior year."
Keirra McFadden: field hockey rises to the challenge of changes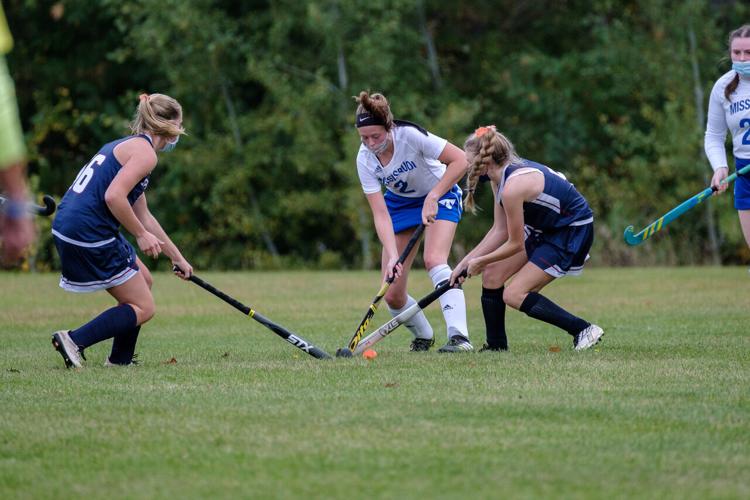 "It was a big change having to wear a mask; in field hockey, you use your peripheral vision a lot. We had to find ways to see around the mask to look at the ball at our feet," said McFadden.
"The lack of being able to touch each other was also a challenge. We used to hug each other when we did well. Our team is like a big family, so that was the hardest part."
The MVU field hockey team faced challenges, but the season was memorable.
"The coaching change was very memorable. Having such a short season, I thought we'd lack that bond, but we clicked right off," said McFadden.
"It was a redemption year for us. We lost to Montpelier at the beginning of the season, but we beat them in the quarterfinals.
"We lost to Windsor in the semifinals last year, but it was good to play them again this year in the semifinals, even if we didn't win the game."
McFadden expressed her gratitude for her senior season.
"I'm really thankful we got to have a season. It was sad it was short, but I'm so grateful it happened," said McFadden.
"I made a connection with the younger girls and with my returning teammates; I love making that connection every year."
Breezy Parent: girls soccer continues to raise the bar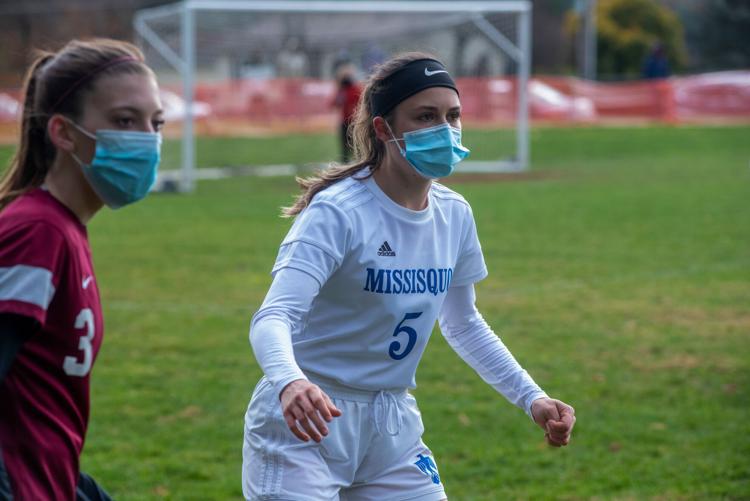 "When I found out we were going to have a season, I was really excited," said Parent.
"We had returning players and new players, and we needed to get the team situated. When we did, we formed a little community."
The ability to get on the field with her teammates helped Parent push her limits.
"I always push myself in sprints, and having people cheering me on and pushing me was great," said Parent.
"My main goal during my high school career was never to lose a sprint, and I haven't yet--except for when I fell," said Parent with a chuckle.
"I was grateful for the combination of competitiveness and support on our team."
A late start and inclement weather made for interesting games.
"It rained almost every game this season, and that added a little extra something to every game. On one of my goals, I shot and just fell; it was slippery," said Parent.
"In one practice, it rained so hard we couldn't see; we had to keep changing our shirts and wringing them out."
There were joys amid the masks and the rain.
"I worked during the short season to improve my ball control and shooting, and I'm still working in the offseason; it can't hurt to keep working," said Parent.
"I enjoyed having the chance to goof around with people--especially at our last practice.
"The team has improved so much since my freshman year; I believe the athletes behind me will raise the bar again."