ENOSBURG — The Enosburg varsity athletic teams are the first to be featured in the Voices of Athletes segment.
The student-athletes shared about the joys and challenges they faced in the first COVID season.
Megan Severance: girls' soccer
"The question of whether we'd play or not was there for so long. That's not something I was expecting my senior year," said Severance.
"On top of that, we didn't have a coach. I'm so grateful that Rodney (Burns) and Renee (Patte) stepped up.
"It was nice to have Renee coach my last couple of years. She's coached me in the past, and I've known her for a long time.
"And I was thankful for my team; we've been together for a long time, and that helped us adjust."
Severance noted a few of the challenges she and her teammates had to overcome.
"Playing with a mask was new to all of us, and everyone struggled with it. We had a lot of rainy games, and we'd have to change our masks at half time," said Severance.
There were some bright spots this fall, including an undefeated season.
"It was a new challenge maintaining that undefeated season, but even when we weren't' having our best game, we didn't give up," said Severance.
"Soccer gave us a place to be together, which we didn't have as much of this year."
The girls also had to do some shoveling this fall.
"The day before the semifinal, we had to shovel off the field; you wouldn't think that would be enjoyable, but it was. We shoveled and made a snowman; it was a new experience."
The Enosburg girls' hosted three playoff games this fall.
"I'll remember the feeling of winning our first playoff game. It's such a good feeling, and the team was so close in that moment."
Owen McKinstry:
Enosburg boys' volleyball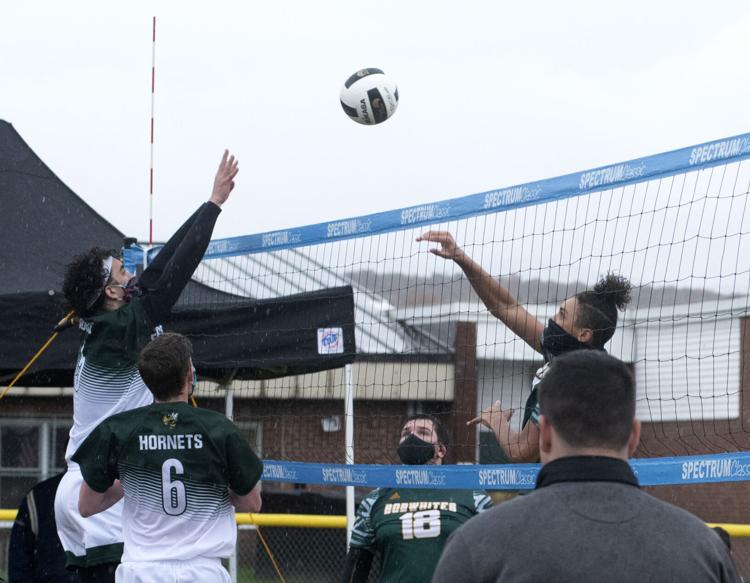 "Being able to have my senior season felt really good; it was a big relief when we found out we had a season," said McKinstry.
Vermont high school volleyball teams played matches outdoors to curtail the spread of the COVID-19 virus.
"Coach (Jason) Robtoy did a really good job helping us transition outdoors. He made it fun and prepared us well for the season," said McKinstry.
"There were so many variables outside; the sun makes vision harder, the wind carries the ball, and the cold is something we weren't used to," said McKinstry.
McKinstry thanked Enosburg athletic director Anthony Sorrentino.
"Mr. Sorrentino kept the field very nice for us."
Adjusting to facemasks was another hurdle for fall athletes.
"If you haven't tried to run or workout with a mask on, it's hard to imagine what a difference it makes," said McKinstry.
"When they get wet, it's like breathing in water. I would wring my mask out between sets."
While playing outdoors had its challenges, there were some upsides.
"When it was nice out, it was good to be out. Being outside also leveled the playing field a little bit," said McKinstry.
"You switch sides, and one side could give a team a different advantage--say if the wind was blowing in one direction, it could make it harder to serve on one side.
"Even though the season was different and short, it was still enjoyable."
Doubles tournaments in practice were always a good time.
"Every practice, we'd try to get Mr. Robtoy to let us do a doubles tournament. It was really fun, and it helped us improve our skills in a competitive environment."
Spending time with his close friends Devyn Gleason and Landon Blake was also very special.
Blair Archambault:
varsity soccer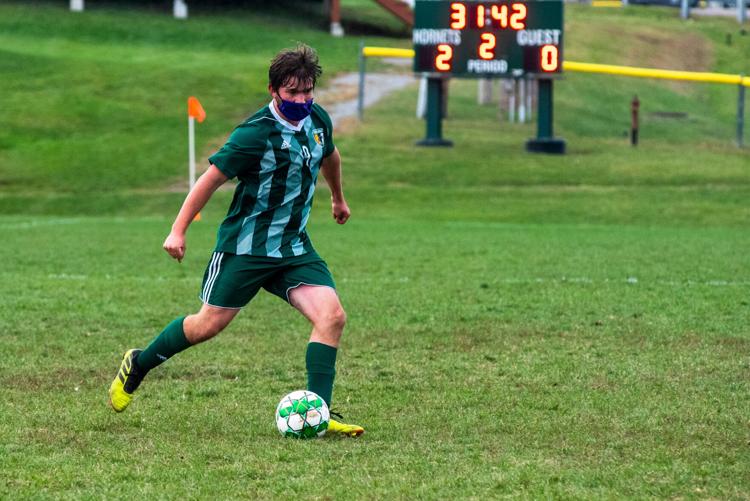 "I was so glad when I heard we could play this fall. The late start made things difficult," said Blair Archambault.
"We shoveled off half the field so we could have practice at the end of the season. That's what I'll remember most.
"It was a hassle, but it was fun. We ran around after practice and made snow angels and threw snowballs."
Archambault extended thanks to Mr. Sorrentino.
"I'm very thankful for Mr. Sorrentino's hard work--getting COVID regulations down, putting tickets together for games, and taking care of the fields," said Archambault.
"I'm thankful, too, that the refs came and reffed, even though they had to wear masks.
"The masks were worse on rainy days; they'd get wet, and the air didn't flow well. I had to switch mine out at halftime.
"This was probably one of my most fun seasons. It was short, but it was the most memorable with everything going on.
"It was hard on the seniors, but I'm so glad that they got to play their senior year."
Archambault is already planning for the fall of 2021.
"We will have eleven seniors on the team, so I'm looking forward to seeing how we'll do next year."
Katie Ovitt:
girls' volleyball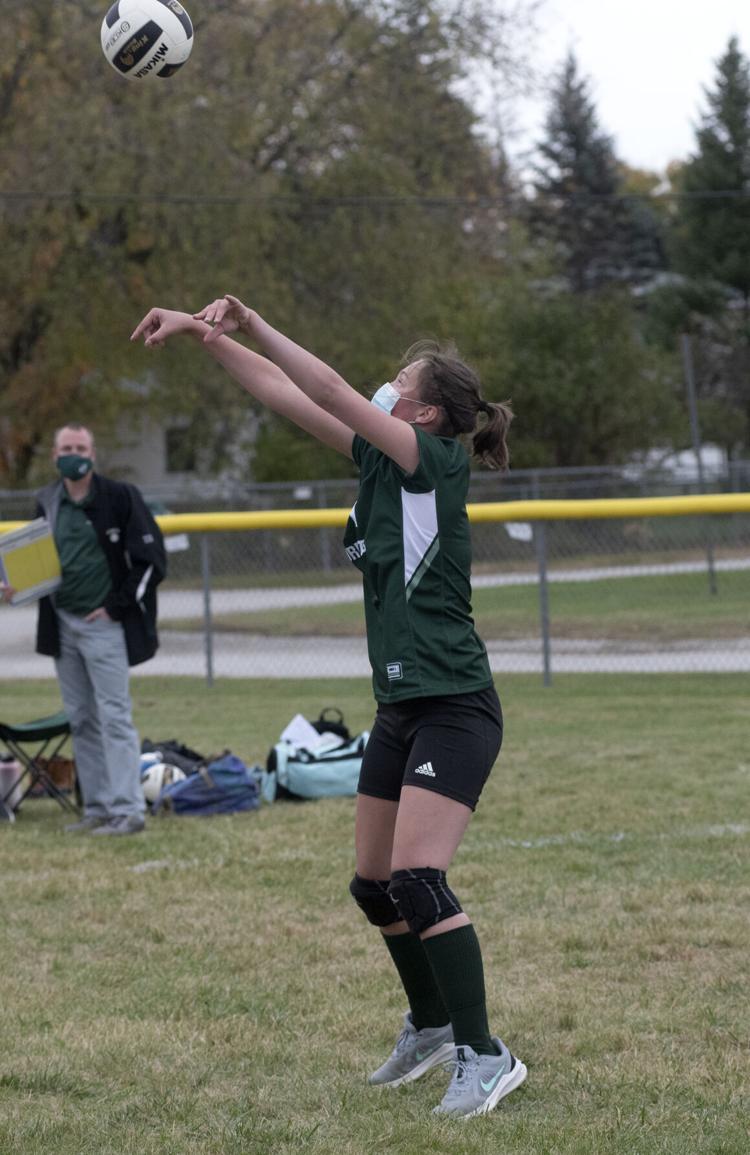 Katie Ovitt, a senior at Enosburg, has played volleyball since her freshman year.
"I was worried we weren't going to have a season. Learning we were only going to have a few modifications was good. I was thankful we could play," said Ovitt.
"Volleyball can be played indoors or outdoors, so we could make those adjustments. The biggest challenge for a lot of girls was dealing with the wind and cold."
Ovitt noted the advantages of outdoor play.
"You can use the wind to your advantage, and when it's sunny, you can focus the ball in a way that puts the sun in the eyes of your opponents."
The girls also had a new coach for the 2020 season.
"Jenn Burns stepped up, and that meant a lot to all of us. She didn't want any of the seniors to miss their season," said Ovitt.
The Enosburg girls' volleyball team had both a JV and varsity program this year.
"I was happy to be playing, but I was also excited that there were so many new girls who wanted to play," said Ovitt.
"To know the sport is in good hands is a good feeling."
When asked to recount a memorable moment, it was hard for Ovitt to choose one.
"The season, being as different as it is, was memorable on its own," said Ovitt.
"I want to thank everyone who came out and supported us. I want to thank the coaches and athletic directors for working this out for this. So many kids need this for mental and physical wellness."
Ryan Bryce and Dylan White: golf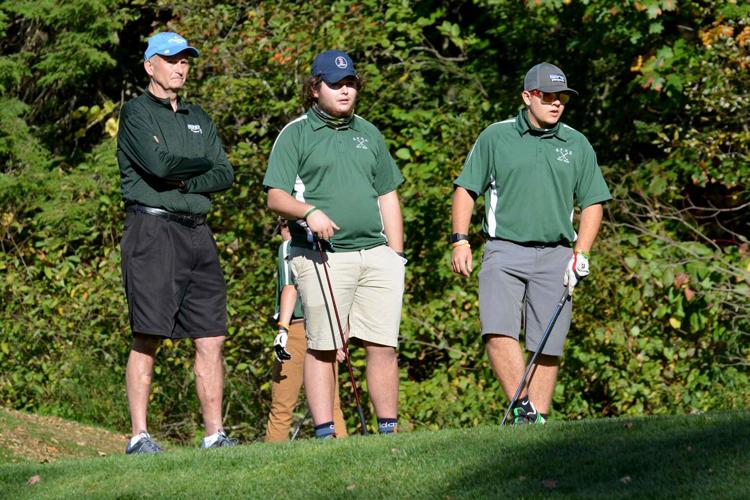 Enosburg seniors Ryan Bryce and Dylan White spent the last four years on the course together.
"I was grateful to play and to have at least one match," said Bryce
"I was grateful to just get out on the course. We weren't sure we'd have a season," said White.
The boys reflected on the four years they've spent together on the golf team.
"I've liked seeing how our swings have changed and how we've been able to help each other," said Bryce.
"We've had the 'oh wow' moments when you see how far you can hit the ball or you get a great put," said White.
"And the 'oh no' moments when you miss the ball or just hit it two feet in front of you."
Like all fall athletes, golfers faced challenges with COVID.
"Wearing a mask was the biggest challenge; I played better without it," said White
"I had trouble seeing the ball at times when I was hitting it," agreed Bryce.
Both White and Bryce traveled to states in Woodstock.
"We were able to play the full 18 holes with our team. We saw the scores at the end and saw the ranks we got," said Bryce.
"Woodstock was a top-ranked course in New England, and it was great to play there," said White.