SWANTON — MVU athletes will have lots of changes to embrace this fall. One of those will be the retirement of Dick Skeels, the beloved bus driver who's hauled Thunderbird athletes across the state for two decades.
Mike Skeels, Dick's son, was coaching girls' soccer at MVU shortly after Dick retired from Eveready. Marshal Ploof, of M&C Transportation, saw Dick at the games and asked him if he'd be interested in driving an athletic bus.
The elder Skeels initially agreed to drive as long as it was strictly for athletic teams and not a regular route.
Soon after he began driving the bus for the girls' varsity soccer team, he was given his first nickname.
"When Mike and I were on the bus, the girls would get on and say, 'Mr. Skeels.' Both of us would answer. So, Mike was called Mr. Skeels, and I was called Mr. Mr. Skeels," explained Skeels.
When Skeels began driving that fall, he had no idea he'd be taking up a parttime job that would span two decades.
"I figured I would do it as long as I enjoyed it, and I enjoyed it! I never had a time I didn't look forward to driving and watching the games," said Skeels.
When Skeels drove the bus, he also came as part of the cheering section.
A cold, wet JV softball game in St. Johnsbury, years ago, was an excellent example of Skeel's dedication and the kids' gratitude.
"I was standing on the sideline in the rain; the kids came running over and invited me to sit on the bench. I sat there the whole game," said Skeels.
Medical issues kept Skeels sidelined for the 2019 spring season, but he was able to attend a DI softball playoff game.
"I stood by the fence, and after the game, every one of those girls came out and high fived me and talked with me," said Skeels.
"They'd just won the game, but they all came over. You get so many rewards from kids."
Over the years, Skeels has had the honor of driving numerous victorious teams home from state title games, and each time he's been gifted a medal, jackets, or other team apparel.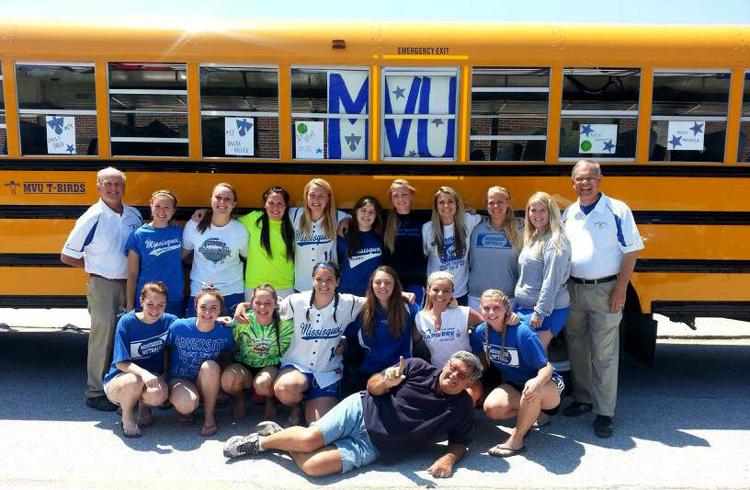 He's joined the teams on trips to the state capitol after title wins, and he always took the tour.
He recalled driving for Richard Flint and the MVU cross country team.
"We went down to Thetford for states. Richard's daughters were on the team, and the oldest was determined to get him a state championship before she graduated," said Skeels.
The MVU cross country team raced on a Saturday in a downpour.
"You've never seen anyone so sincere and work so hard to get it done, but they did it! They won the state tournament," said Skeels.
Skeels shared his excitement when the MVU boys' varsity basketball team won the DII title in 2010.
"I remember Ben Fournier taking the ball out at midcourt right before halftime, and he swished it!" said Skeels.
Skeels also drove the bus to Montpelier when kids went to advocate for Nick's Law, after Ben's brother Nick was killed in a car accident.
In 2018, the girls' varsity hockey team wowed the crowd, winning a title. It wasn't the first time Skeels celebrated with a girls' hockey team.
"I remember the group with Riley Fontaine and Erin McDonald. That team was on a roll, just mowing everyone down," said Skeels.
"They'd get on the bus after a game and sing, 'another one bites the dust.'"
Flint and the cross country team began a tradition that made Skeel's job easier; he had his team clean the bus before they unloaded. Other teams followed.
"I never had to be the bad guy. The kids and the coaches respected me and treated me very well," said Skeels.
In recent years, the MVU boys' varsity hockey team began traveling to Boston every other year to play exhibition games.
A snowstorm blew in on one of those trips, and a section of the interstate near Lake Sunapee was closed.
Traffic was detoured on a back road around the lake. The route was filled with hills.
"If you get a bus going, it will creep at five miles per hour, but it won't stop," explained Skeels.
"I was going through the grocery line, and Nick Mumley, who was the team manager, was checking me out.
"He thanked me for saving his life that day! He told me they had all thought they were done for!"
Winter bus rides always have the potential to be interesting, and Skeels recalled a particular ride where the coach suggested they take the bus over Hazen's Notch to save time on a trip to Lake Region.
"When we got to the school, one of the mothers riding behind us told me she thought the bus was on fire, the brakes were smoking so much," said Skeels, chuckling.
"Marshal made it clear that we weren't going to take a bus over the Notch again!"
During the holidays, Skeels would drive the bus for Jean Gagne and Vanka Manard on their annual trip to care homes for the elderly.
"There's so much good that kids do, and we rarely hear about it," said Skeels.
Skeels has done most of his driving with athletics, but there were times he branched out. He recalled one student's special request.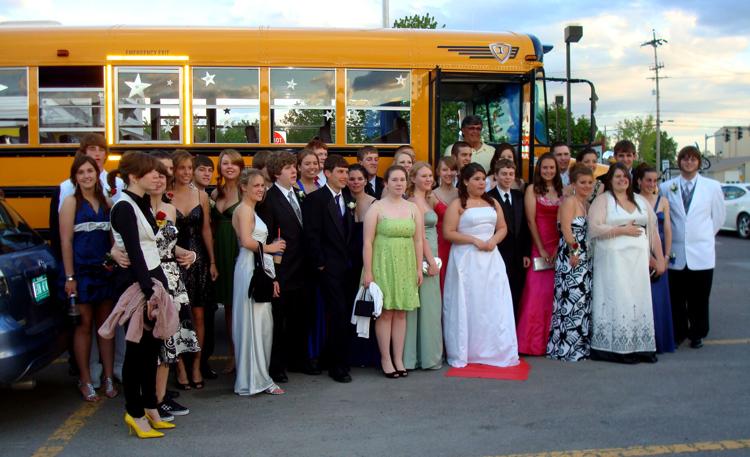 "Renee Boucher was such a sweetheart. She came to the house and asked if I'd drive them all to the prom. They decorated the bus, and forty kids rode down to Burlington," said Skeels.
There was no charge for the ride, but Skeels was amply repaid in the gratitude the teens' parents expressed knowing their kids were safe.
Skeels had the opportunity to drive his grandson Tanner on trips for band--from out of state events to the local Memorial Day parades.
New organizations like the MVU football program also used Skeels as their driver.
"Those kids enjoy football so much. You wouldn't believe it. Many kids played football who'd never been on a team, and that was a big thing!" said Skeels.
"They were so proud to be representing their school, and I loved driving them."
The 2019 MVU girls' soccer team also stood out to Skeels.
"Those girls would start singing as soon as they got on the bus, and they'd argue about who'd get to clean the bus when the ride was over," said Skeels, smiling.
In earlier years, Skeels drove the bus to Binghamton, NY, when the varsity softball team visited Matt Raleigh's RBI Baseball Institute.
"Matt would put the girls in a tournament, bring them through his indoor facility, and work with them," said Skeels.
He also recalled trips to Arlington with the boys' varsity soccer team, where they stayed with MVU varsity coach Jim Hubbard's sister, who took good care of him.
Skeels has loved the games, but most of all, he's enjoyed the relationships.
Whether it was a child disappointed because a parent didn't show up at an event or a kid having a tough day, Skeels was happy to chat.
"If you can change one kid's outlook on something, it's worth it," said Skeels, "and every one of the kids needs something, not just the good athletes."
Some kids, like Dylan Lothian and Erin MacDonald even invited Skeels to their wedding.
"The kids give you what you give them, and there have been so many nice things that have happened because of the friendships I made while I was driving," said Skeels.
Skeels smiled as he remembered watching Katie Campbell excel with the girls' hockey team, Matt St. Amour, as he scored his 2,000th point, Laurel McWilliams as she scored her 1,000th point, and Braylen Parent as he celebrated his 100th point.
He also recalled Hunter Tardy, who excelled in athletics at MVU, and who he always remembered as an incredible athlete and a respectful you man.
This fall, Skeels made the decision, due to health reasons, to step down from bus driving.
"I'm not going to keep driving just because I want to do it; the safety of the kids was always on my mind, and the parents really appreciate that," said Skeels, "but I'll go up and watch the kids at MVU this year. It's in my blood."
Skeels is looking forward to spending time with his wife Jackie, his kids, Mike and Tracie, and his grandchildren Tanner, Chaz, and Chiara.