FAIRFAX/CAMBRIDGE — Many athletes dream of walking onto a college team and earning a starting role. In 2019, Nate Selby walked on to the NCAA DII Franklin Pierce Ravens football team.
Overcoming the challenges of rural life:
Selby grew up playing football for the Patriots Youth Football program in Fairfax, playing from the third to eighth grade.
Selby traded his football pads for soccer cleats in high school when rides to Fairfax became hard to come by.
When Selby got his license, he joined the Fairfax/LU football team for one last hurrah.
"Coach Craig Sleeman and Coach Vince Redding were great about welcoming the Lamoille players," said Selby.
Selby joined other elite players from Vermont in the North-South game at the end of the regular season, thinking it was his last game in a competitive environment.
"I wasn't recruited for football, and I didn't get any offers from Franklin Pierce. I chose the school because I loved the location and the academic programs they offered," said Selby.
Opportunities open for Selby:
During his first semester in 2018, Selby played on several club teams and made friends with athletes on the football and basketball teams.
Franklin Pierce hired a new coach that year, Russell Gaskamp, a former player with the University of Texas (1994-98).
Selby got to know Larry Dace, position coach for wide receivers, at basketball games that winter.
"I talked to Coach Dace about walking onto the football team. I went to a walk-on tryout, and it went really well," said Selby.
Selby got a call the next day; he'd made the team.
"The spring season was coming soon, and he told me to do my best," said Selby.
In February, Selby joined the team for indoor workouts; in March, practices moved outdoors, and things continued to go well for Selby.
Selby practiced daily, studied the playbook, and attended film sessions. He even ended up getting a scholarship.
From walk-on to stand out:
In August of 2019, the team returned for preseason workouts, and Selby earned a starting role.
"I was able to score some touchdowns, and at the end of the year, my coaches told me they were a bit surprised by how I played as a walk-on. They told me I had a great season."
Selby shared that he was so proud of his scholarship and knew that came as a result of his work ethic and attitude.
Selby's Stats:
Selby appeared in all 11 games at wide receiver for the Ravens in 2019. He was named a Spring Northeast-10 Conference Academic Honor Roll selection.
• Selby caught 14 passes for 174 yards, for an average of 12.4 yards per reception.
• He led the team with three receiving touchdowns; his longest catch of the season was 32 yards.
Selby made his collegiate debut in the Raven's season opener against Wesley. He caught three passes for 62 yards; his first career touchdown came against Curry. Against Pace, he had two passes for 37 yards.
He made three catches for 33 yards and a score at Southern Connecticut State and caught one pass for a season-long 32 yards and a touchdown at American International.
"I had a couple of catches in the first couple of games, but I scored my first college touchdown in the game against Curry College," said Selby.
"We were near the endzone, and I knew I had a good chance of having the ball thrown to me.
"I saw the quarterback looking at me; he threw me the ball, and I dove and caught it, lying on my back in the endzone.
"All my teammates jumped on me, and the sideline was going crazy. It definitely got the adrenaline going!
"That was one of the most memorable moments I've had in football. It was awesome to be a kid from Vermont getting that kind of playing time."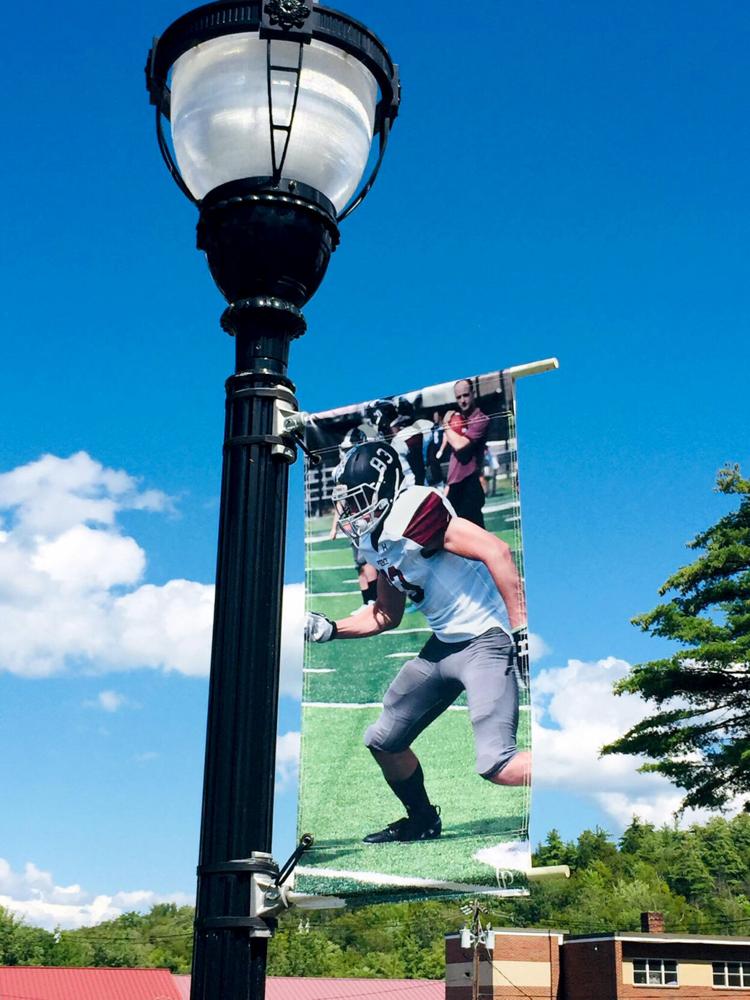 COVID changes the game:
This fall, Selby, like many collegiate athletes, missed his season due to COVID. The team was able to practice, and Selby was able to keep a year of eligibility.
"It's been hard because of all the sudden changes, and as athletes we want to compete," said Selby.
"Our coach has done a very good job of keeping everyone in the right mindset and moving forward."
Forward focus:
Selby is already looking forward to the fall of 2021, ready to put his hard-earned skill and knowledge to work.
"College football is a lot different than high school football. High school prepares you, but college football is a much bigger commitment."
In season, the Ravens meet from 5 to 9 am to practice. After classes, athletes have position meetings during the day.
"You get with your group, watch film, study playbooks, and take notes on what you need to work on," said Selby.
"Then you go to the field and do drills to work on what you talked about in the meetings."
Selby has enjoyed working with the coaching staff at Franklin Pierce.
"There are lots of resources at the college level. Our head coach, Russell Gaskamp played at a DI college," said Selby.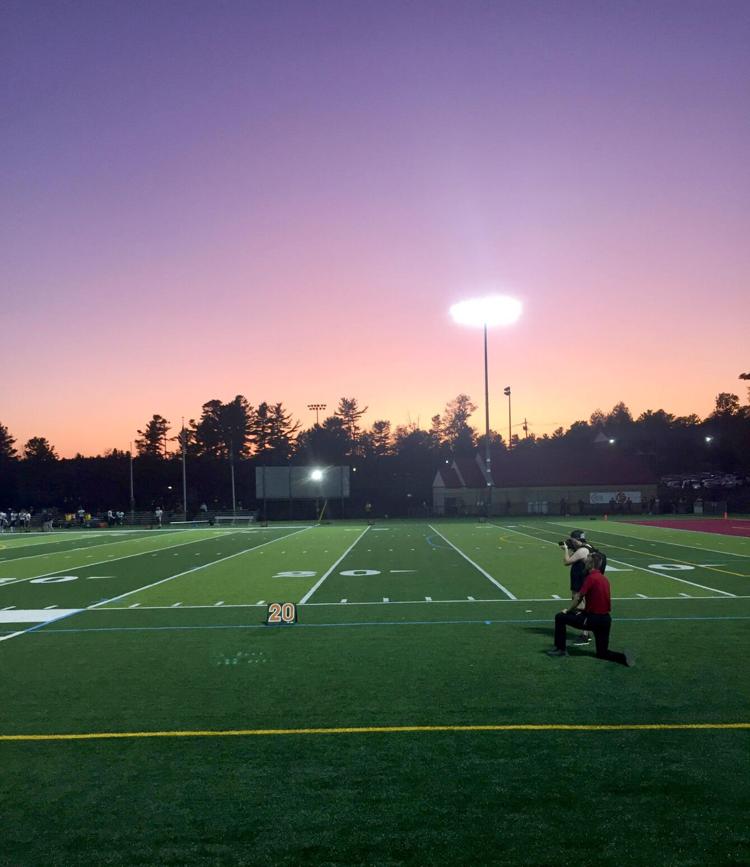 "Coach Dace, my position coach, will call his old teammates who are now in the NFL, and we get to hear them talk about their experiences."
Academics fuel success:
Football related activities take a lot of time, but Selby noted academics are the highest priorities.
"Everyone is working to perform both on and off the field and to keep scholarships, stay on the team, and get playing time."
Selby was a member of the Spring 2020 Franklin Pierce Dean's Honor List, which requires a 3.85 or higher GPA.
Outside of classes and practices, Selby does find time to relax. One of his favorite places is the 'Bubble,' a tented fieldhouse on campus with a weight room and courts inside.
"I'll always remember the nights the quarterbacks and wide receivers have all hung out there. These guys are some of my best friends."
Small-town connections fuel Selby:
Selby is enjoying his time at Franklin Pierce, but he hasn't forgotten his high school teammates.
"Some of my greatest memories in high school are the Friday night spaghetti dinners before game day," said Selby.
"After dinner, we'd go to Cam and Quinn Meunier's grandparent's house, across the street, and shoot hoops."
Selby thanked his mom Carrie, his brother Matt, and his grandparents, Bruce and Barb McCuin, for their support.
"My family and their support has had a big impact on my life. They do a great job of getting to my games. In college, when your family makes it to your games, it's a very big deal," said Selby.
"When you look up into the crowded stands and see your family and their smiles, yeah, it's a very big deal. Family is everything."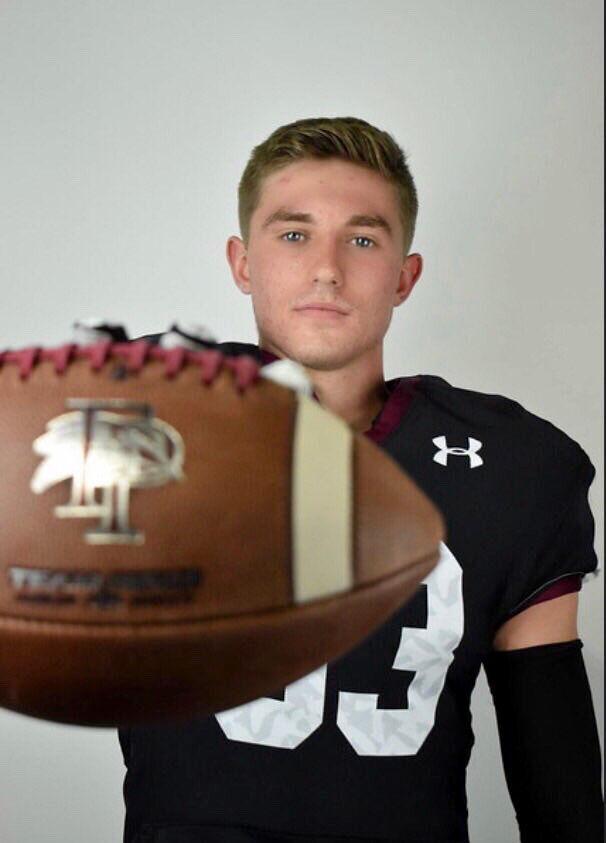 Hardwork and attitude create opprotunities:
Selby had wise words for athletes who dream of playing at the next level.
"Focus on your academics! My coaches emphasize that all the time--it's nice to be a great athlete, but you also need to perform in the classroom," said Selby.
"Coaches love a good work ethic and attitude. If you're working harder to get better, coaches notice and appreciate that."
"Believe in yourself, keep your mind open for opportunities, and capitalize on those moments. Work hard; hard work will never let you down."