ST. ALBANS — Comet and Bobwhite hockey players breathed a sigh of relief after news broke last week that a high school winter season is in the works.
Last spring, the SASA hockey community made plans to give BFA St. Albans hockey players a home for the winter in case the high school season didn't happen.
"The hockey community is such a strong community, and there was a lot of eagerness to provide the high school kids a chance to play," said SASA Girls' Coaching Director Melissa Bocash.
Thirty-five athletes signed up for the coed SASA U18 team; many of them are former SASA players.
"It's like they were coming back home for a few months while we waited to see what went on in high school," said Bocash.
SASA, completely volunteer-based, has grown into a powerhouse program in St. Albans.
"We have an incredible hockey community in St. Albans. Coaches have stepped up to coach the U18's because high school coaches can't coach at the youth level," said Bocash.
"It definitely was a relief for families, and it shows how supportive the hockey community is."
"Even if it's only for a few months, the high school kids knew they had a place to play hockey for the winter."
High schools can begin winter sports' practices on November 30 and games after January 11.
SASA hopes to bridge the gap between the fall sports season and the high school season's late winter start.
"I'm excited about the whole program, and for the older kids, the more normalcy we can provide, the better," said Bocash. "Thankfully, when something happens, Franklin County steps up!"
Shane Lamos and his daughter Seneca didn't expect to share the ice again this winter. Shane is coaching Seneca, a sophomore, on the U18 team.
"I know many of the girls from when Seneca was young, and I know some boys from coaching at the youth level," said Shane.
When it appeared schools might not host a winter season, Shane agreed with the idea of a U18 team through SASA.
"I think it's important that kids have places to recreate, to play, and to grow," said Shane.
"The different groups bring different relationships to the ice. Some of the boys and girls have played together in youth others haven't," said Shane.
"They may have been nervous at first, but everyone is excited to be on the ice. They are all learning about one another, and it's been good."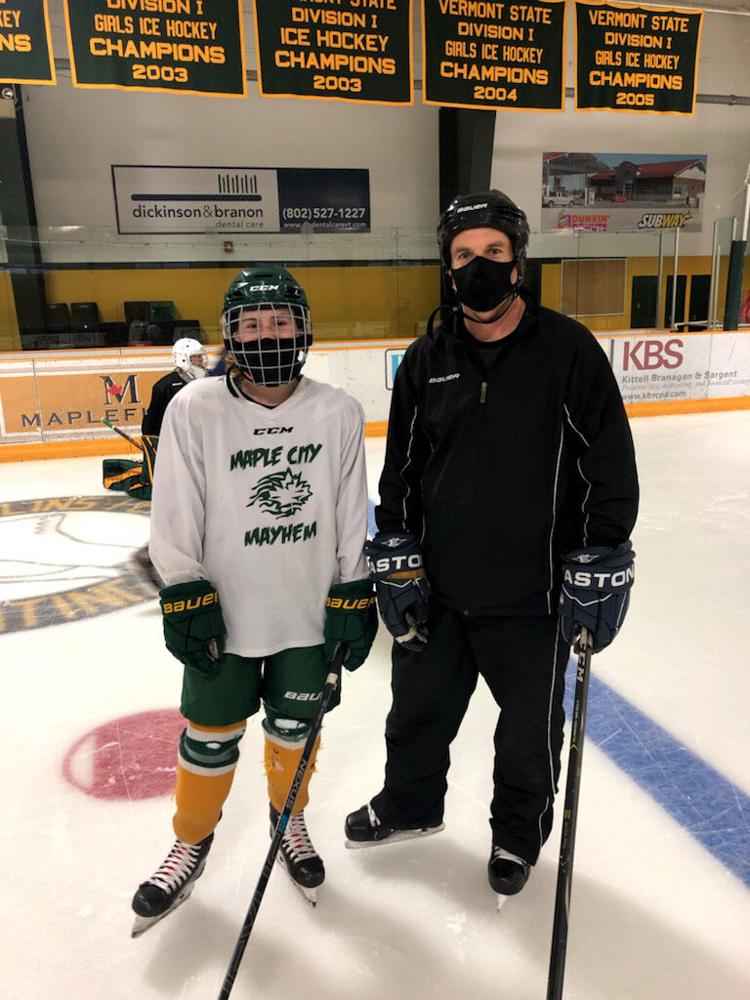 Going through high school in a pandemic is something most adults have never experienced.
"We can all remember stories from high school; if I had gone through a pandemic in high school, I wouldn't have forgotten it," said Shane.
"This experience will stick with the kids, and they will tell their kids about it later in life."
Shane hopes the U18 team will outlast the pandemic.
"This team gives kids a place to recreate--whether they don't make the varsity team or don't want to play varsity," said Shane.
"It gives kids a year or two to grow and prepare for the varsity level."
Shane has never coached older boys, and he's enjoyed working with them on the U18 team.
"The camaraderie amongst the high school boys really stands out. They have a stronger and different kind of bond; they are like brothers, and they act like brothers," said Shane.
"I remember those days of that kinship with my friends. It's nice to see that again."
Seneca has skated with most of her U18 teammates at one point or another in her hockey career.
"I skated with a lot of them in youth hockey, but I haven't skated with the boys since I was ten years old.
"I've watched them play, and I'm friends with them, but I don't know all of them. It's fun to reconnect with them, and it's a challenge," said Seneca, noting the friendly competition on the ice.
While she wasn't expecting to play for her father again, it's been a welcome opportunity.
"I enjoy skating with my dad. He knows my skills, and he knows how to help me," said Seneca.
"I'm super grateful that the community supports SASA. They've been part of my life since I was a kid!"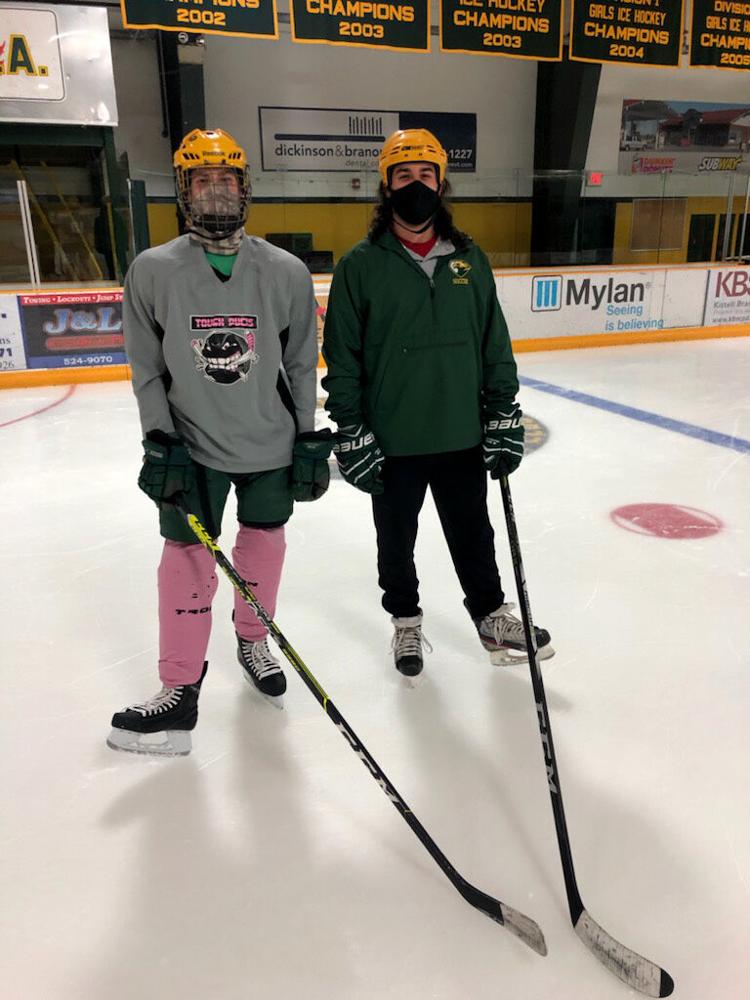 Sophie, Tomas, and Jacob Zemianek all found themselves on the ice together this fall--a circumstance they couldn't have foreseen last year.
"I played with a lot of the boys on the high school team during youth hockey. It's a lot different; when I played with them, I was bigger than they were," said Sophie, laughing.
The coed U18 team has allowed Sophie to play with her brother Tomas.
"Tomas and I always played street hockey together, but our age difference was large enough that we've never crossed paths on the ice. I've taught him a lot, and now and I get to see if he's using what I taught him," said Sophie.
"I'm not used to going against Sophie in drills. It's fun because we can joke about it if one of us beats the other," said Tomas.
"It's fun to be on the ice together--we goof around when we mess up or get things wrong. We can help each other, critique each other, and get it right."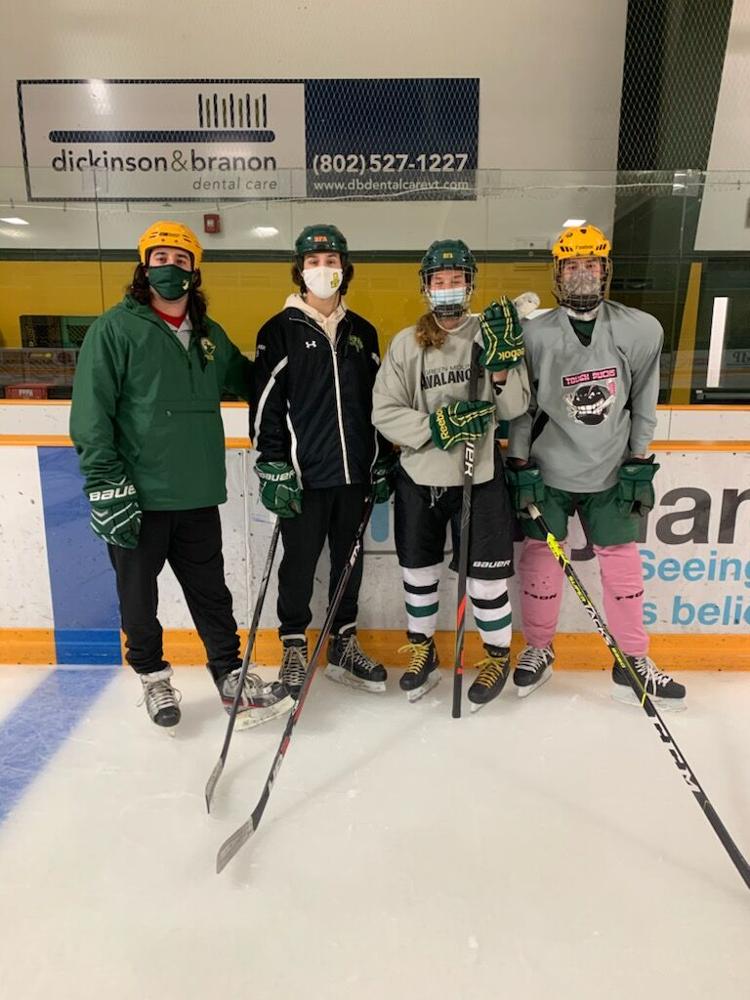 The siblings laughed as they spoke about competing against each other in practice.
"If I'm in good soccer hockey shape, I can beat him. I've got a better skating technique this year, but next year, it could get interesting."
Tomas played for SASA last year as an eighth-grader.
"It's fun to be playing, and it's great to see SASA getting the older guys involved. Playing with a lot of older guys this year is definitely different; it's a lot faster," said Tomas.
Sophie was proud to be playing for SASA once again.
"I thought the last time I'd put on a SASA jersey was in 8th grade. It's cool to be able to represent both SASA and the Comets."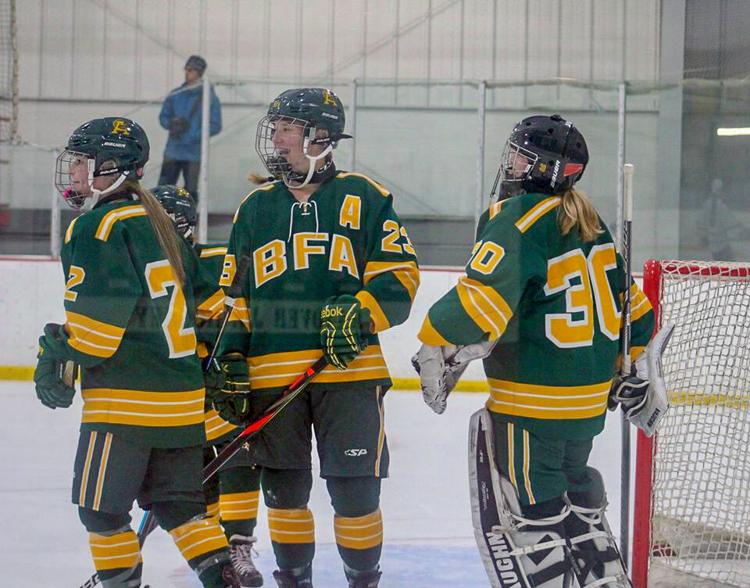 Jacob, the oldest in the group, is serving as a coach on the U18 team.
"Having us all on the ice together might not have been expected, but I love coaching, and sports have been my first love. My favorite years back in high school were with the SASA Midget hockey team," said Jacob.
"Everyone in our family would say that some of our favorite years were with SASA--being on the ice and just playing for the love of the game.
"I'm glad I can come back and be part of this for some of the other kids. I hope they enjoy it as much as I did."