Spring has arrived in Vermont and bikes of all types for all ages are already flying off the shelves.
As the days get longer and brighter, it's now possible for kids to pedal around the neighborhood after school and for parents to join them after work. Vermont's many rail trails and bike paths are clear of snow, their dirt slowly drying up.
Joe Drennan, a co-owner of Earl's Cyclery and Fitness in South Burlington, said the shop on Williston Road is crazy busy most days of the week.
A long-time employee and manager at Earl's, Drennan purchased the 68-year-old bike shop with another seasoned employee, Andrew Boczar, in 2015. He's often in the expansive showroom, working with first-time bicycle-buyers.
Here are 4 of his tips for buying bikes for young children.
1. Start your child on a push bike.Drennan recommends starting toddlers, or kids aged 2-3 years-old, on a push bike, because he's found that many kids that age are intimidated by pedals.
"Pedals can be kind of intimidating because they just don't know what to do with them," he said.
Push bikes, which forgo pedals or training wheels, help toddlers learn to balance. Kids sit low on the seat and use both feet to push the bike along and hold it upright. As kids become more comfortable, they can lift their feet up for a few moments of balanced riding.
"It gives them a chance to sit and to learn how to control it, how to steer it with their hands," Drennan said.
2. After mastering the push bike, move on to a singlespeed.Once a child has mastered balancing on a push bike, they should move up to a singlespeed bike, which has coaster brakes that are applied by rotating the pedals in reverse.
Singlespeed bikes are best suited for kids aged 3-8, and Drennan recommends sizing up. Skip the smallest size, which has 12-inch wheels, and jump to the 16-inch. Both sizes come with training wheels.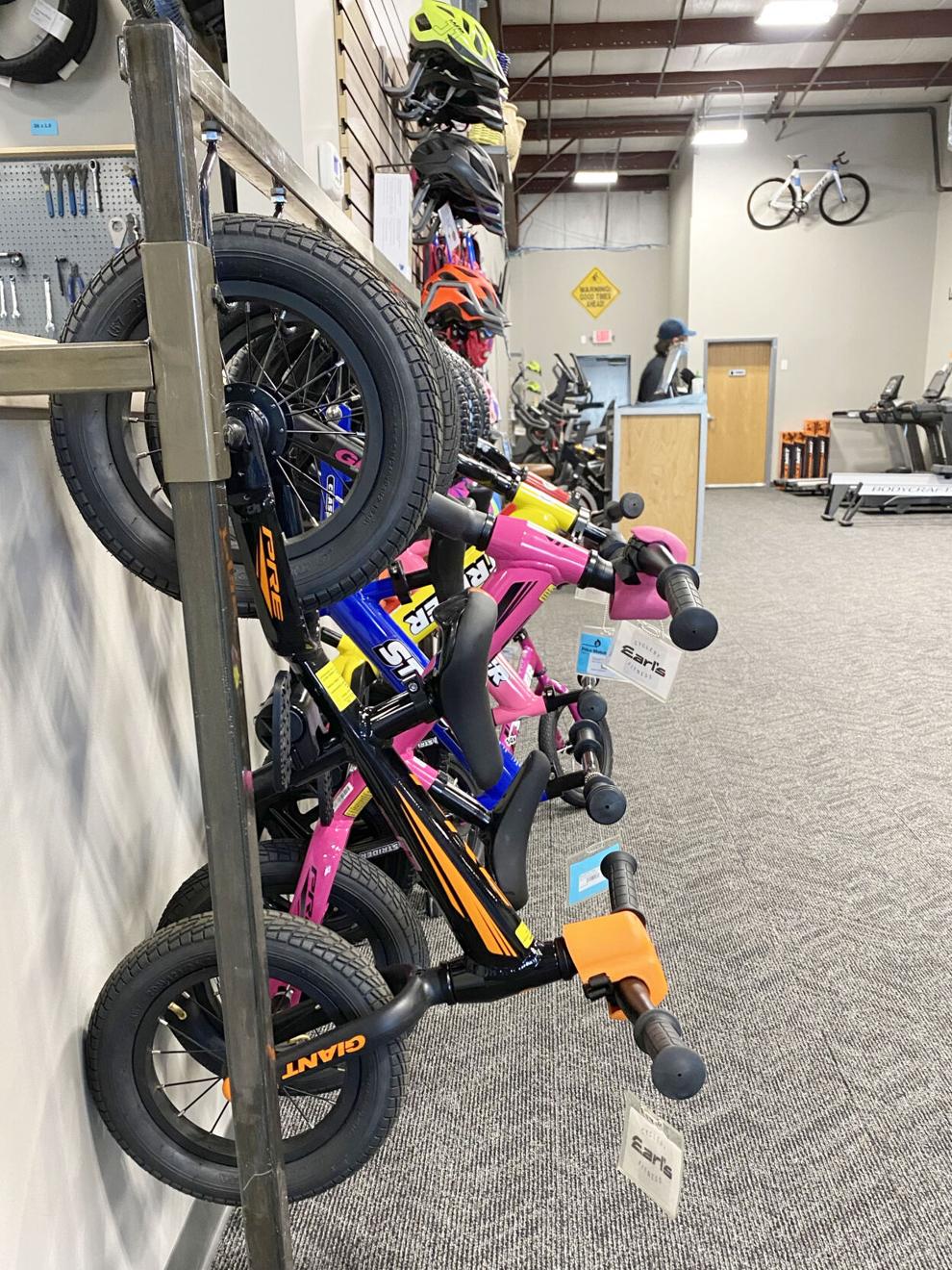 "The training wheels will hold them up until they learn how to pedal and maintain momentum on their own," he said. "With the larger size, you can remove the training wheels once they've learned how to pedal, and now you've got a bicycle that will last a little longer."
3. It's not unusual for kids to bypass a size.Once kids get to be 6, 7 and even 8-years-old, they are growing rapidly and often moving to a geared bike with changeable gears and hand brakes.
"Kids are always between sizes. It never fails," Drennan said. "They are too big for one, they're not quite big enough for the next."
Every parent wants their child's bike to last for longer than a single summer, so Drennan says as long as it's safe to do so, opt for the next size up.
"As a parent myself, I know safety is the utmost importance, so you have to balance that with the want For safety, right, and then you try to get them on a bike, whether it's a push bike, or, or a pedal bike, something that gives them some headroom to grow into
4. Bring your child to the bike shop with you.Drennan said parents and grandparents come into Earl's all the time without the child for whom the new bike is for. They are buying it as a birthday or holiday present and want it to be a surprise.
While this is a nice sentiment, it's challenging for employees to determine which bike will be the right fit.
"Parents come in all the time and they ask, 'My daughter is five. What size bike should I get?'" Drennan said. "It's not so much age as it is physical size and also physical ability. There's all kinds of variables that get thrown into that equation."
Knowing the type of rider a child is — novice or experienced, conservative or aggressive — is oftentimes more influential than a child's age. That description will help determine what type and size of bike is best.
"The last thing you want to do is put a kid on a bike that they're a little intimidated by because it's too big or it has gears or hand brakes they're not ready for. Those bikes will sit in the garage," Drennan said. "If they like it, chances are they'll stick with it."