WESTMORE — Adam and I headed to the Northeast Kingdom last Friday, eager for beautiful views and warm sunshine. Our destination was a low elevation peak on Lake Willoughby's shore, a lake that's known for its deep, crystal clear water and excellent fishing.
The lake's shores are rimmed with mountains that descend straight into the water. Beaches lie at the north and south ends and provide excellent (chilly) swimming in the summer.
Choices! There are three trails to the wooded summit of Mount Pisgah; we opted to take the North Trail (we'd never done it before). This route winds through a beautiful hardwood forest and past several stream crossings.
Dogs will dig. The area must be home to a healthy rodent population because Yadi, who is usually hiking as quickly as we will let him, was distracted the entire time! He wanted to stop every fifty feet to sniff around and dig in a new spot. At one point, near the summit, we stopped to see just how deep he would dig.
We couldn't stop laughing as he tunneled deeper and deeper and wider and wider (off to the side of the trail, of course). When we finally decided we'd have to move on, he'd hollowed out an area the size of a large kiddie pool and nearly two feet deep!
Along with the digging, the hike had plenty to keep us occupied. After ascending gradually, the trail kicked it up a notch, zigzagging through a series of steep switchbacks before entering a section of conifers.
Ah, the views! From there, we made our way back into an open forest setting and enjoyed the view from the north and west lookouts.
Lake Willoughby stretched out below us, great cracks visible in the snow-covered ice. Mount Hor rose from the frozen lake, its cliffs white with snow. We could even see the brilliant, snowy peaks of New Hampshire's Presidentials in the distance.
We walked past Pisgah's summit to the south lookout; the ski trails on Burke Mountain's slopes stood out bright against the dark trees.
As we descended, I enjoyed the views through the open forest. That's one thing that makes winter hiking interesting; you can see so much more through the leafless trees.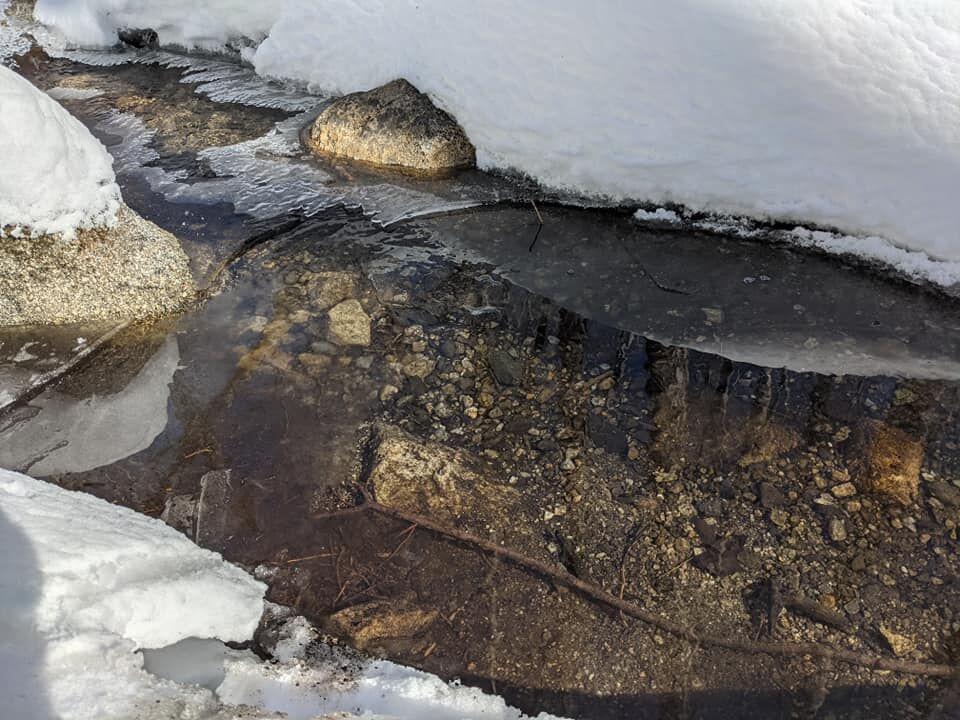 Cool mornings and warm afternoons: This time of year, hikes usually start with cooler temps and firm snow in the morning and end with warm sunshine and corn snow by the afternoon.
Friday's hike fit that perfectly; by the time we were halfway back to the car, the temps had climbed into the high twenties, and the sun was both bright and warm. This time of year, when the sun's out, don't you feel it's so much warmer than a January sun?