Between the holidays and a busy sports season, Adam and I hadn't been out together for a few weeks, so when Sunday, Jan. 2, was open, we decided to take advantage of the opportunity to get out.
Winter storm warning adjustments: Our plans for an out-of-state outing were hampered by a winter storm warning, but I'm not one to give up easily. So we decided to make the best of it and revisit Devil's Gulch, a perfect outing for a viewless day.
We hit the trail with bright smiles and wagging tails! Adam and I were so happy to be accompanied by family and granddogs. Our son David and his wife Amanda and their dogs Marcy and Lincoln and our son Caleb and his girlfriend Mariah Savard braved the winter storm to join us. We met in the Belvidere Mountain parking lot and began our hike across the road on the Long Trail.
We kept a good pace (the cold will do that), tracking through two inches of fresh snow. Wet leaves and mud were just under the snow, so the dogs had plenty to smell, and any traction devices like microspikes or snowshoes were completely useless.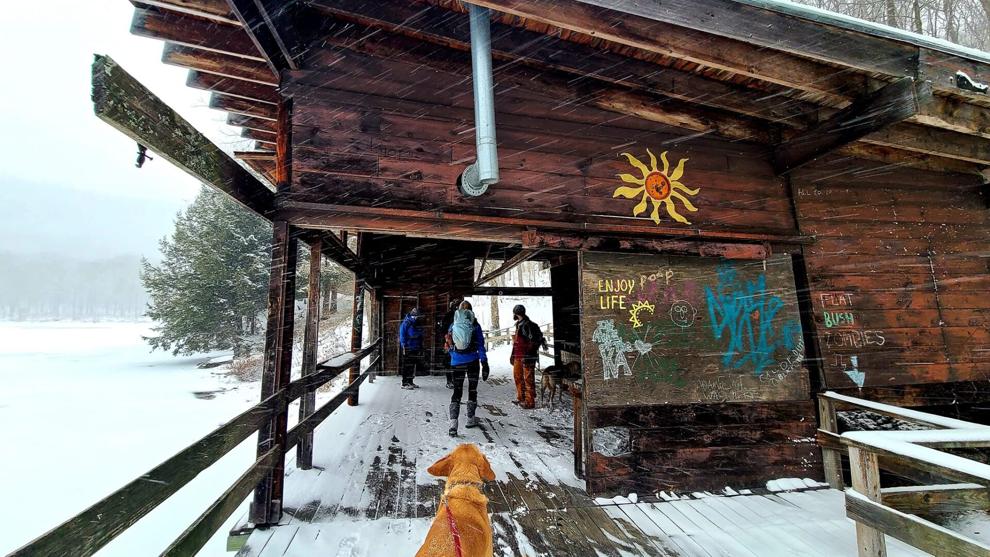 I had three objectives--Ritterbush Pond, Babcock Shelter, and Devil's Gulch. The snow was coming down softly, and the wind was low as we dropped down off the Ritterbush lookout; we picked our way down the long, carefully crafted stone stairs and took a left to Ritterbush Pond.
The wind increased over the pond's surface when we arrived at the shore. We trekked quickly over to Babcock Shelter and ate a snack. When we were headed uphill toward Devil's Gulch, I was pleasantly surprised to see my shadow over my shoulder. A pale, distant sun was peaking through the clouds.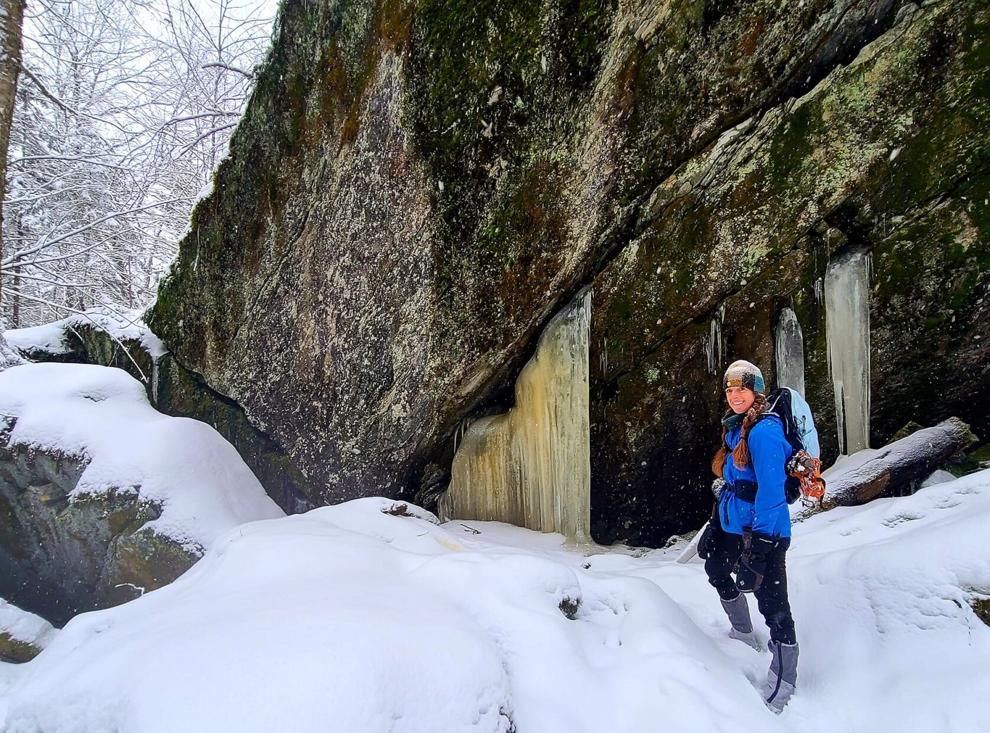 Devil's Gulch was magnificent and mysterious in winter white: In summer, Devil's Gulch is the closest thing to a rainforest you'll get in Vermont. In winter, it's something you'd expect to see in The Lion, the Witch and the Wardrobe by C. S. Lewis. Massive boulders, mysterious caves, flowing streams, pillars of ice, and snow-laden trees make a stunning backdrop.
The dogs probably didn't appreciate the beauty of the scenery, but Yadi (our lab) will always appreciate anyone feeding him; David and Amanda's black lab Marcy also won't turn down a good snack. So when Caleb took out a bag of Cheez-it snack mix, they were riveted.
Good company makes for great days: When our children were young, we often hiked together as a family, but as they've grown, those outings are harder to come by; when we do get them, we're always grateful. Listening to my children and their loved ones laugh and chat, watching the dogs enthusiastically enjoy the snow (Yadi is well known for making dog snow angels), and seeing everyone's shining eyes and rosy cheeks never gets old, does it?