If you fly into the Jackson Hole airport, I recommend a window seat.  This summer, Adam and I took our first 'big' vacation, planning to hike in Grand Teton National Park and the Wind River Range. The trip took some unexpected twists due to the weather, but it was one I will never forget. 
At our connecting flight in Chicago, the passenger we thought had the window seat gave it to me. I jumped at the chance, knowing I'd be in for a treat if the mountains were clear. 
As we prepared to land in Jackson, the plane flew down the length of the Teton Range, giving Adam and me a full view of the jagged peaks. I had tears running down my cheeks, and it wasn't from the cabin pressure. 
Smoke without fire: After picking up our home-on-wheels for the week, a Chevy Silverado with a Four Wheel Camper on the bed, we checked in to Gros Ventre Campground and drove through a downpour to the Taggart Lake trail head.
The mountains were veiled in a haze of smoke, even after the rain cleared. We grabbed our bear spray and hit the trail at 5:30 pm.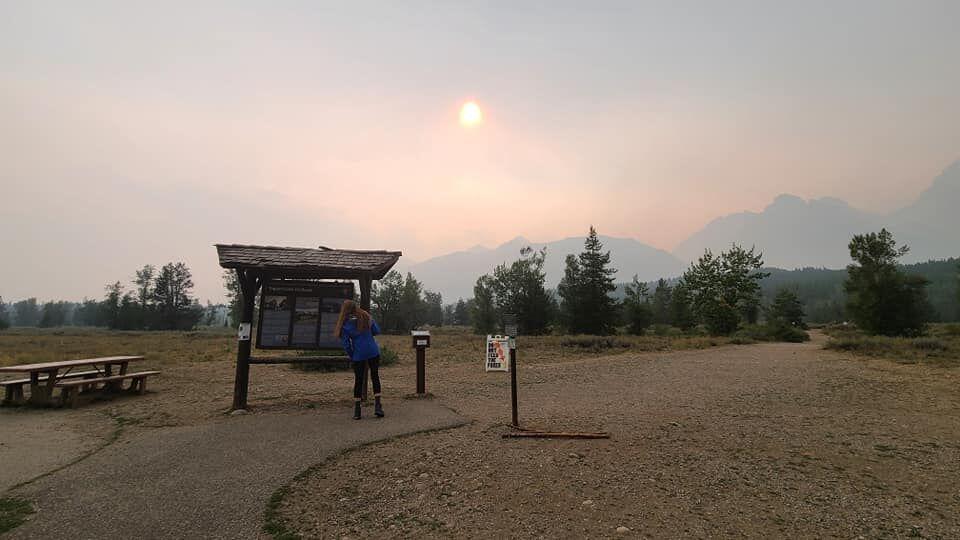 That's one big moose! Of course, views were our highest priority, but we knew we'd need to begin our acclimatization early if we were going to hit our hiking goals for the week.
The views of the Tetons got better and better as we walked, and thankfully, our breathing wasn't labored. As we were approaching the first views of the lake, a group warned us about a moose close to the bridge by Taggart Lake.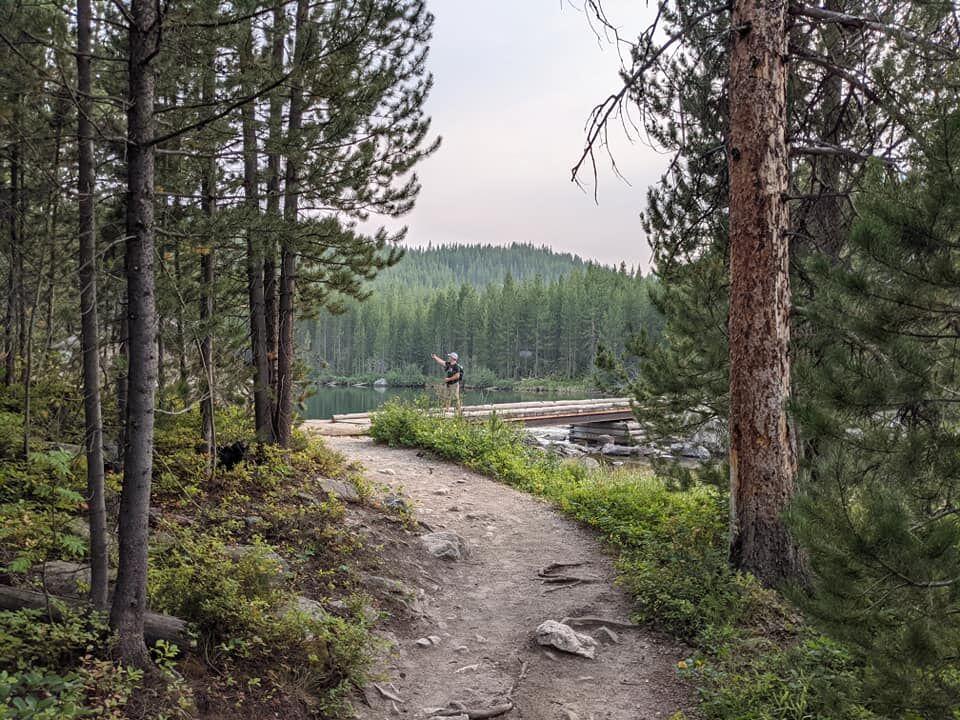 We'd prepared at length for bears, but moose hadn't been on our radar; we opted to forge ahead, hoping the moose had moved on.
As we rounded a corner, our hopes were dashed; we saw the moose munching on the foliage about twenty feet off the trail.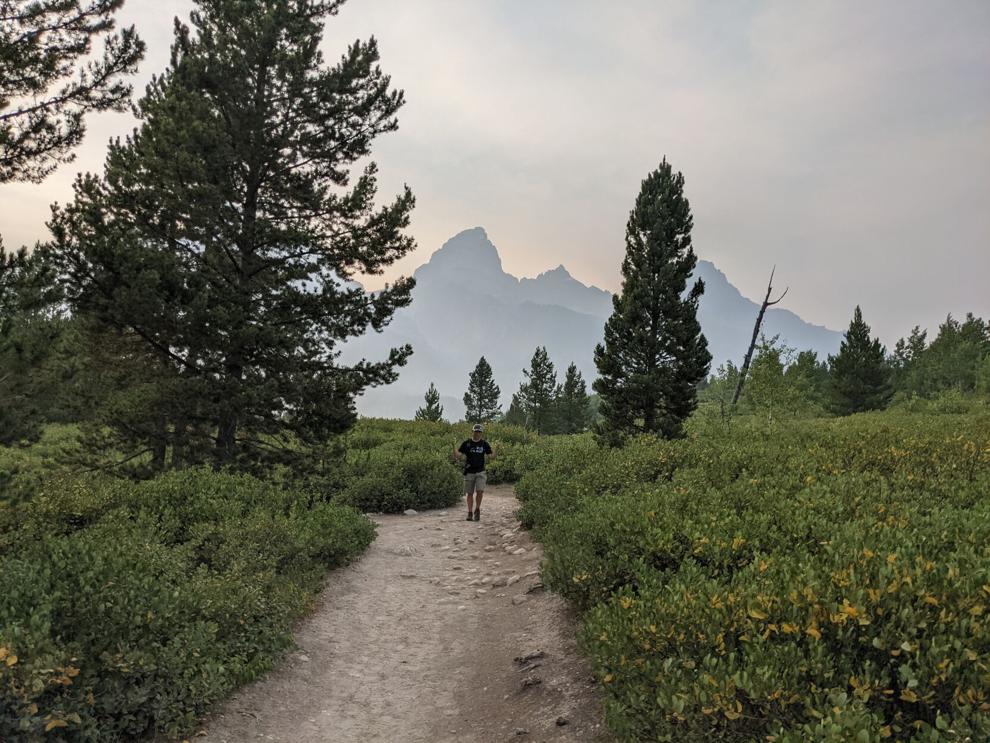 You know the saying, "Don't worry, the animals are more afraid of you than you are of them?" That's not true in my case. Adam and I assessed the situation, and I did something I'd never do in Vermont. I walked calmly past that moose, never taking my eyes off the trail. 
Our bravery (or foolishness) was rewarded with incredible views of the Tetons, rising thousands of feet over Taggart Lake. The late afternoon sun filtered through the smoke casting long, dark reflections of the Tetons on the lake's placid waters.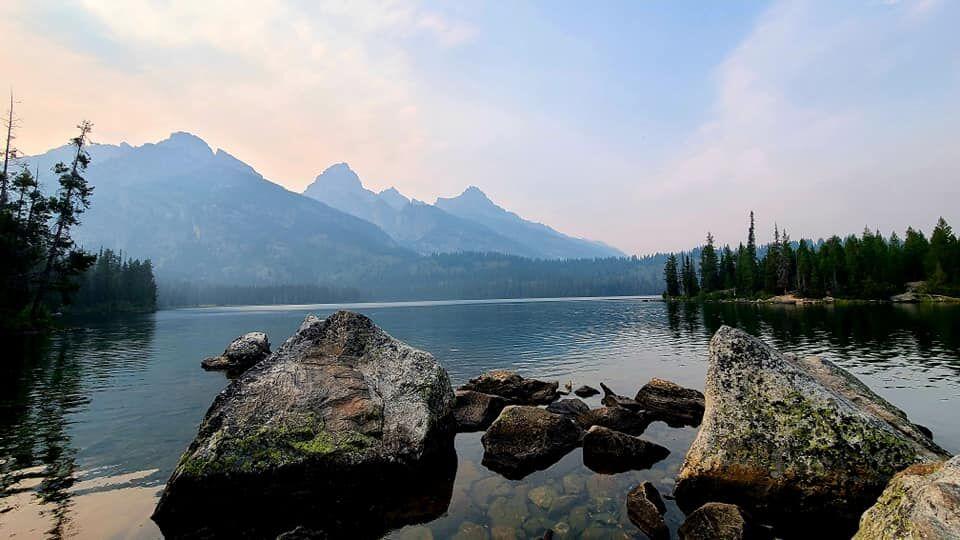 There are many benefits to a loop hike! If you read my column, you know I love a good loop hike, and I really appreciated this one! While we passed several groups headed to find the moose, I was glad we didn't have to pass it again! We'd been in the Tetons for less than two hours, and we'd already had quite an adventure!