Some people relax to music or a great book. I enjoy both of those things, but I love climbing mountains! Really. It is one of the most relaxing activities I do, and I try to get out on a weekly basis.
High winds on Mount Mansfield made us second guess our choice.
A nasty fall in November kept me off the trails for over a month, and I'd patiently (well, mostly patiently) waited to hike until I knew I'd be okay if I took another fall.
In mid-December, Adam and I loaded our packs and headed to Mount Mansfield. I was flying high and ready to go, but after a final check on the weather, I knew we'd be wise to change course.
Winds on Mansfield were forecast to blow steadily at 25mph until mid-afternoon; temps in the single digits combined with the windchill would make for a frigid hike up the exposed ridge.
Reluctantly, I suggested we stay on I-89 and hike Mount Abraham instead. When you haven't been out for a while, it's best to set yourself up for success.
Mount Abraham, the shortest of Vermont's five 4,000 foot peaks, can be accessed from several trails. We chose the Battell Trail, an ascent we knew would give us plenty of shelter from the wind.
We hit the trail at 9:30, six to eight inches of fresh powder fluffing at our feet and brilliant sunshine streaming through the leafless trees.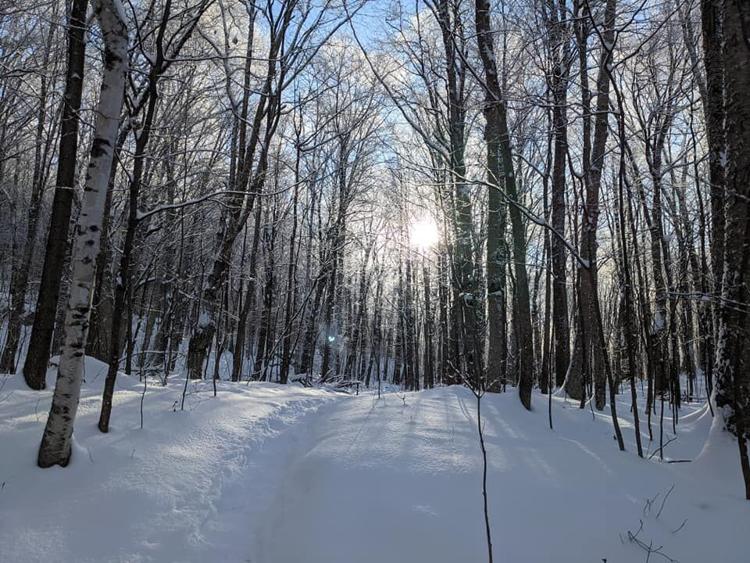 You'd think we'd be freezing in zero degree weather, but once you get moving, you heat up fast. Half a mile in, I'd already shed a layer.
The Battell Trail meanders through deciduous forest before gradually transitioning to hemlocks and cedars, and it's a gentle grade compared to many trails up to a 4K peak.
We passed the Battell Shelter, a lean-to for overnight hikers, hopped onto the Long Trail, and up a wooded ridge line to the open summit of Mt. Abraham.
The Long Trail, the oldest continuous long-distance trail in the United States, runs 272 miles through Vermont from the Massachusetts' to the Canadian border.
Reaching the summit of a mountain makes me feel like a kid again!
When I reach a summit, I'm smiling like a five-year-old kid! The excitement of seeing all that beauty and majesty is hard to beat, and it's like opening a gift every time!
The views from 'Abe' never disappoint. It's almost a 360 degree view, and on a clear day you can see the best of three states, Vermont, New York, and New Hampshire.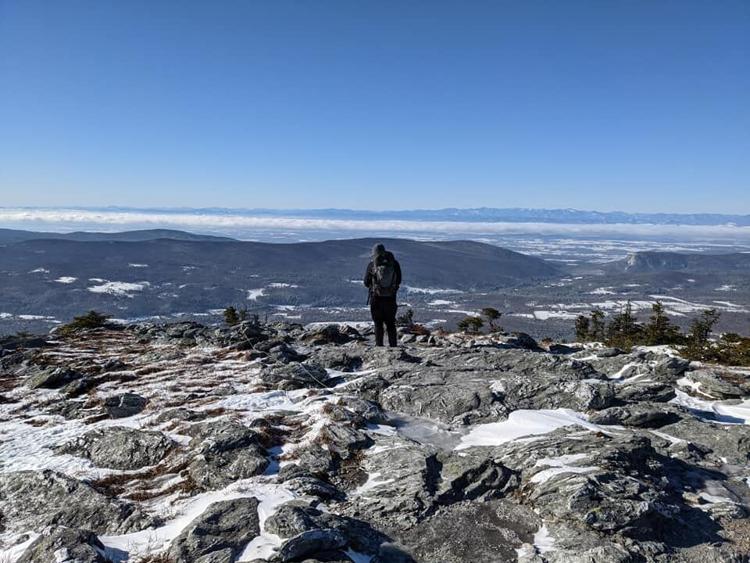 This morning, the Presidential Range glistened against the horizon; even Mount Washington's massive summit was clear. A bank of low lying clouds obscured Lake Champlain, but the Adirondacks, also glistening white, rose above the clouds.
The wind at the summit was fierce, dropping the temperature well below zero. We layered up, took some photos, and stared in wonder at the rugged beauty.
Next to the summit high, descending in the snow is the most fun part of a winter hike. In the powder we had, it's almost like skiing. We took off our spikes and 'bare booted' down the mountain, jogging, sliding, and laughing the entire way.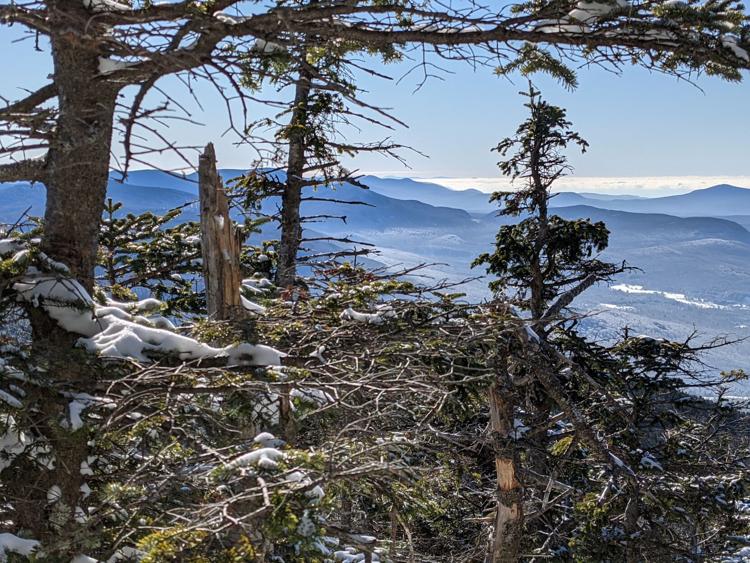 Don't you love the feeling of warm sunshine on your face in the winter?
The sun was high, and the air warmed to a balmy double digits; fluffy snow drifted out of the trees, filling the air and sparkling like diamonds.
Hiking is great for connecting; your phone becomes a camera, and your attention is focused on the person in front (or behind) you.
The quick descent got us to our car in no time; we shed a few more layers, hopped in, and headed home, completely satisfied with the day.
Winter hiking takes a little more planning, but if you're willing to invest in a few pieces of equipment you can enjoy Vermont's mountains all winter long.
Traction devices like micros spikes, crampons, and snowshoes give a little 'bite' and keep your feet from slipping; wind and waterproof outer layers keep you dry and warm.
A change of layers is always a good idea, but remember: avoid cotton since it can be slow to dry.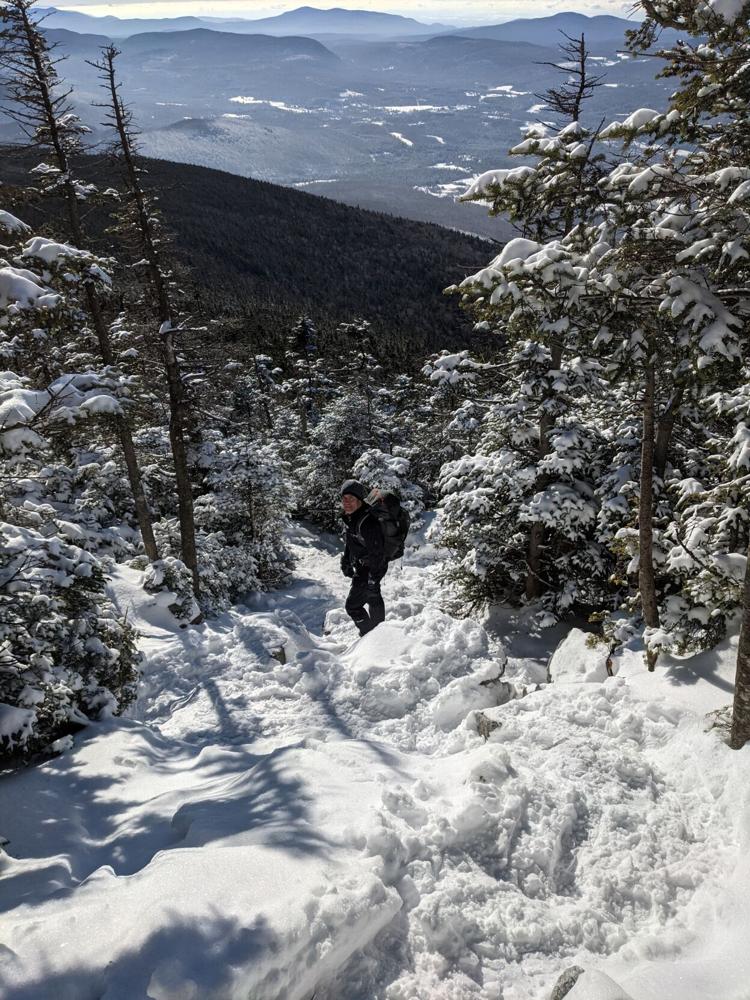 How can you prepare for your winter hike up Mount Abraham?
I researched our trail with AllTrails, and double checked the app directions with my paper map. I also let one of my sons know where we'd be going and what trail we were taking.
I was careful to watch the weather, and I was ready with an alternate plan when things were looking really cold on Mount Mansfield. I've learned it's always good to have a backup plan, especially in winter.
I'll be taking you with me on some of my other hikes this winter. I hope you'll enjoy the view, and If you decide to try a hike yourself, I'd love to see your photos!