Tasting freedom! After spending a good part of the spring of 2020recreating within ten miles of my house, I was ready to get out and see some different scenery! Adam and I loaded Yadi into the car and headed to Waitsfield to hike Mount Ellen via the Jerusalem Trail.
The day was perfect for hiking--ample sun, a few clouds, and a cool breeze. Yadi was ready to go when we got to the trailhead, and we hit the well-traveled trail moving quickly.
Take a step back in time. The mountains are usually behind the valleys by a few weeks when it comes to foliage; it's not unusual to feel like you've traveled back in time when you start to gain elevation. After we passed through easy grade of the well-leafed forest at the base of the trail, I was delighted to find the wildflowers that had come and gone in our woods in full bloom on the slopes of Mount Ellen.
Bright yellow trout lilies, white and burgundy trillium, and pale pink spring beauties carpeted the ground beneath the bare branches of the trees. I'll admit, I slowed my pace to stop and stare in wonder at the beauty!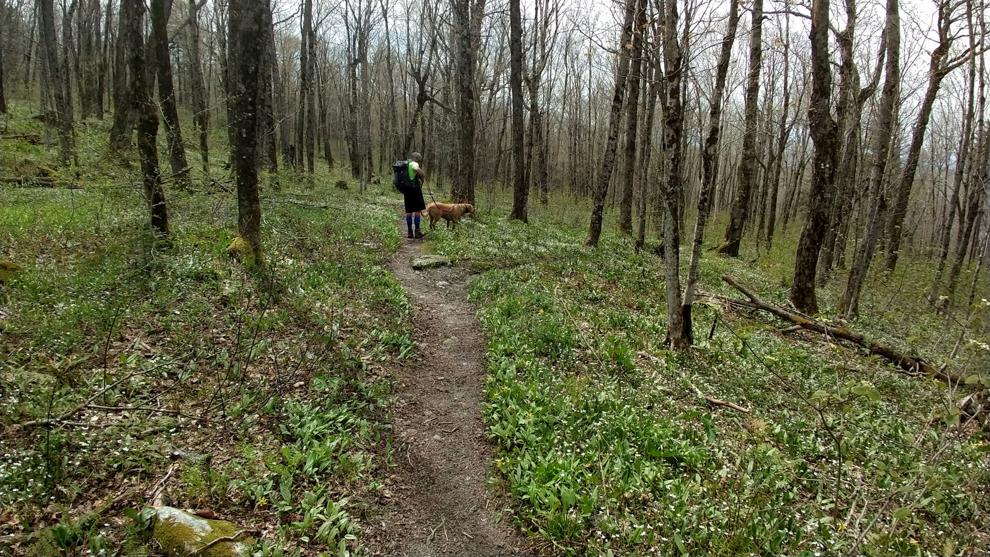 Yadi likes to move. Yadi didn't enjoy my slower pace; he doesn't believe in stopping unless there's water. While we didn't find many stream crossings, he made sure to enjoy the ones we did find.
As we ascended to the ridge, the trail got wetter, and eventually, we were walking on the remains of the winter's snow. It's always fun to hike in snow in a tank top!
Big views from the chair lift! The summit of Mount Ellen (4,083 feet) is wooded, but the walk along the ridge provides several views, and when you pop out at the top of the Ellen ski lift, the views are expansive. We ate our lunch on the lift platform, keeping a careful eye on the chairs. Many ski areas run the lifts in the summer for various reasons, so always use caution when you're near a lift, and do yourself a favor--don't sit in the chairs! It could be a long wait if they take off!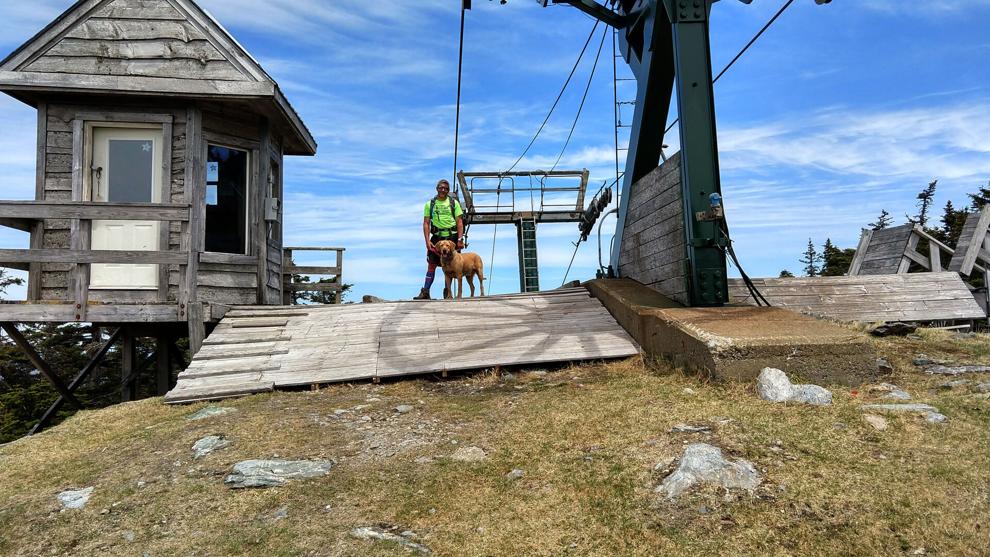 On the descent, we hopped off the Long Trail (the Jerusalem Trail joins the Long Trail at the ridge) and wandered out onto one of the clear-cut ski trails for a few more views. We took some of our favorite photos on the windswept, grassy slopes of the ski trails.
If you've read my column before, you know I always like a loop hike, but I didn't mind this out-and-back; I was looking forward to another romp through the beautiful wildflowers!