Bobwhite hockey grooms new crew for 2021
Last year they won it all: The Bobwhites won the 2020 Vermont DI Hockey State Title, just as the state prepared to shut down due to growing concerns around COVID-19.
They'll replace seven seniors: The Bobwhites will be looking to find standout goalie Dan 'Guy' Ellis's replacement this season.
What is Ducolon seeing? "We're quick, smaller than we were, we've got raw skills, and we've got defensemen returning and new guys coming. So far, we're very happy.
"We haven't been in a tough spot to see how guys react, and we haven't tested that leadership out yet. That's hard to do in practice. It's great to be fast, but we're waiting to see how kids make decisions in-game."
How about the goalies? "No one (goalie) has played enough at the varsity level; if one of the guys figures it out in ten games, you're in business; if not, it is what it is," said Ducolon.
COVID restrictions will require creativity. "We can only have eleven players on the bench. Kids who aren't on the bench will have to stand outside the bench area, and that makes rotations a little more difficult. We're going to need flexibility from officials to give kids in the corner time to get to the bench," said Ducolon.
Mouthguards and masks make breathing a challenge. "Schools with small teams will have to manage the bench. You can't burn your horses early with the masks on. It will make a big difference with who can manage that best in-game," said Ducolon.
Ducolon and the coaching staff are prepared to tackle the season. "I think we'll be fine, but you don't know until the heat of the moment."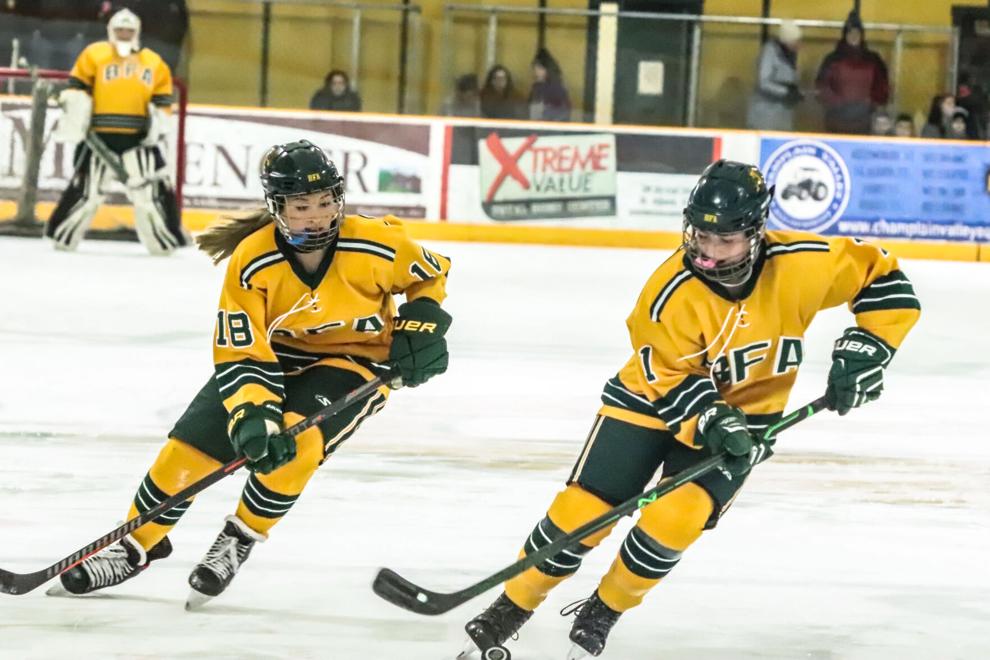 Comet Hockey returns key players
The Comet hockey team ended the 2020 season with a 13-7 record, falling to rival Essex in the DI semifinal. They also graduated eight seniors.
SASA gives a firm foundation. The Comet hockey program's strength lies in its incredible youth program; there's no doubt this year's team will welcome new players to carry on the Comet hockey tradition.
Comets retain key contributors. "We graduated a large class with players that played key roles, but we're fortunate to still have some key players returning," said Comet head coach Luke Cioffi.
"I would say we are much younger this year. We've got two seniors, six juniors, ten sophomores, and three freshmen. We've got ten new players on the team this year!"
Comet defense will be solid. The Comets will return senior goalie Macie Boissonneault, junior Sophie Zemianek, and sophomore Jodie Gratton.
"We are confident on the defensive side with other returnees, Sophie, Chiara Skeels, Rowan Howrigan, and Rachel Needleman. We also add sophomores Molly Smith and Aylah Shea to the defense core," said Cioffi.
The offense is taking shape. "The forward groups are promising, but we have many new combinations to work with this season! Calla Bourdeau, Maddie Montagne, and several rookies will be counted on to help lead the charge on the offensive side of things."
Delays have a silver lining in 2021. "Having two weeks to just work on skills has been awesome! It's allowed us to get to know each player's skills and what they need to work on," said Cioffi.
"With the restrictions loosened to allow contact and competitive practice, the level of practice has risen. The girls are eager to compete and play against each other."
Team Chemistry on-ice this year. "They've been receptive to the team building activities we've done on the ice instead of at the typical team gatherings outside of the rink.
"Getting to know everybody has taken a new twist this year, but everybody is working at getting to know each other and supporting each other on and off the ice.
Comet coaches love work ethic and attitude in the 2021 group. "Jeff Rouleau, Chelsea Ellis, and I are very excited about the positive attitudes and work ethic on the team. The girls are excited to be playing and building the Comet family!"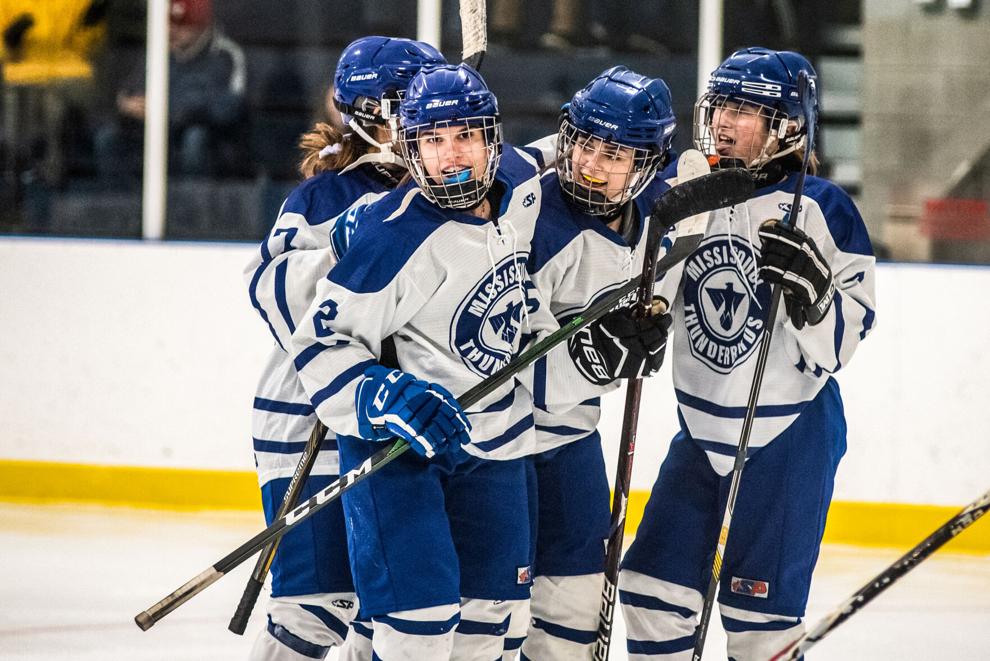 Thunderbirds look to build on last year's success
The MVU girls hockey team closed the 2019-2020 season 9-10-1, taking a loss to undefeated Spaulding in the DII semifinal game.
Lots to look forward to in 2021. "There's a lot to look forward to for the MVU girls hockey team this season, and I'm looking to build off the success our young team had last year," said head coach Brian Fortin.
Senior core will boost T-birds. The Thunderbirds graduated one senior in 2020. This year they added one 8th grader, Rory Schreindorfer, and Karissa Leclair from Milton.
"This year's seniors have been pillars for the team since they began playing four years ago as freshmen," said Fortin.
Also leading the way for the lady Thunderbirds are Haley Stefaniak, Bethy Laroche, and the team's five freshmen Emily Airoldi, Bri Jarvis, Brooke Rainville, Lindsey Gagne, and Lily Berard, who are in their second year of varsity hockey after playing as 8th graders last season.
T-bird D could be dominant. "We are well balanced with some of the best goaltending in the state in Conley, a strong defensive core lead by Bessette and Stefaniak," said Fortin.
"With Parent and Jarvis's scoring prowess mixed in, our three balanced lines could produce a lethal offense."
Chemistry is key! "The key to this season is to continue to build on the strong chemistry this group built last season. Out of my four years of coaching, this is the best all-around team I've coached," said Fortin.
"I have seen instant chemistry between our sole 8th grader Rory Schreindorfer and her cousin Senior and Captain Breezy Parent. I believe the excitement they have as they get to play together will give a boost to their already strong offensive games.
"Add that to the strong chemistry between Fresn and Jarvis, and the hopes of a high scoring offense are high. The addition of Leclair is our wild card, her intensity and want for the puck is unmatched, other than Parent, who has made a career playing that style of game.
The Thunderbirds are ready to compete. "My excitement for this season is unmatched by any other. The energy these girls bring to practice and the desire to play games is showing me this team may surprise people this season."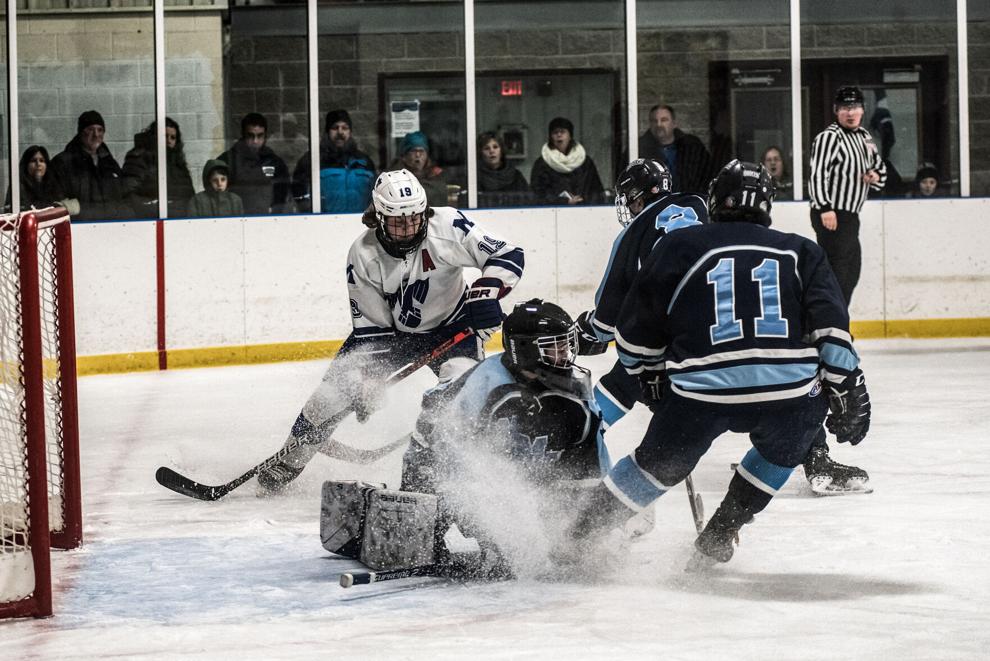 Thunderbirds' boys hockey will skate eight seniors this season.
When the MVU boys' hockey team takes the ice this winter, the bleachers may be empty, but there will be plenty of fans keeping an eye on this year's group.
"We returned 17 players from last year's roster. The leadership and passion in this senior core of players is inspiring to the underclassman around them. I'm looking forward to seeing this group come together and what we accomplish once games get underway," said Hattin.
T-birds poised for success.
Last year, MVU (10-9-1) fell to Harwood (17-3) in the DII quarterfinal; in 2018-19, MVU (15-3-1) fell to Colchester (14-4-1) in the semifinal game. There's no doubt this group of seniors is hoping to make a run in playoffs.
"The boys are disappointed to have games on hold right now but are happy to be on the ice. Everyone is staying optimistic that we will be able to compete in games this year. We're taking each practice one day at a time getting better as a group."