BAKERSFIELD/GRANITEVILLE — Will Marcotte began his racing season a little later than expected due to COVID-19 precautions, but the delay didn't hinder his performance.
On Wednesday, July 15th, the eight-year-old from Bakersfield, who races with Vermont Shifter Karts at Rocky Ridge in Graniteville, earned a second-place finish in his first race in the Cadet A Class.
"Moving up into the Cadet A class was surprising and exciting. Last year I raced in the Cadet B class. Many of us moved up to the Cadet A class this year, and that was unexpected," said Marcotte.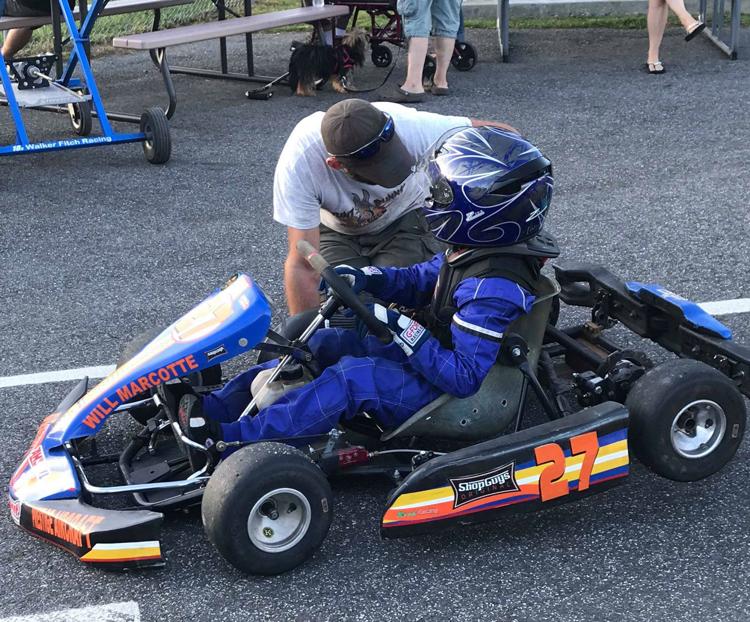 There are six classes for youth as young as six years old through adults at Rockey Ridge, as well as a non-competitive class for kids ages five and under to gain experience.
Last season, Marcotte raced in the Cadet B class. Cadet carts run 80cc two-stroke engines. Marcotte finished fourth in points in the Cadet B class, taking three first place, one second place, and four third place finishes in the 2019 season.
Marcotte expected to stay in the Cadet B class for the 2020 season, but he was surprised when new drivers joined the ranks, moving several drivers, including Marcotte, up to the Cadet A class.
The move wasn't worrisome for Marcotte, who had invested time in the off-season to prepare for his second season at Rocky Ridge.
"I spent a lot of time racing on my dirt track at my house last fall and this spring. That really paid off, and my lap times improved!" said Marcotte.
"I felt crazy excited to come in second place behind the fastest driver in the class. I was really proud of myself. The feature was a fun, clean race. It felt great to be back on the track with my friends."
Rocky Ridge racers will continue to compete this summer, but due to COVID-19 restrictions, no spectators are allowed to attend the events.