Q&A with Richford High School boys' varsity coach Eric Bruch
Eric Bruch began coaching in Richford five years ago; a lover of the game, Bruch still plays in local men's leagues and invites his players to join him. 
What stands out to you most about this season? Our offensive prowess: it's the best it's ever been. We've put a huge emphasis on defense the last few years; we moved it up this year, and it paid off. I had two guys with nine goals, two with five, and eight others who scored for the first time in their varsity career. It's huge to have that many kids score goals. Some years we've had only two or three goal scorers and scored only five goals. This year we scored 31 goals, so that's much different than any other year. 
How did the team grow this year, and in what areas did you see the most improvement? A lot of guys started seeing the importance of supporting the player with the ball from behind. Getting kids to make runs into a useful space is something we worked on, and it gave us a lot of opportunities to score a lot of goals. 
How have your coaching strategies helped build this team over the last five years? My main position and favorite position is in the goal. As a goalie, the biggest thing I took away from that position was my vision of the field. After college, I played out in the field more, and I noticed that my vision was so much better. Having your head on a constant swivel helps open things up, and you can become more creative.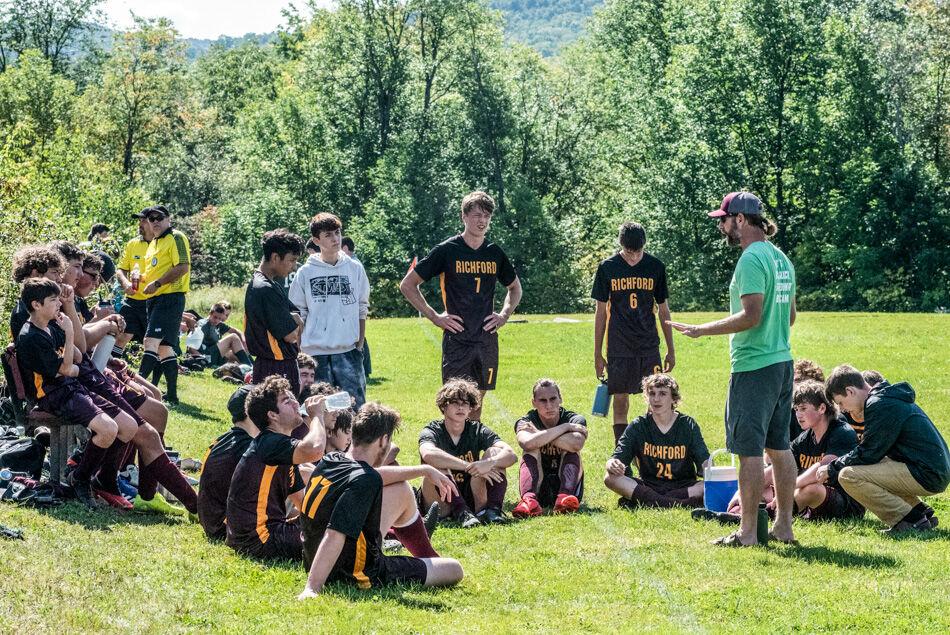 What experiences from your years as a player impact you now as a coach? One of the guys I grew up playing under, Len Bilous, played on the Ukrainian National Team in the early '80s. He ran a camp called Soccer Magic; I attended the goalkeeper camp and also instructed. He emphasizes looking over your shoulder and getting your head up. It's all about vision, and I've been trying to teach. You can't make a no-look pass without looking first. The no-look pass happens because you looked a second ago, and you knew what was going on. 
Mark Reda, my club coach, never played soccer, but his knowledge of the game was insane. As a coach, I realize now how much work he put in to make us the team we were. It makes me eager to keep it fresh for the kids. 
My college coach Mark Pulisic at Lebanon Valley (D2) in Pennsylvania really took things to the next level--fitness, putting your all into every practice and game. He knew the game well and had played semi-pro. His son Christian Pulisic now plays for the US national team and Chelsea. 
Why do you enjoy coaching? I coach because I love the game, and I love being around the kids and passing knowledge along.