THETFORD - The top high school cross country runners from throughout New England gathered at Thetford Academy for the 2021 New England Championships on Saturday, Nov. 13. This year, runners from Bellows Free Academy St. Albans and Richford High School competed in the 5K race.
Ruth White of Orono, ME, took first in the girls' race with a time of 18:44.8. Vermont Division 1 titleholder Loghan Hughes of BFA St. Albans raced to a 15th place finish in the girls' race in a time of 20.09.1.
In the boys' race, Gavin Sherry of Conard, CT, placed first in 15:54.79. BFA St. Albans was led by Calvin Storms, who finished 83rd in 17:58.63, Jacob Tremblay was 90th in 18:03.32, Ethan Mashtare was 102nd in 18:12.48, Porter Hurteau was 141th in 18:33.70, Teddy Tremblay was 254nd in 20:34.57, and Will Hughes was 255th in 20:34.58. John Viens of Richford was 144 in 18:34.07.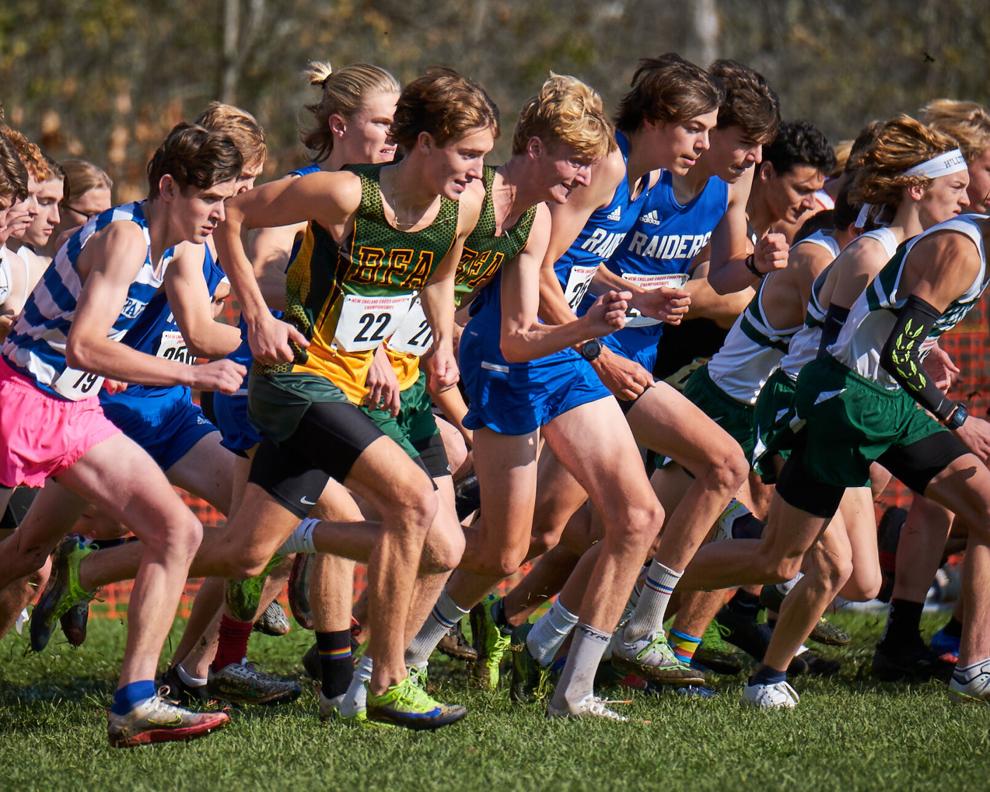 Brothers Jacob and Teddy Tremblay competed at Thetford for both the Vermont State Championship race and New England's. Jacob, a senior, contrasted the races.
"This was the toughest race by far we've done this year," said Jacob. "It was double the amount of people, and the conditions were mud up over our shoes."
Teddy, a freshman, agreed that the conditions added to the challenge.
"If you went out and you were stuck in the back, you weren't going to have that good of a race because right out of the gate, the course was torn up, and there was a ten-person pile-up," said Teddy.
The New England's race was the last of Jacob's high school cross country career.
"We had a great team this year and a great end to the season when we were here for the State Championships," said Jacob. "It was an amazing season, and it was great to be here for New England's."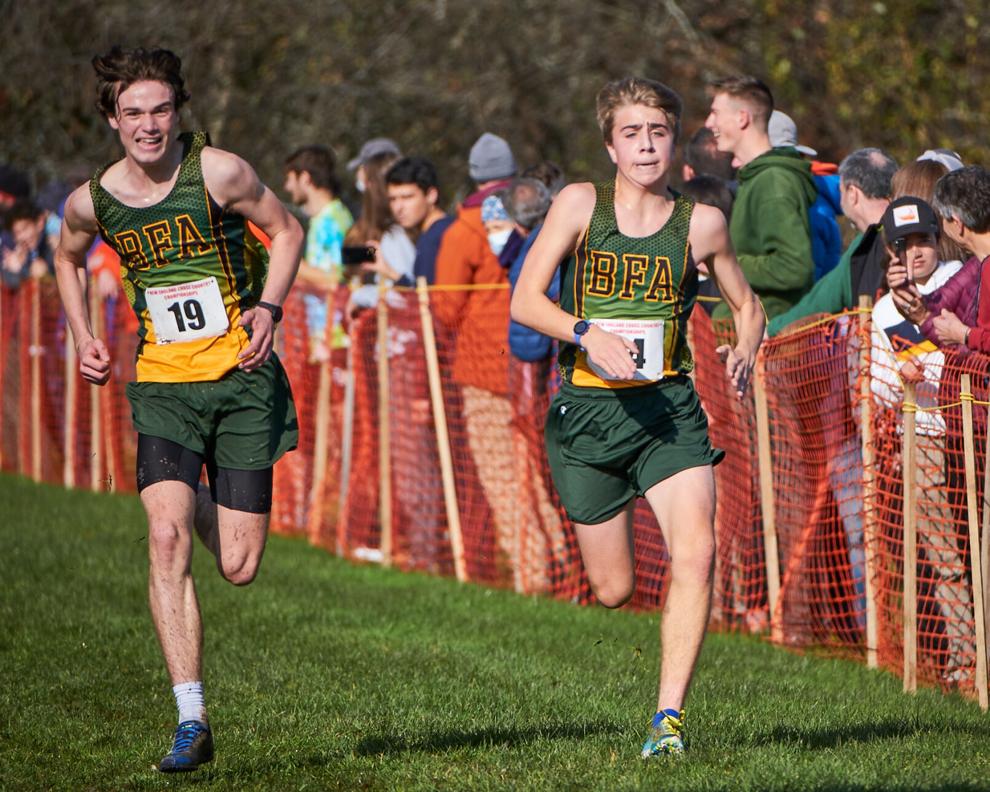 Teddy and teammate Will Hughes finished with a one-second separation.
"I didn't know if I came out on top; I caught Will, and he started sprinting," said Teddy. "It was the first time I was able to stick with him."
BFA St. Albans senior Ethan Mashtare was glad to race at one last cross country meet with his teammates.
"It was a good way to end the season with some of the biggest competition around," said Ethan, "and being here with the team was really special."
Ethan's father, Mike, has coached the BFA St. Albans cross country team for decades.
"It's great to have my dad as a coach; I love the memories we've made and how close we've gotten through the seasons," said Ethan. "To be here with him on my last race of the season is really special."
Storms, a senior at BFA St. Albans, was glad to wrap up his high school cross country career at Thetford.
"We had an amazing season, and this was a great way to cap it off," said Storms. "I enjoy running at Thetford, and it was nice to run here one last time."
Loghan Hughes was the highest Franklin County finisher. "I'm pretty happy with the race. It was fun to see familiar faces from Vermont teams and compete with girls from out of state. It was awesome to finish my high school cross country career here at Thetford. It brought me peace and some extra motivation to run in my state and at this course."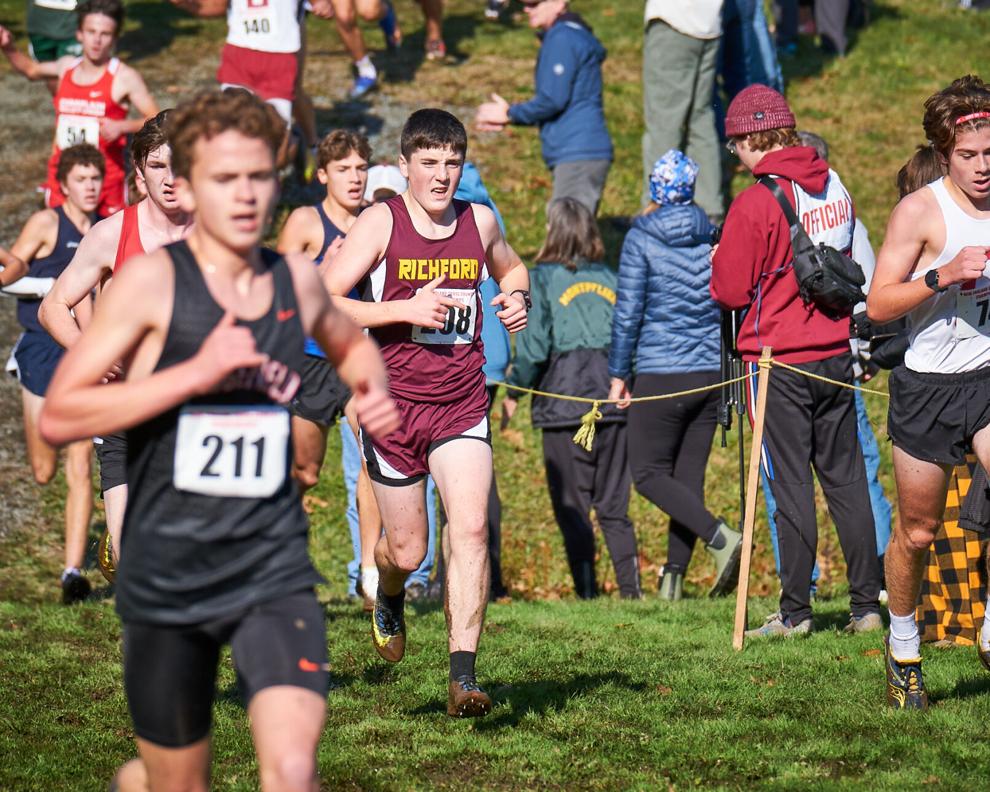 John Viens of Richford raced at New England's for the first time.
"It was the craziest race of my life. There were 250 kids in the race, and we were all around the same pace," said Viens. "I thought I got out pretty good, but I was in the back, and five kids fell in front of me. In the first kilometer, I was passing a ton of kids. I was happy with my finishing time."
Viens said that racing with so many other people was a double-edged sword.
"All the runners pushed me, but they got in the way sometimes. One time, I got pushed to the edge of the trail and had to jump a stump. I was never alone in the whole race, and that's never happened before. It was one of the most fun races of my life."
Richford head coach Richard Flint was there to cheer for Viens.
"Flint went down and supported me, and it was awesome," said Viens. "I heard his voice the two times I passed him, and he told me, 'you gotta move up!'"
Viens spent the night before the race at a local hotel, and he quickly found he was in good company. Race day was no different.
"Our hotel was packed with runners. In the morning, it was all runners eating breakfast," said Viens.
"When I showed up at the meet, there were all these out-of-state teams around. I know how to compose myself and prepare for a race. I warmed up on my own--I've done it before."
Viens has goals for the 2022 New England's meet. "I think I can make it next year, but I'm hoping to get top-100 next year, maybe top 75."