ST. ALBANS — June's scorching weather has many people looking for ways to get out on the water. For Jonathan Billings, time on the water is a year-round adventure.
"I kayak in the winter, but I don't recommend it for the general public," said Billings. "You need the right gear, including a dry suit or a good wetsuit."
Billings has done his research, contacting folks from cold climates like Antarctica, Norway, and Alaska to buoy his knowledge.
"I've learned the safety measures and protocols for cold-water kayaking, and I only go out in a very controlled setting--near-shore, shallow water, no wind."
Regardless of the time of year, the beauty kayaking provides is the perfect complement to the physical workout.
Billings captures gorgeous photos of the creatures he sees on his frequent outings. Otters, beavers, osprey, loons, moose, deer, and ducks have all been photographed with his telephoto lens.
"I had an encounter with an osprey on Fairfield Swamp one year; it was nested on a low tree, and I didn't know it was there until it returned to the nest," explained Billings.
"It was swooping around me, and I back-paddled out quickly to give the bird its proper berth.
"We were also cannonballed by a beaver on the Rock River in Highgate. We heard a rustling on the bank, looked up, and saw a beaver jump off the bank and cannonball into the water. We paddled upriver as it slapped its tail at us."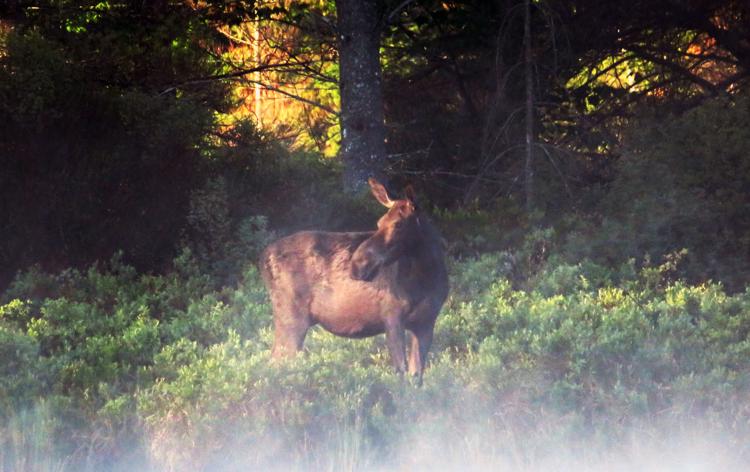 Billings and his wife Marilyn took up the sport of kayaking in 2014 after their youngest daughter graduated from high school.
"We live in nature's playground. When our kids were young, we'd rent kayaks and paddle, and when our kids got older, they encouraged us to buy some kayaks and take it on as a serious hobby," said Billings.
"We didn't start out thinking we'd do it this seriously, but we've gotten much better at it, and we've developed a love for the sport."
Since 2014, the couple has visited over 100 bodies of water in Vermont. Fifteen of them are located in Franklin County.
They have put in at 30 different launches on Lake Champlain, ranging as far south as Crown Point Bridge, NY, and as far north as the Route 2 bridge to New York in Alburgh.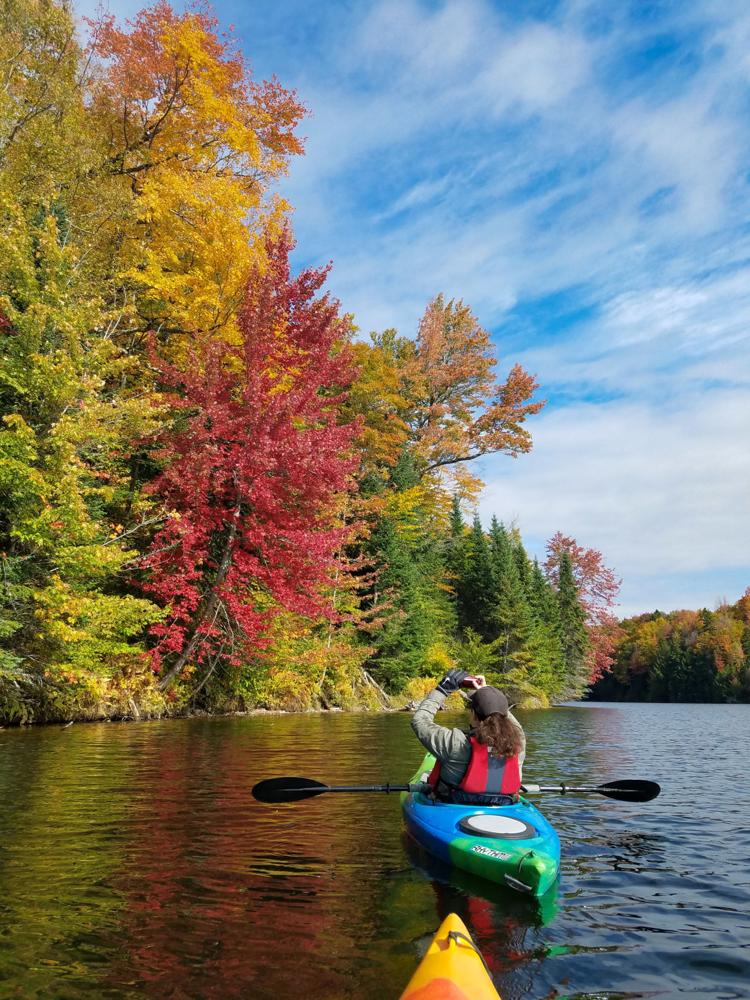 "You find these hidden gems in beautiful corners," said Billings.
The Billings love remote areas like the tiny ponds near Green River Reservoir.
"There are very rarely any humans out there. It took half the day to complete the drive and the paddle, but there's so much solitude and wildlife."
Both Jonathan and his wife Marilyn work full time, but they've found ways to 'tuck' their beloved hobby into their schedules.
"We combine trips, do some work or make deliveries, and then paddle someplace new. We like to find new towns and restaurants in the state," said Billings.
"It's been a great chance to sample what Vermont has to offer while still getting some real physical activity and stress relief."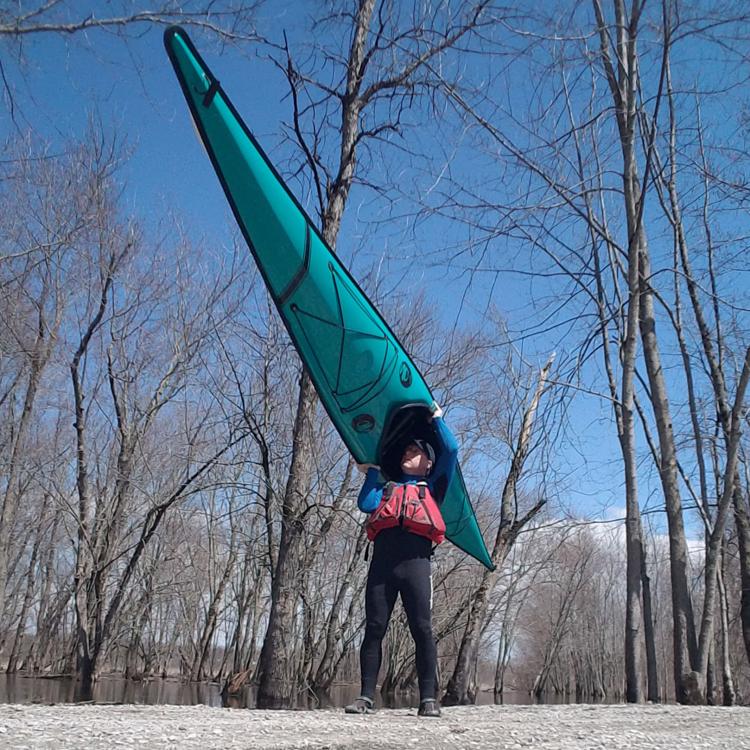 A long day on the water isn't usually more than a three-hour paddle. That time allows the Billings to travel about ten miles if they're moving steadily.
A short paddle, usually taken in-county, takes half an hour to 45 minutes.
Water sports, while incredibly rewarding, always require caution.
"I wear my life jacket every time I'm in the kayak, and we encourage folks to do that," said Billings.
"Life jackets save lives; no matter how strong of a swimmer or a kayaker you are, it's always a necessity."
Kayaking life jackets are cut precisely for the sport and provide support for the paddle.
"Our kayaking vests are well vented and not that much more expensive than a regular life vest. It makes your activity so much more safe and comfortable."
It's easy to understand how kayaking in cold water months can be dangerous, but as Billings noted, danger can lurk in warm waters.
"We were in the Lamoille River paddling upstream to Johnson. It was a lovely day paddling against the current with a little movement. We came to a little waterfall that was only a six-inch drop in the river," explained Billings.
"I tried to put the boat up the shoot and rolled it. I was underwater in the kayak, heading downstream. I was thinking to myself, 'you prepared for this. You have your life jacket on; do your boat exit, and get above water.'"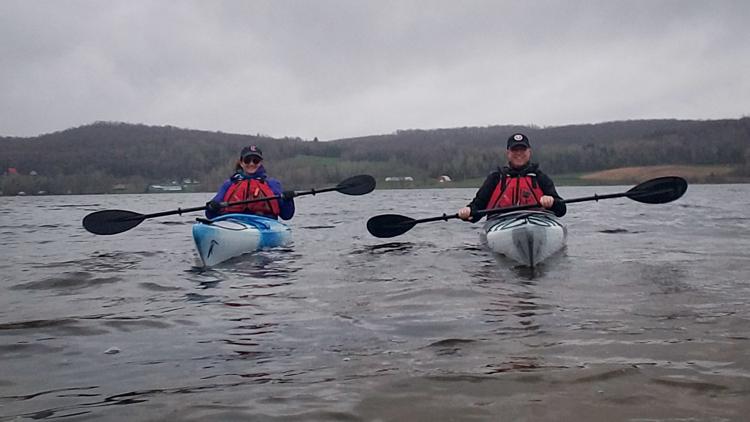 Billings floated a few feet before he could stand up; he grabbed his kayak and took it to shore.
"Once Marilyn figured out I was fine, it was hilarious; she retrieved my water bottle downstream and joked what a soaked rat I was, but in the moment, it was very real," said Billings.
"My safety preparation played out. You always have to take a water outing seriously."
Many of the Billings' adventures take place in Vermont, but they have ventured to much wilder waters.
When their oldest daughter was married in Iceland, the Billings rented kayaks to explore the water nearby.
"I had been reaching out to a kayak guy in Iceland; he told me he would be closed when we were there in October.
"I sent him a photo of my kayak nose in Lake Champlain with ice blocks on the water, and he sent an email back saying, "I have underestimated you," said Billings, chuckling.
On the day set aside for the adventure, the North Seas were too windy and rough.
"The man we rented from told us about an inland waterway that would be safer, and we rented the boats and paddled in Iceland in October.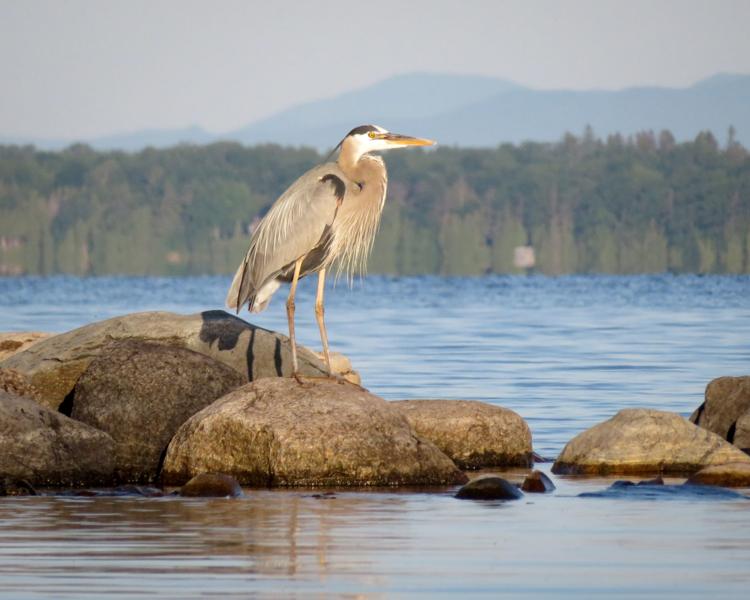 "It was an intentional decision--not going on the North Atlantic--and we really had wanted to go on the ocean, but we had to change plans."
The Billings have also paddled on the West Coast in La Jolla, California, to the caves on the cliffs. On the East Coast, they've been on the Charles River by Boston Harbor and also in Jupiter, Florida.
A paddle in Ireland, on a beautiful inland lake, is also a treasured memory.
"The magnificent and ancient Ross castle towers over the lake. You start paddling in what was the moat of the castle, and it is enchanting if you let yourself think about the Arthurian legends."
Billings has also joined athletic competitions, including the Colchester Triathlon and the Northern Forest Canoe Trail's annual Peddle Paddle.
"In the triathlon, I used an 11-foot recreational plastic kayak that was not built for speed, but it was fun. I love biking, and I'll run if I have to, but I'd never slowed down enough to commit to an event," said Billings.
"The Peddle Paddle is a six-mile kayak or canoe on the Missisquoi, and a five-mile ride on the Missisquoi Valley Rail Trail to Richford," said Billings.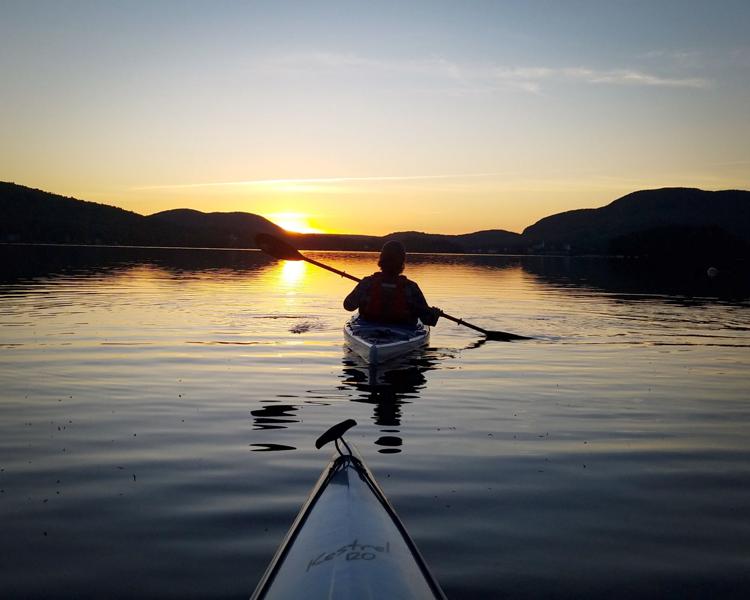 "The NFCT transports your boat, and the event is really as competitive as you want to make it."
Most of the time the Billings are on the water, it's just for the love of the sport.
"It's great to pop into Metcalf Pond or Lake Carmi, local bodies of water where we can enjoy a beautiful Vermont evening," said Billings.
The Billings have invested in their own boats, jackets, and a car that can carry a boat, but before they made the commitment to buy, they rented from state parks.
"You can rent at Lake Elmore and Knight Point -- great places to learn. You can try it before you spend a few hundred dollars to get into the sport," said Billings.
"There are even kayak rentals in Jeffersonville that will meet you at the river and help with transport. There are all sorts of ways to enjoy the sport without committing much financially ahead of time."
When asked about some of his favorite Franklin County haunts, Billings shared a few that provide ample opportunities for both newcomers and experienced kayakers.
"The Missisquoi River offers so many different sections to explore and you never know what wildlife you'll see. An out-and-back from Louie's Landing in the Refuge headed downstream to start is always a delight."
"Off the beaten path, Fairfield Swamp is truly a swamp! Much of the year, it's green and thick and weeded, but in the spring, it's beautiful," said Billings.
"In the heat of August, there's probably not enough bug spray to go around, but in May, it's a pretty place to paddle. You don't know how many frogs are on the planet until you do that!"
Billings smiled as he spoke with enthusiasm of the sport he and his wife have embraced.
"I come naturally caffeinated. I burn off energy kayaking and get to relax and find some peace of mind when I'm on the water, and it's a nice part of what we do now that our girls are grown and flown," said Billings.
"And there's always something different to see; each place has its own personality."