ENOSBURG/RICHFORD — Carly Archambault and Emily Adams compete in soccer and basketball during the school year. Messenger Sports caught up with the girls to get their take on friendship and competition.
How long have you known each other?
Carly: We've been best friends since elementary school. We knew we'd end up in different high schools, but we ignored that until we got to high school.
Why did one of you become a Richford Rocket and the other an Enosburg Hornet?
Carly: My sister Austin, my cousins, and my mom all went to Richford. My grandparents, Jan and Buddy Fletcher live there, so I knew I'd be close to them.
Emily: My mom (Trish) went to Enosburg, and my dad (Jerod) worked at the school.
Carly: We don't see each other like we did in elementary school; playing sports against Emily is just one more way I can see her.
Emily: We're rival schools, so talking smack can be really fun--it's fun to joke around.
Carly: it's fun to joke about it and shake it off; not everyone can do that.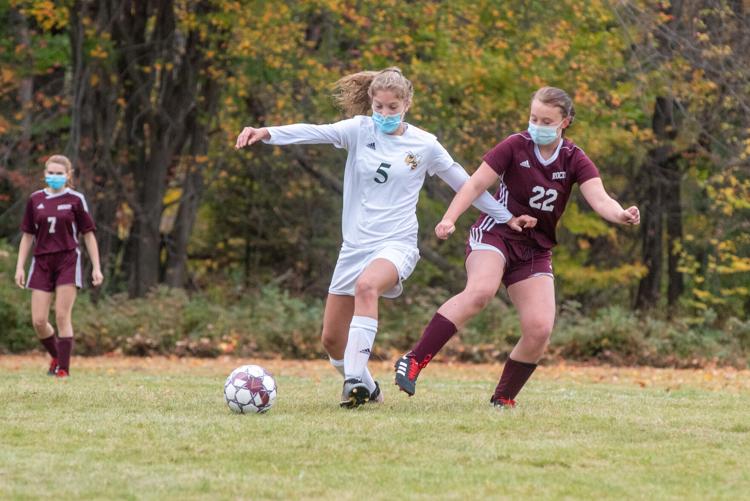 If you had to give a scouting report on Emily, what would you say?
Soccer: Emily's really good at soccer. She's a good defender, and she can kick the ball all the way down the field. It's impressive. She's so good, and she doesn't even know it. When we face Enosburg, I know Emily is going to come ready to play!
Basketball: Emily is amazing at basketball! Ever since we were in Berkshire, I wanted to be as good as she was.
Freshman year, she made varsity, and I was on JV. I was sad because I didn't get to play against her. That changed our sophomore year; it was weird to get back on the court with her. It brought me back to when we were teammates; I had to stay focused.
She's so talented, but she keeps practicing and getting better; she doesn't give up.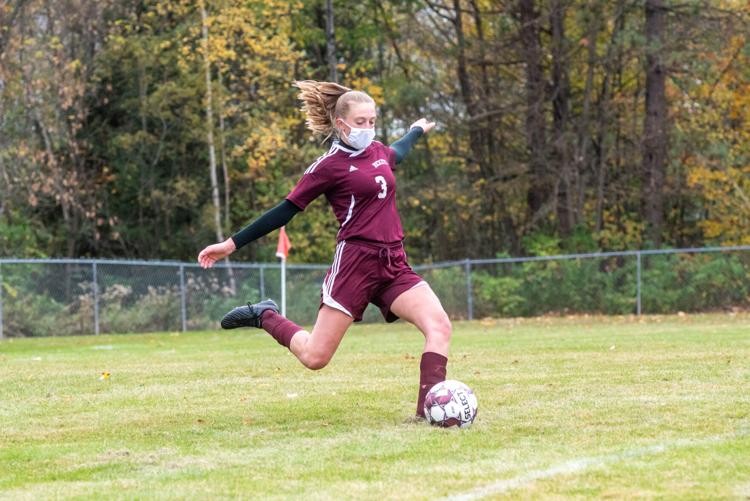 If you had to give a scouting report on Carly, what would you say?
Soccer: In soccer, Carly plays everywhere, so I never know if I'll have to go against her or not. It can be tough when you're trying to take a ball from a friend in a game, but we always laugh about it after. If we're both on defense, we don't face each other.
Interesting fact: Carly practiced with her dog, and if she can play with her dog, she can play with anyone. That dog was a real-life Air Bud.
Basketball: I'm talkative on the court, but I don't usually get distracted. Carly is the type of person that makes me laugh when I play against her.
She's aggressive on the court, too, and we laugh about it afterward!
Do you have a memory of Emily as an opponent and a teammate?
Opponent: I remember trying to shoot foul shots last year; I couldn't make eye contact with her. If I did, I airballed the shots.
We had a soccer game against Enosburg at home, and an injury I got in another game flared up. I had to go to the hospital, and after I left, Emily texted me and told me she'd scored her first varsity goal! I was so sad that I missed it!
Teammate: In elementary school gym classes, we would always run the mile together, and at the end, we'd sprint to see who was faster.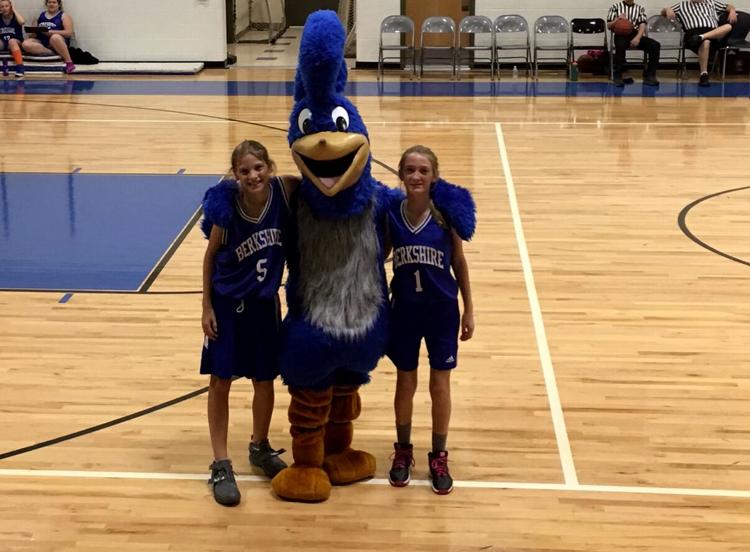 Do you have a memory of Carly as an opponent and a teammate?
Opponent: I'm a defender, and I scored my first varsity goal in our game against Richford this year. At the end of the game, I went to look for Carly, and I couldn't find her! My parents told me she had gone to the hospital! I texted her and asked her if she'd seen me score, but she hadn't.
Teammate: In elementary school, when we practiced together, neither of us could keep a straight face. We'd look at each other across the court and burst out laughing.
What have you most enjoyed about being rivals?
Carly: Whether I have a great game or a bad game, Emily is an outlet for me.
Emily: When she plays a game and wins, I get so hyped for her. It's like we get double wins--we're excited for our wins and each other's wins. And we give each other advice about the teams we play.
How has competing against each other made you a better athlete?
Emily: It gives me a different perspective on the people I play. Everyone has a different style of play, and it's just a sport. It doesn't portray their real personality.
Carly: I've learned that sometimes you have to go out and set your feelings aside. I know Emily can make me laugh, and I have to stay focused and remember my goal is to beat her. It made me realize that sometimes you have to change your attitude for success.